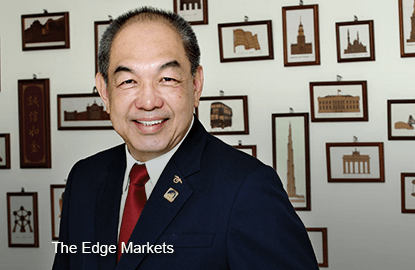 AS he sips his coffee, Erick Kho shares with City & Country his latest two achievements — of being appointed the current president of the Malaysian Institute of Estate Agents (MIEA) and climbing Mount Kinabalu. "I proudly took the MIEA flag and planted it at its summit — known as Low's Peak — at 4,095m. That shows how committed I am to MIEA," he remarks.
"My overall vision is for MIEA to become the largest real estate institute in the country to serve the needs of both real estate agents (REAs) and real estate negotiators (RENs). And, hopefully, under my leadership, MIEA will become bigger, stronger and more relevant."
The institute, which has doubled its membership to 1,390 from two years ago, is continuing its efforts to sustain its membership and combat the scourge of illegal agents and negotiators.
"Membership is still a challenge at the present moment. Even though we are the largest real estate agent and negotiator institution in Malaysia, I would say the representation is still not enough. I want to increase the number of members, so we can have more people working with us," comments Kho.
"I wish to increase the number of REAs to at least 50% [about 900 members] of total practitioners. As far as the RENs are concerned, I want to increase that to 60%, which I estimate to be about 8,000 members. Only in numbers can you carry out a lot more activities and efforts, in the interest of not just the agents and negotiators but also the public."
MIEA Youth, founded by Realproperty.my principal Amanda Goh with the support of MIEA's immediate past president Siva Shanker two years ago, can be credited with revitalising the organisation. Last year, it brought together 322 budding real estate agents and negotiators under the age of 40 from across Malaysia in the spirit of professionalism and networking.
Kho says he plans to increase more youth-oriented activities for MIEA Youth. "Recruiting the youth is definitely a priority. We plan to have more social and recreational activities for MIEA, for example climbing Mount Kinabalu. I think it is important that the youth create a fellowship among themselves. That would make things much easier as a level of trust would be established. Practising real estate is a matter of trust between each other and the clients."
New initiatives
Education has always been an important component of MIEA. The REN tag registration programme, which is now a two-day-long course, also includes new topics for selected syllabuses and classes that are focused on in the 40-hour training. MIEA's Professional Diploma in Estate Agency programme has seen much success with over 200 students across Malaysia. The institute's next step is to initiate the MIEA Academy.
"We hope to form the academy in the next couple of years, so that all the educational efforts by MIEA can be housed under one roof. Currently, we have the fifth and seventh floors of our headquarters as the training centres for the agents and negotiators. Our vision is for the MIEA Academy to be a one-stop centre for all the estate agents and negotiators to benefit from," comments Kho.
Plans for the academy are still under way, he says. "We are looking to purchase a piece of land to build the academy. We may call it Wisma MIEA. We also wish to house there our secretariat, training centres, exhibition centres, property exhibitions and meeting rooms that can be rented out to members for activities such as project launches, annual dinners and so forth. The building shall be cumulative for that purpose."
The organisation also plans to emphasise its branding more. "I would like to strengthen the branding of MIEA. I have introduced a new portfolio for it under branding. In fact, I have also introduced a public awareness committee (PAC) to communicate our programmes and laws pertaining to illegal agents to the public," explains Kho.
The PAC will reach out to the public through its proposed campaign called "Legalising the illegals" and is also in talks with Astro, TV3 and RTM1 to highlight the issue on their talk shows. According to Kho, the PAC is still in the initial stage and will kick off later this year.
Apart from the academy and the PAC, MIEA will also be initiating the formation of its portal www.mieaproperty.com. "A lot of MIEA members are advertising in newspaper listings and on property portals — platforms that are becoming increasingly expensive. Therefore, we are planning to create our own portal to allow them to advertise their listings. This too is in the planning stage," says Kho.
Asserting its authority
One of MIEA's objectives is to register unverified negotiators. Its collaboration with the Board of Valuers, Appraisers and Estate Agents Malaysia (BOVAEA), the Association of Valuers, Property Managers, Estate Agents & Property Consultants in the Private Sector Malaysia (PEPS) and the Royal Institution of Surveyors Malaysia (RISM) has been successful as it had registered about 14,000 RENs as at May. The RENs are given identification tags to distinguish themselves from unscrupulous negotiators and their illicit property transactions.
"The introduction of the REN tag system has been the single most effective way to legalise and register negotiators. The number of REAs and RENs who advertised on property portals increased by 40% last year and has gone up by 80% so far this year. In print, the number has increased by up to 98%," explains Kho.
"We have also been proactive in holding regular meetings with the BOVAEA president, the registrar and its board members," he says, adding that a full-day seminar called "Negotiator Tag Campaign Seminar" was held last December.
Apart from MIEA, BOVAEA, PEPS and RISM, the campaign was also endorsed by the commercial crime department of the Royal Malaysian Police, the Royal Malaysian Customs and Immigration, Inland Revenue Board Malaysia, Companies Commission of Malaysia, city municipal councils, Attorney-General's Chambers, Ministry of Urban Wellbeing, Housing and Local Government, Ministry of Finance, the Performance Management and Delivery Unit, the Malaysian Bar and related NGOs, such as the International Real Estate Federation (Fiabci) and Real Estate and Housing Developers' Association Malaysia.
The seminar was held to create awareness of the law of estate agency practice in Malaysia and its fight against illegal agents. According to Kho, the seminar was a success. "We are planning to engage with the authorities again sometime this year. For the next session, although we do not have a fixed date yet, we hope to get some media coverage to raise awareness of illegal agents and negotiators among the public."
Secondary market
Kho believes properties, especially landed, on the secondary market are still very good investments for local investors. "The main advantage of secondary market properties is that all the amenities, such as schools and transport centres, are established and mature." Nonetheless, he notes, there are certain advantages to new homes. "Everything is brand new and most of these new homes are in gated communities."
He observes, "Over the past few years, the secondary market has represented 70% to 80% of all property transactions and this figure has been quite consistent. The primary market represented about 20%. While some may perceive the primary market to have had better sales in recent times, I think this is because the products were constantly advertised. In contrast, there is no advertising for secondary market properties, which are sold quietly, especially the good ones."
Also, the prices of primary market properties are usually 30% to 40% higher than on the secondary market. However, the secondary market catches up with the primary market depending on the variables, such as new amenities, says Kho. "For example, if a new rail line runs near a secondary home in Subang Jaya, its price will increase."
Meanwhile, landed properties are expected to do well. "The prices of landed properties will continue to climb as supply is limited and the cost of land keeps rising," says Kho, who admits that it is the current trend to purchase non-landed homes. He thinks condominiums may be overtaking landed properties in terms of supply. "Condominiums that are in the price range of RM400,000 to RM600,000 will continue to be attractive to buyers.
The new mass rapid transit (MRT) routes — the first being the Sungai Buloh-Kajang line that is due to be completed in 2017 — will be one of the key factors in determining the next property hot spots.
"Some of the property hot spots lie along the MRT routes. Also, government infrastructure such as the Tun Razak Exchange will impact properties in the surrounding areas," Kho points out. "Most developers are aware of these upcoming projects and are taking advantage of them. Properties along the Kajang, Sungai Buloh and Putrajaya routes will be the next hot spots."
He is positive about the future, saying, "We are cautiously optimistic about the property market for the next six months. As far as the secondary market is concerned, the catching-up game is still there; there are still opportunities to buy secondary properties at a lower price. In Malaysia, people are still buying homes to own and occupy rather than to rent as a priority. Why pay rent when you can pay the loan? Thus, demand will always be there."
"In the primary market, especially with the rise of Iskandar Malaysia in Johor, there has been an increase in foreign — especially Chinese — developers in locations such as Kuala Lumpur and Penang."
This article first appeared in City & Country, The Edge Malaysia Weekly, on June 29 - July 5, 2015.