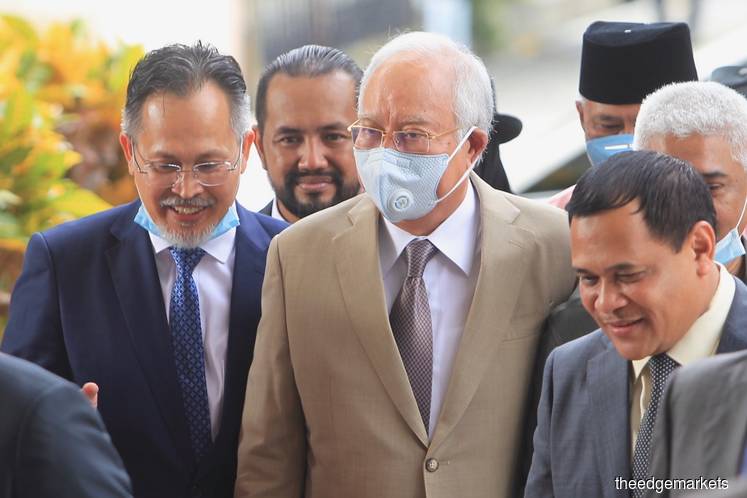 KUALA LUMPUR (June 5): The High Court will deliver its verdict for the highly charged former premier Datuk Seri Najib Razak's SRC International Sdn Bhd case on July 28.
Justice Mohd Nazlan Mohd Ghazali said there are about 2,000 pages of written submissions from both sides, together with five days worth of oral submissions, and that the court will go through the evidence.
"This court will deliver its verdict on July 28, at 10am," he said after hearing the submissions from the defence and prosecution.
Today is the 96th day of the trial that began in April last year. A total of 57 prosecution witnesses and 19 defence witnesses have been called to testify, including Najib himself.
The former premier and ex-finance minister was initially charged in July 2018.
The charges against Najib
Najib, who will turn 67 next month, has been charged with abuse of power with regards to approving RM4 billion of loans from Retirement Fund Inc (KWAP) to SRC between Aug 17, 2011 and Feb 8, 2012.
The former Umno president also faces three criminal breach of trust charges involving RM42 million of SRC funds when he served as the prime minister, finance minister and adviser emeritus of SRC, who was entrusted with the RM4 billion KWAP loan. He is alleged to have committed the offences between Dec 24, 2014 and Feb 10, 2015.
He has also been charged with money laundering involving the deposit of RM42 million of SRC funds into two AmIslamic Bank accounts which he owns, between Dec 26, 2014 and Feb 10, 2015.
Among high profile witnesses who had taken the stand during trial were former second finance minister Datuk Seri Ahmad Husni Hanadzlah who came for the prosecution, and former minister in the Prime Minister's Department Datuk Seri Jamil Khir Baharom.
Other notable names include: former Tabung Haji CEO and MD Tan Sri Ismee Ismail who was formerly SRC's chairman, and former finance ministry secretary-generals Tan Sri Wan Abdul Aziz Wan Abdullah and Tan Sri Mohd Irwan Serigar Abdullah.
Earlier today, the defence — led by Tan Sri Muhammad Shafee Abdullah — claimed there was a technical problem of duplicity in the abuse of power charge, and that it should have been broken into two.
This prosecution's blunder, he said, was a prejudice against Najib in the trial, as it had made it difficult for the defence to mount a defence for the former premier.
Ad hoc prosecutor Datuk V Sithambaram said there was no prejudice against Najib and that the trial had progressed with both the prosecution and defence knowing what was in the charge.
"Najib was not prejudiced and not misled. There is no duplicity in the charge," he said.
Sithambaram: Daunting task to prosecute a former PM, but we're confident of a conviction
After the trial, Sithambaram admitted to pressmen that it had been a daunting task to prosecute the former prime minister, but that Najib acted professionally in answering the questions posed to him during cross-examination.
He also said he had faced no problems in conducting the case, despite the change of government earlier this year, and that his contract states he will be retained to act for the prosecution against Najib up to the Federal Court level.
"The prosecution is confident of a conviction based on the evidence, which Justice Nazlan will peruse carefully.
"Should there be an appeal, it can be taken up within 14 days after the July 28 verdict in the Court of Appeal, and the Federal Court," he said.
In end-February, the Pakatan Harapan government was uprooted after losing its majority in Parliament with the exit of Bersatu from the coalition, which led to the rise of a new government under the loose Perikatan Nasional coalition led by Tan Sri Muhyiddin Yassin.
Subsequently, the then Attorney-General Tan Sri Tommy Thomas resigned, and was replaced by Tan Sri Idrus Harun.
Shafee, meanwhile, told the court today that he is confident the former premier will be acquitted — if not at the High Court level, then at the upper courts.
The prosecution, he said, had not managed to show the element of CBT as to who ordered the transfer of SRC funds.
"You and I have seen there is no evidence linking Najib in directing the transfer, as the defence had also shown that there were dubious, forged signatures in the transfer of funds order," he said.
"This is the work of Jho Low, (former SRC International) CEO, Nik Faisal Ariff Kamil and rogue bankers," he reiterated to pressmen later, what he said during his submissions.
Whatever the verdict here may be, he said, it may not impact the other SRC case involving Najib, where he was charged with three counts of money laundering involving RM27 million. The case will be tried at Justice Mohamed Zaini Mazlan's court.
Najib, meanwhile, has filed civil suits against AmBank and its former relationship manager Joanna Yu Ging Ping, claiming mismanagement of his bank accounts that are being scrutinised in the SRC trial.