This article first appeared in City & Country, The Edge Malaysia Weekly, on November 21, 2022 - November 27, 2022.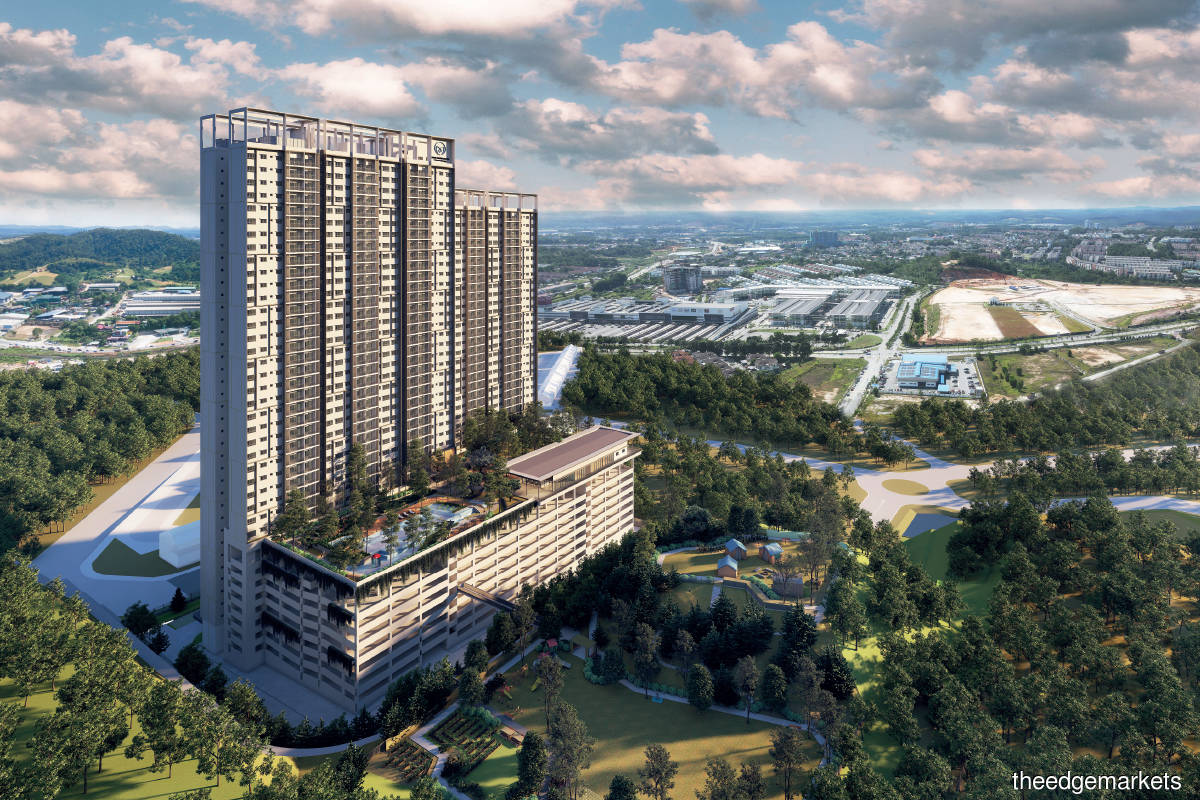 Scientex Bhd, which started out as a manufacturer of polyvinyl chloride (PVC) leather and sheeting more than 50 years ago, continues to make strides in providing affordable homes to Malaysians. It recognises that owning a home remains a challenge for low- and middle-income earners because of escalating prices and lack of reasonably priced land for development.
In 2018, the company set a target to deliver 50,000 affordable homes priced below RM500,000 by 2028. So far, it has completed and delivered more than 26,000 homes in 31 locations across the country. While most of the homes are 2-storey landed properties, it recently launched a new brand called Mori to offer affordable high-rise units.
Executive director Beh Chun Chong, who joined the company in March last year, is tasked with the development of the Mori brand. With more than 30 years of experience in high-rise developments in Malaysia, he points out that there is a team of 10 currently working on the Mori brand, which reflects the demand for quality space post-pandemic among Malaysians.
"The Mori brand was conceptualised last year shortly after I joined the company. We saw the opportunity, especially post-pandemic, that more people are realising that they sometimes forget the quality of a space. In fact, we have observed over the last two years that many people are moving out of the city because they want space," he tells City & Country in an interview.
"With our aim of delivering 50,000 affordable homes by 2028, we thought, why don't we create something different in our townships since we know quality lifestyle and space are needed now? We call it a new class of product for Scientex."
"Mori" literally means "forest" in Japanese and, in its written form in kanji (Japanese writing that uses traditional Chinese characters), is similar to the Chinese name of Scientex. Beh explains that the Mori logo — which comes in Scientex's corporate colours of blue and yellow — is based on the theme of seeding, in that a good seed will grow the community.
"It is [about being] adaptive and consistent. It is the philosophy of doing things. We are in the midst of trademarking it and all Mori developments will use the logo. We hope residents will be proud of owning a Mori unit. The logo is also used for easy identification of the location," he adds.

Mori Residences, Scientex Rawang (left) has a GDV of RM228 million. Its facilities include a gymnasium (right). (Photo by Scientex)
Five pillars
The Mori brand was conceptualised to focus on the most important aspects of property development. It promotes city fringe living as it enables a wider selection of property products with more affordable pricing, while residents can have quality of space.
"Why I use the city fringe concept, and not suburban, is because [our townships] are not really suburban. That's why we can attract first-time homebuyers. Malaysian infrastructure, especially the highways in the Klang Valley, is world class. We are fortunate," says Beh.
This was demonstrated through the first Mori product. Previewed in November last year, Mori Residences, Scientex Rawang was officially launched in June.
Beh says the Mori brand espouses five values and the development is guided by those values — Always More, Simplicity by Design, Focus on Essentials, Create Long-term Value and Build a Better Tomorrow.
Although Beh's main criterion for Mori products is making the homes affordable, he strives to give more than what the price offers. He believes that it is possible to attain more even when spending less. It can be done by practising simplicity of design and focusing on the essentials for residents. This will eventually lead to long-term value for the property owners.
Beh says the concept of affordability in the Mori brand is implemented from the inside out, that is, from the selling price to the maintenance fee.
"We need to go back to why people prefer landed homes. It is because these homes have land and [therefore come with no] maintenance charges. Hence, we are cautious and careful in our design planning to reduce the maintenance cost," he says.
"Our benchmark for the maintenance fee is 25 sen psf. [To do that,] we need 600,000 sq ft of saleable area. 
"How we do this at Mori Residences, Scientex Rawang is that there is only one block and, therefore, one lobby. By doing so, we save on one set of guards, cleaners, mechanical pumps and so on. And we can [save on hiring and maintenance, and thus] control the maintenance charges."
The development will have 170 parking bays for visitors. The management can rent out these parking bays to generate income. 
"We have simulated the maintenance cost, and this is the value we bring. We work backward because we know our major problems and limitations," says Beh. 
"The other thing is defects. To control defects, you have to start much earlier, which is doing the right things first and the first things right because you need to simplify the design.
"Another advantage of this is to make our building more efficient, lowering the construction cost and then passing on all the savings to the buyers. That's why we can sell at that price range, or we wouldn't be able to give that kind of space to residents. As the township matures, we are confident that the property values will increase."
While he reiterates the importance of keeping the building design simple and giving the residents space and facilities, he points out that Scientex does not do "fancy architecture" as maintenance can be an issue and it may not increase the property value by much.
Other criteria for Mori products is that every unit will come with a minimum of three bedrooms and a decent-size balcony and yard, as well as a Qlassic (Quality Assessment System in Construction) score of 73. Beh explains that 73 is currently the average Qlassic score in Malaysia.
He says these criteria can be achieved with the formwork system that the company uses. It allows the developer to use the same underbone for all of its Mori developments, with some flexibility to change the details. 
"It is like car production of different generations, where the underbone is the same [but we can change the small details]. The underbone is the most costly and time-consuming part. But by fixing it, we can already control a lot of cost and time. We can also change the fittings and fixtures. With a preset design, the Mori brand is about creating something sustainable," says Beh.
"That's how Scientex works. We want to create a product that is decent and suits the buyer's needs at a reasonable price. Yet, we want to keep ourselves in trend. We want to make sure our design team keeps improving even though our underbone remains the same. The only difference will be the common facilities, depending on the land size, terrain and context of the surroundings."
Mori Residences, Scientex Rawang
Located on a hilly site of 7.97 acres, the freehold Mori Residences features 638 condominium units in three layouts — 3 bedrooms and 2 bathrooms (872 sq ft), 4 bedrooms and 3 bathrooms (1,076 sq ft) and 5 bedrooms and 2 bathrooms (1,340 sq ft) — in a 41-storey block. The project has a gross development value (GDV) of RM228 million and the units are priced from RM332,800.
Since the official launch in June, 85% of the units have been taken up and sale and purchase agreements signed. All 872 sq ft units have been sold. Only the 4- and 5-bedroom units on the higher floors have not been fully sold. The project is a GreenRE bronze-certified development. 
Beh says most of the buyers at Mori Residences are first-time homeowners aged 35 and below, about 80% of whom are from Rawang. Scientex has collaborated with business-to-business property marketplace Didian as it embraces a full-spectrum digital sales and marketing platform.
As the development is on a hilly site, Scientex will add a private hill park with facilities, called Alpine Park, to the development. The facilities on Level 10 will include a lap pool, children's pool, barbecue area, gymnasium, playground, putting green, lawn, garden lounge and urban farming space. The maintenance fee, inclusive of the sinking fund, is 22 sen psf.
Beh believes that having 638 units on almost eight acres of land is comfortable enough, and it translates into about 80 units per acre. 
"It is not low density but it is quite decent. The condominium I live in is about that density. The smallest unit has three bedrooms and is of a decent size," he adds.
"We want to have a lot of facilities so residents can enjoy these when they are at home. There are 49 facilities and in that price range, it is not a typical affordable apartment. It is a development with full-fledged condominium facilities."
The foundation works of the development have been completed and the superstructure works have begun, he notes.
Before the launch of Mori Residences, there were concerns about whether high-rise developments would be welcomed in city fringe areas that are dominated by landed homes in similar price range. 
Beh reckons that the overwhelming response has proved that the younger generation would like to have such a lifestyle with facilities and security. This new class of product complements Scientex's existing product offerings, which allow buyers to choose between horizontal and vertical living.
Scientex plans to soft-launch its second Mori development in January. Located next to its predecessor, Mori Residences, Scientex Rawang 2 will feature 499 serviced apartment units and 21 retail outlets with a GDV of RM193 million. 
The built-ups start from 888 sq ft, with 4 bedrooms. There will also be duplexes with built-ups of just below 1,300 sq ft and penthouses with built-ups of 2,000 sq ft.
"For now, we plan to launch one Mori project a year. After three years, maybe we will launch more projects a year," he says.
"In terms of the revenue contribution ratio, the high-rise developments will contribute 10% to the property development division of Scientex. Of course, this is not a fixed formula. When there are opportunities, we will launch more projects."