This article first appeared in Enterprise, The Edge Malaysia Weekly, on May 13, 2019 - May 19, 2019.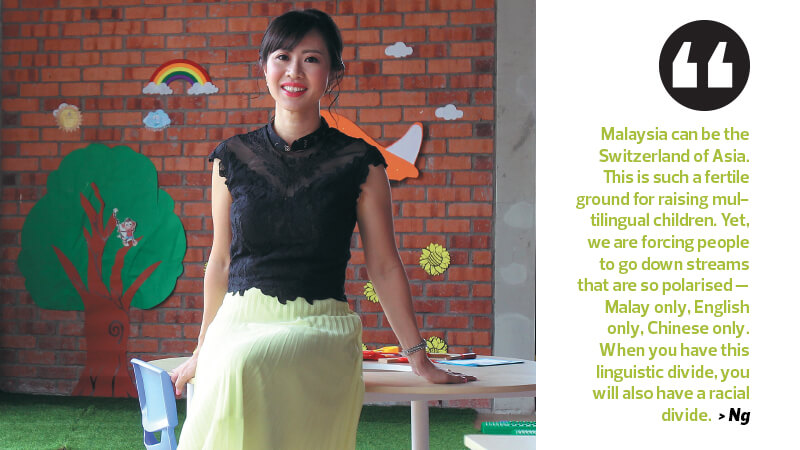 Daisy Ng was an investment banker who had to drop out of the workforce because she found no support for what she had to do as a young working mother. No, she was not a lazy person who just could not hack it.
In fact, in her previous life, she had done trading, then structuring derivatives in London and New York, before returning to her native Singapore to start an Asian desk and service private bankers. Whether it was putting together a request for proposal on a Sunday night, working until 2am or taking on new challenges, she was always up for it. But despite being a super motivated investment banker, she also wanted to get married and start a family.
When Ng was servicing private bankers, the portfolio manager of one of the underlying funds she was selling was intrigued by the fact that this girl was outselling his own salespeople and wanted to know who she was. He decided to meet her, ostensibly for business relationship purposes, and ended up offering her a job.
Ng was ecstatic. This was her chance to move to the buy side, like her role model Helena Morrissey, chief investment officer at Newton Asset Management and one of the few women to make it up the corporate ladder at an investment bank, who went on to have nine children.
"She was my only role model. I wanted to be someone who could continue doing what I love and still be able to build a family. And since she was on the buy side, that was where I wanted to be," says Ng.
She had already obtained her Chartered Financial Analyst and Chartered Alternative Investment Analyst credentials as well as her investment manager's certificate. These qualifications would help her become a fund manager.
By this time, Ng was married. Her husband, a Malaysian, moved to Hong Kong with her. "I joined this firm and became head of investor relations, which is a fancy name for doing everything. This is a fund, right? So if you are not the investment guy, you are everything else. I was dealing with client relationships, with sales, with the boss. I was still working very long hours," she says.
Ng's turning point came when she got pregnant. Ecstatic that she was going to be a mother, she sailed into her CEO's office to tell him the good news, even though women generally do not reveal that they are pregnant in their first trimester. But his response devastated her.
"I was so happy and I went into my CEO's office to tell him. And the first thing he said to me was, 'But you are in sales. How can you be pregnant? Four months of the year, you cannot fly!'" Ng recalls.
She was taken aback. She was the one who worked hard and said yes to everything, no matter how tough. And now that she was going through a significant life event, instead of being happy for her, he was only concerned about how it would affect her performance.
As fate would have it, it was not an easy pregnancy. "I had terrible morning sickness, making it very hard for me to come to work. And then he started worrying, saying that maybe he should get a co-head to help me, and asked me to pass on things to the co-head," says Ng.
"That was when I realised that we were still very far behind in Asia when it came to understanding and accommodating women's changing needs in the lifecycle. So, I quit."
She had an offer from UBS in Hong Kong but her husband, an economist, received a job offer from Bank Negara Malaysia and decided that it was time to go home and serve his country. She decided to return with him.
Although she was a Singaporean, Ng did not consider the island republic to be family-friendly. "It is very stressful there. I like Malaysia. No place is perfect but I just thought the people here were more humane, warm and hospitable," she says.
They returned to Kuala Lumpur eight years ago, when her firstborn was only a few months old. "I took a few months off to be with her, but I was thinking of going back into the workforce because I was going a little stir-crazy. But I did not know where to go and what to do," says Ng.
Obviously, she would return to the financial industry. Having served the entire spectrum at a young age, she could go anywhere she wanted. She asked around and landed an interview with a bank in the middle of the city.
In the end, Ng took up a job at a private bank. Having serviced private bankers in her previous life, it was like stepping into something she was already familiar with. She went in as the bank's first investment adviser.
As Ng negotiated her way through Kuala Lumpur traffic, only stopping to drop off her daughter at a day-care centre, she was full of anxiety. "I thought, 'Oh my God! How do I carry my baby in there and put her in this day-care centre across the world and go to work with peace of mind?'"
The centre was supposed to be good, but it did not live up to her standards. Its practices were so opaque that the minders could not tell her what her daughter had eaten that day if the child came back with digestive issues. They actually asked her for a car seat to strap the baby in during the course of the day so she would not get in anyone's way. And they baulked when she said she wanted to provide breast milk because this would require special handling.
"When I was pregnant, I read up all about it and got myself certified in early childhood nutrition by Dr Sear's. I also got my diploma in early childhood education. And what these people were telling me went against everything I had learnt or read about," says Ng.
Things were no better at work. She was told off for isolating herself at lunchtime, when she would go off to pump breast milk. And although she had been used to getting the job done as quickly as possible, here she was penalised for her speed. She was told to take things easy and "manage expectations".
"I did not understand this way of thinking. I wanted to do better and in my previous workplace, this was celebrated. Whereas there was a lot more going on here about 'expectations'. It was not about being the most efficient or doing things right," says Ng.
But only half her mind was on this culture clash. Most of the time, she was worried about her child. The day-care centre was always shutting down for two weeks because of yet another outbreak of hand, foot and mouth disease. Her daughter was frequently coming home with stomach upsets and when Ng called to find out what she had eaten, they would reply, "Whatever the kakak cooked today."
"Sometimes, she had outbreaks of rashes and we had no idea why. I was shocked that this is what people accepted as normal. They told me that if you send your child to a centre, it is like that. If you want the best, keep her at home with a babysitter — one on one. And I am like, this mindset is so dated," she says.
Ng was fed up so she asked her boss for time off and looked at starting something for her daughter. She bought a franchise for a brain enrichment programme called Baby Jumper Gym.
She says the person who founded the programme, a Singaporean, had a mentally impaired child. "She went to the Glenn Doman Institute and learnt about this programme and brought it back. She started it off in her church for her friends and found that the techniques worked even better for normal children. The Baby Jumper Gym included music and physical therapy. So, I bought the programme from them because I wanted to bring it to Malaysia."
In Singapore, the Baby Jumper Gym was a bilingual enrichment programme. "Enrichment meaning it was only for one hour a week. But it was for both the parent and the child. So, when I wanted to bring it to KL, I bought the master franchise," says Ng.
But in Malaysia, it could not be run the same way. "People had different ideas on education and did not think children should start learning so early. Also, most parents were busy working, so only the rich had time for enrichment programmes. Then again, it was only the maids who come," she says.
"Parents did not learn or play with their children. And if they wanted to play, it was usually a noisy toy kind of situation. So, we had to change a lot of mindsets."
Ng opened her first Baby Jumper Gym at Publika in Sri Hartamas, KL. "We had a geographical advantage there because a lot of young families wanted to come together to play," she says.
Ng chose to open at a shopping centre after much thought and research. First, she wanted a place she could rent for a prolonged period rather than something she would have to renew annually. She also chose to set up in a residential area because her licence would cover the period for the tenancy agreement and a longer tenancy would provide more certainty in the licensing.
"I wanted to do it right. My baby's first day-care centre was in a house. It was full of mosquitoes and I had to park at the side of the road and dash across the road with her. I just do not know how this can be safe," says Ng.
"I knew that we had to think out of the box. How would I want it? I took a chance and decided to open at Publika. We started the enrichment programme and I wrote the preschool and day-care part of it, the Baby Jumper Gym programme that is unique to Malaysia."
She designed the programme the way she would want to teach her own daughter. She also started a WhatsApp channel for each child so that parents could check in at any time and the child's progress could be recorded.
"We wanted to be as transparent as possible. With most schools, only the principals could talk to the parents. We put the teachers in and guided them in their communication skills so they could talk to the parents too," says Ng.
She was not just offering day care but a brain enrichment programme, which she thought parents would appreciate. She was wrong. When she had an open day, some of them came up to her and said, "Kesianlah, so young and you want to torture them with learning."
Ng was floored. "I said, what kesian? The child is having fun and learning. The Doman idea is that you must watch your child's cues. Learning has to be joyous."
She says many of the people she meets are products of a very damaging mindset. "Even as adults, they think school and work is bad or tough, that it is good to just laze around and not do anything.
"Learning should be lifelong. You can learn something new every day. You can take joy and delight in your environment and appreciate the moment."
Ng terminated her franchise agreement with Baby Jumper Gym in 2014 because she was receiving too many franchising requests and was reluctant to standardise her programmes. "Even until today, we state very openly that we do not do franchising. Because the moment you do, you have to make sure that your programme is standard and idiot-proof. This goes against what I believe we need to do," she says.
"I do not want to simplify and have a cookie-cutter programme because I believe in raising individuals. We have something really good going on and I want to be in control so we can deliver the most sincere form of service. I still maintain the chat groups, even though we now have an app, because sometimes parents feel that they need to have a private chat."
Ng also felt that a lot of people were approaching her simply because they saw Baby Jumper Gym as a money-making opportunity and education was a lucrative field to get into. She then rebranded her centre as Trinity Kids.
"We call ourselves a trilingual creative school. I believe in training the children to be multilingual because I want to raise kids for the future. Malaysia can be the Switzerland of Asia. This is such a fertile ground for raising multilingual children. Yet, we are forcing people to go down streams that are so polarised — Malay only, English only, Chinese only. When you have this linguistic divide, you will also have a racial divide," says Ng.
"We want to be a trilingual school. We now have streams that offer three first languages — because why choose one? We teach values and in our little way, we have to forge a new way forward, which is having people together in different ways."
Apart from programmes for children of preschool age, Trinity Kids also offers preparatory school services for those aged 6 to 13. Ng's schools have become famous and there is a waiting list for each position that opens up.
"On an average quiet day, I get about 20 inquiries. During the peak period, it is more like 40 to 50. I can open a brand-new preschool every single day. But we do not. I am not a McDonald's," she says.
Ng likes having the flexibility to experiment and try new things. For instance, in cases of bullying, most schools would simply expel the child. But she started play therapy to get at the heart of the matter and change the offending behaviour.
"We take a moment to speak to the parents. Then, we may uncover the child's issues. In the past, we may not have felt equipped to handle this. That is why we have staff who got certified [in this form of therapy]," she says.
Education cannot be for the money, says Ng. "Education has to be for what it does. It has to help people improve their lives. It has helped improve my life. I think it took me places that I could not imagine as a girl from Jurong, Singapore."
Her mother only went to primary school and dropped out because of a heart condition. Her father managed to get as far as secondary school. "You can imagine how he got left behind when Singapore progressed so quickly. He wanted to start his own business, but it did not quite take off," she says.
"He wanted to do mechanical work for the ships that docked in Singapore. When that did not take off, he went on to work on the ships, doing the same thing. That would take him away from time to time.
"But my dad was my hero when I was young. He would never say gender-stereotypical things to me such as it was okay for boys to do certain things and girls to do other things. So, I climbed trees, caught spiders and was good at maths."
On one occasion, when they were at the supermarket, she wanted to buy a pair of roller skates. So, she hid the skates behind her back and put them on the conveyor belt just as they reached the cashier. Most parents would have asked her to put the skates back, but her father told her that if she could calculate how much everything on the trolley came up to, she could have the skates.
"I gave him the amount, including and excluding the skates, and he smiled and bought them for me. That was one of the reasons I became a trader. I am very good at maths because my father would always challenge me this way," says Ng.
Even today, when she has an issue with a particularly nasty parent, her father is her first port of call. And he always calms her down and reminds her that the person in question is just a parent who wants the best for her child, thus shifting her perspective and allowing for more patience and compassion.
In addition to her centre at Publika, Ng now has a branch in Kota Kemuning, at The Verve in Mont Kiara and at The Linc in Jalan Tun Razak, KL. Because each centre has different demographics, they have different needs.
Ng tries to customise the programme of each centre to that particular demographic. The children at the Publika centre are mostly Malaysian while those at the Mont Kiara branch are largely Japanese and Chinese expatriates. The children at The Linc branch are mostly Malay and expatriates. She describes the Kota Kemuning branch as "little Penang" as the children are mostly Malaysian Chinese.
Ng has some far-out ideas. When asked how she came up with them, she usually says the suggestions came from the parents themselves. "The parents power a lot of our growth, our changes. They tell me what is working and what is not," she says.
"We keep an open mind and we realise this is how we need to grow. When we do all these changes, the big boys come in and copy like crazy. And when they ask how we got these ideas, I say it is from our little customers and our big customers."
Although each child has his or her own WhatsApp channel, the teachers prefer to have face-to-face meetings with the parents from time to time to tell them how their child is doing. They started an event called the Semester Update Day. "We say, come guys, we are just going to talk to you about what we have done this term and what we will do next term. Internally, I call it the point-of-contacts event," says Ng.
These events are to deliver anecdotes about the child in person. They also help bring the parents together. "The early years of parenting can be quite challenging. You want your peers. You want to build relationships with people," she says.
Ng says many of the parents she deals with are asking her to open a primary school. Some have even offered her land to do it. So, this is something she is considering.
"We would have to go down the international school route because we are not going to be a government school. But there is a lot of administrative stuff to start an international school," she says.
As an ex-investment banker, Ng knows how to go about the financial side of things. "It will be about fund raising and there are various ways we can do that — for instance, bringing in investors. But the maternal side of me who wrote all these programmes, who came up with all the infrastructure, is more interested in giving the most sincere form of professional service. I cannot find a middle ground yet."
The company's revenue has doubled every three years and that is a fast enough pace for her. "I do think we have something amazing going on here and I want to extend our wish to help people. We are pretty relevant in a lot of places, being multilingual, creative and doing a world curriculum," she says.
Basically, Ng wants the company she has created to be around in 100 years. "Meaning and purpose are what make those century-old companies. We want to be like that. That is why I am not in a hurry. Doubling every three years is fine because that is a really good speed for a passion and a hobby."
Many people have been coming around offering to invest. But she wants to know what their deeper motives and vision are. "Do you just want us to grow and scale? We take gambles and risks, like our play therapy. My baby class was loss-making for so long. But collectively, we have something logical that fits into each other. And we keep evolving," says Ng.
"Firms come in and want to pin you down with three-year and five-year plans. I cannot even tell you how the world will be next year. We must have that flexibility. That is the whole reason we are entrepreneurs — to create and innovate."