This article first appeared in City & Country, The Edge Malaysia Weekly, on November 22, 2021 - November 28, 2021.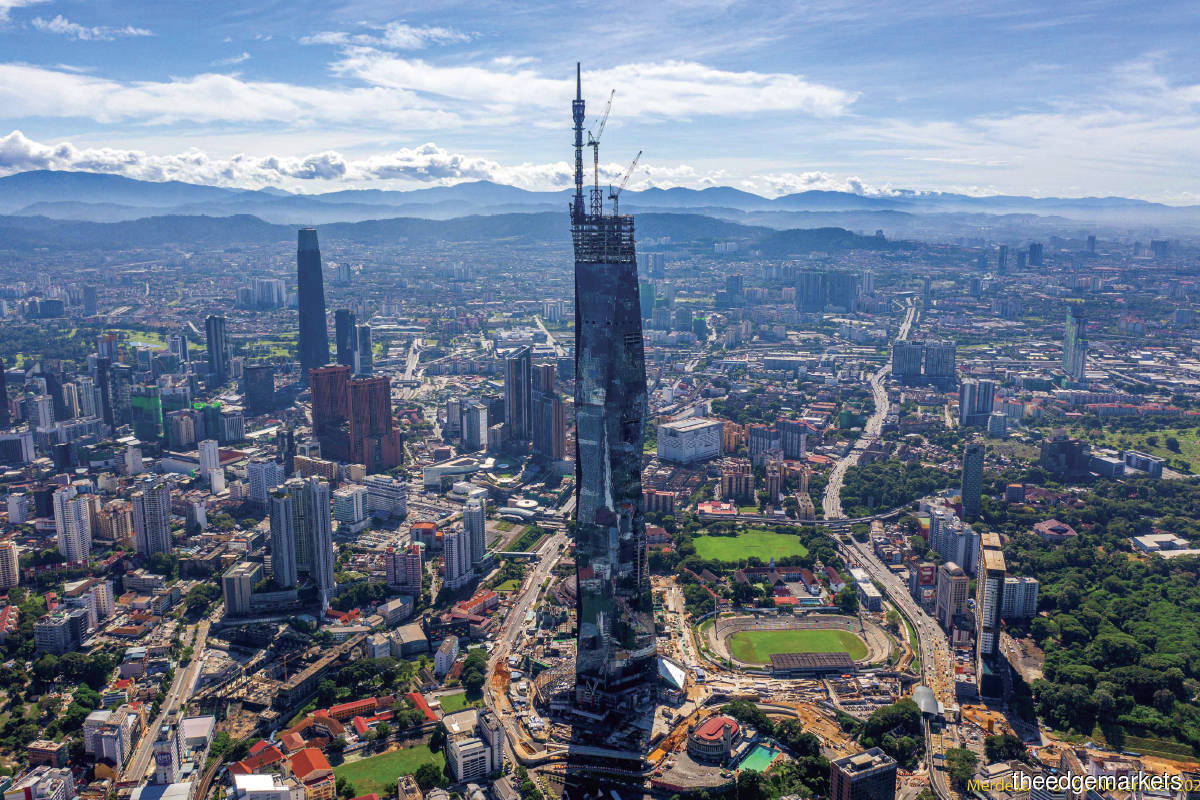 Right from the start, the plan was to make Merdeka 118 a global icon. 
"When we planned and developed this site, it being the best site in Kuala Lumpur, the benchmark was for the development to be a global icon. That [target] reflects PNB's aspiration and position. We are a global investment house," Permodalan Nasional Bhd (PNB) chief investment officer, private and strategic investments, Rick Ramli tells City & Country.
The centrepiece of the 40-acre precinct is the Merdeka 118 Tower. The 118-storey tower measures 644m and is slated to be the second tallest tower in the world upon completion next year. It will have 83 floors of premium Grade A office space, the 252-room Park Hyatt Kuala Lumpur and an observation deck, The View at 118.
Stadium Merdeka and Stadium Negara, which were gazetted as national heritage sites in 2008 by the Department of National Heritage, make up 50% of the precinct. 
Upon completion in 2026, the precinct will also consist of 118 Mall (a shopping mall with a net lettable area or NLA of about 850,000 sq ft); Merdeka Boulevard at 118 (a 4-acre landscaped public linear park); Look at 118 (an experience centre with a textile museum, gift shop, café and a dedicated lookout point on the rooftop for Instagram-worthy shots of Merdeka 118 Tower); Merdeka Residences (three premium residential towers); Little M (a PNB childcare centre) as well as Masjid Merdeka.
Triple green platinum rating
PNB Merdeka Ventures Sdn Bhd CEO Tengku Datuk Ab. Aziz Tengku Mahmud says Merdeka 118 Tower is the first tower in Malaysia that aims to achieve a triple green platinum rating with international sustainability certifications — Leadership in Energy and Environmental Design (LEED), Green Building Index (GBI) and Green Real Estate (GreenRE). PNB Merdeka Ventures is a wholly-owned subsidiary of PNB.
The tower's sustainability features include high-performance façade glazing, a centralised district cooling plant, smart air recycling in the car park, grey water storage and reuse, solar panels for the hotel's hot water supply as well as LED lighting throughout the building.
"When we first started the building, we decided that it had to be a green building. This is even before ESG [environmental, social and governance] became a trend. The features have been incorporated into the design and we are aiming for platinum rating from LEED, GBI and GreenRE," Ab. Aziz says.
It will also be the first building in Malaysia to work towards attaining WELL certification, which is a performance-based standard for measuring, certifying and monitoring features of the built environment that impact human health and well-being. The certification pillars are air, water, light, thermal comfort, sound, nourishment, movement, material, mind and community.
Merdeka 118 Tower
The office component has an NLA of 1.7 million sq ft. PNB will move its headquarters there by 3Q2022, taking up 17 floors, which is about 20% of the total office space.
"We will be the first [company] to move in. Our expectation is that by the time it is open [in 3Q2022], it should be at least 60% occupied. Under current market conditions and with a [large and significant] tower like this, 60% is a good number. Between now and then, we will try to bring the numbers up," Rick says.
"We are in advanced conversations and have even signed letters of offer with a few tenants. We are not yet ready to disclose who they are but these tenancy agreements have been signed. We focus on not just the occupancy but also the mix of tenants. Also, for this type of product, people tend to want to see the product, so we expect upon the opening, the leasing velocity will accelerate."
Park Hyatt Kuala Lumpur, which will occupy 17 floors above the office component, will open in early 2023. Above the hotel is The View at 118, which is being touted as the highest observation deck in Southeast Asia. 
Rick says during the planning stage, PNB Merdeka Ventures noticed that towers of such a magnitude were usually tourist attractions as well. It incorporated the observation deck to appeal to tourists. "The journey will start from the ground floor, beginning with the history of the development. It is a learning experience. Visitors will then go up the lift, which is outward facing so they can have a view of KL. It will take one minute to go up and [at the top] there will be a three-storey observation deck where you can have a 360 view of KL. At an additional cost and depending on the weather, you can take a glass-floor sky-walk. You can even climb the spire, which is the highest platform in Southeast Asia at over 500m," he explains.
"We recognise that we need to create differentiation to appeal to tourists. This observation deck will be open by end-2022, and has a capacity of up to 3,000 visitors daily. When the visitors come down from the observation deck, they will land at the upper level of the mall and this will encourage more footfall into the mall."
In the podium below the tower is 118 Mall and the hotel ballroom, which has a capacity for 1,000 people. The mall is scheduled for completion at almost the same time as the tower, but it will only be open in 2023 after the internal furnishings are put in by the tenants. 
Rick says the pandemic and subsequent travel restrictions have slowed things down. Many retailers are thinking of their survival at this time, while international retailers will not enter a new market without first visiting it.
He adds that PNB Merdeka Ventures is clear on the strategy, positioning and tenant mix for the mall, and with international borders gradually reopening, it is accelerating the leasing work. 
"We don't want it to be like just any other mall. We have a very clear view of bringing Malaysian artisans into the mall, to create a well-curated destination and differentiated attraction. We are excited and we feel that it is appropriate because we are in the heart of the KL cultural hub."
"[With the location in mind], we are trying to build a differentiated development with a big tourist component, surrounded by Chinatown and heritage elements. We think it is a compelling proposition for the retailers. There are retailers who want to come into our mall early and we [already] have some sign-ups."
The mosque is targeted for completion in 2022, followed by Look at 118 in 2023 and Little M — a childcare centre for 300 to 400 children of the office tenants — in 2024. 
Look at 118 is designed as an attraction where tourists can take photos of Merdeka 118 Tower. Also in the development are the Merdeka Textile Museum, which is scheduled to open in 2023, a café and a gift shop. 
"The museum is there because we feel that we need to have some cultural elements. We looked at what [cultural and heritage attractions] have been done in KL and we feel that textile is one area of culture that we can probably focus on.
"It will feature Malay textiles. It is not a big museum but it will be enriching because we are working with renowned and knowledgeable curators to bring it together. We also have the opportunity to work with some private collectors who are willing to give us access to their collections, so there is no cost in acquiring the textiles."
Residential component 
Ab. Aziz says PNB Merdeka Ventures is still finalising the design of the residential component. Of the three towers, one — the 348-unit Oakwood Premier Serviced Residences — will not be available for sale. It will consist of 1- to 3-bedroom units for long-term stay.
The other two towers — the 486-unit East Tower and the 462-unit West Tower — will be gradually launched beginning 2023. "We are monitoring the market. It has been soft in the last two years, so we think 2023 will be a good timing for the launch," he explains. The total gross development value of the two residential towers is RM1.9 billion.
Rick says the public is more cautious about buying property these days. As such, PNB has been studying the products in different sub-markets in Kuala Lumpur to determine the most appropriate ones for this site.
"It is not a conventional site. We expect the buyers to be a mix of local and foreign buyers but more tilted towards foreign buyers. [Around the world] there is always demand from the international market for high-end products located next to iconic landmarks.
"Most units will be below 1,000 sq ft and the largest will be about 3,000 to 4,000 sq ft. We plan to go to the market at about RM2,000 psf, which is the pricing between the KLCC area and other sub-markets. With the amenities and the price point, we believe we can get good traction," he adds. 
Oakwood Premier Serviced Residences is scheduled to open by December 2024, while the other two residential towers will be ready by 2026. These will be the last components in the precinct to be completed.
"In the future, as an investor, we will need to think of how to monetise and exit — there are a few risks to exit for a building of this size. It takes a few years to stabilise and, at the end of it, [we will have] a strong product with good tenants and strong component strength, and a long tenancy weighted average lease expiry. We believe we will get a strong-performing building that we then can monetise," Rick explains. 
Challenges
The development of Merdeka 118 has not been without challenges. The site was demolished in the mid-1990s but construction stalled after the previous developer fell into financial difficulties during the 1997 Asian financial crisis. PNB eventually took over the project.
Ab. Aziz points out that the main challenge is improving the infrastructure.
"The roads there are quite small and it is not off the main road, so we have to make sure that [it is accessible as] accessibility is paramount to the development. In the early days, we worked with DBKL (Kuala Lumpur City Hall) on how to improve the accessibility, which involves bringing in traffic from Jalan Syed Putra. A tunnel has been built near Jalan Syed Putra to direct cars to the basement of the tower. These will be ready at the same time as the tower," he says.
"We also had to make sure that Jalan Hang Jebat [the road fronting the development] was widened and there were enough lanes for cars to come into the development. These have been done. Then, since Chinatown is just next to the development, we have put in a U-turn to avoid further congestion in Chinatown."
In terms of connectivity, Merdeka MRT station is right at its doorstep, while the Hang Tuah LRT and monorail interchange station, Maharajalela monorail station, Plaza Rakyat LRT station, and Pasar Seni LRT and MRT station are close by. The development also has 8,000 car park bays. 
Rick says that because Merdeka 118 is a massive development, PNB is careful to integrate it with the surrounding community.
"We want to make sure that whatever we do, we [will] balance it with the developments around us. We want to integrate with the lives of the people there. It is not just about the building; it is how you build and how you integrate to ensure that it becomes something compelling. A lot of thought goes into the hard and soft aspects. For example, we are working with (urban impact organisation) Think City on how to integrate the development into the surrounding areas.
"If people who work and live there feel that they are part of the development, it will make the development compelling. We feel the site is future-ready as we have 8,000 car park bays and we have worked with traffic consultants [on accessibility]. There are seven entrances/exits so we think our accessibility is strong. The combination of the accessibility, site dynamics, product, as well as level of demand and supply in the area makes it a compelling development."
Stadium Merdeka and Stadium Negara 
Ab. Aziz believes Merdeka 118 is an attraction in itself because of the independence element. The next step is how PNB Merdeka Ventures can make the precinct more vibrant and contemporary without losing its heritage identity.
"Stadium Merdeka used to be a place for football [competitions] and what we want to do is bring back the historical value. We brought down the seat capacity from 45,000 to 20,000, which was the capacity in 1957. What you can see now is the 1957 version [when then Prime Minister Tunku Abdul Rahman proclaimed the independence of Malaya], and the newer generation can see it now."
Rick says PNB Merdeka Ventures is working out how to make Stadium Merdeka an active stadium.
"We may charge a fee or we may allow free access for the public. We need to make it safe and controlled, yet accessible to the people. We want to make it a place the community can access."
He adds that the company is also looking into how to refurbish the indoor Stadium Negara, but it is still at the early stage.