This article first appeared in City & Country, The Edge Malaysia Weekly, on December 5, 2022 - December 11, 2022.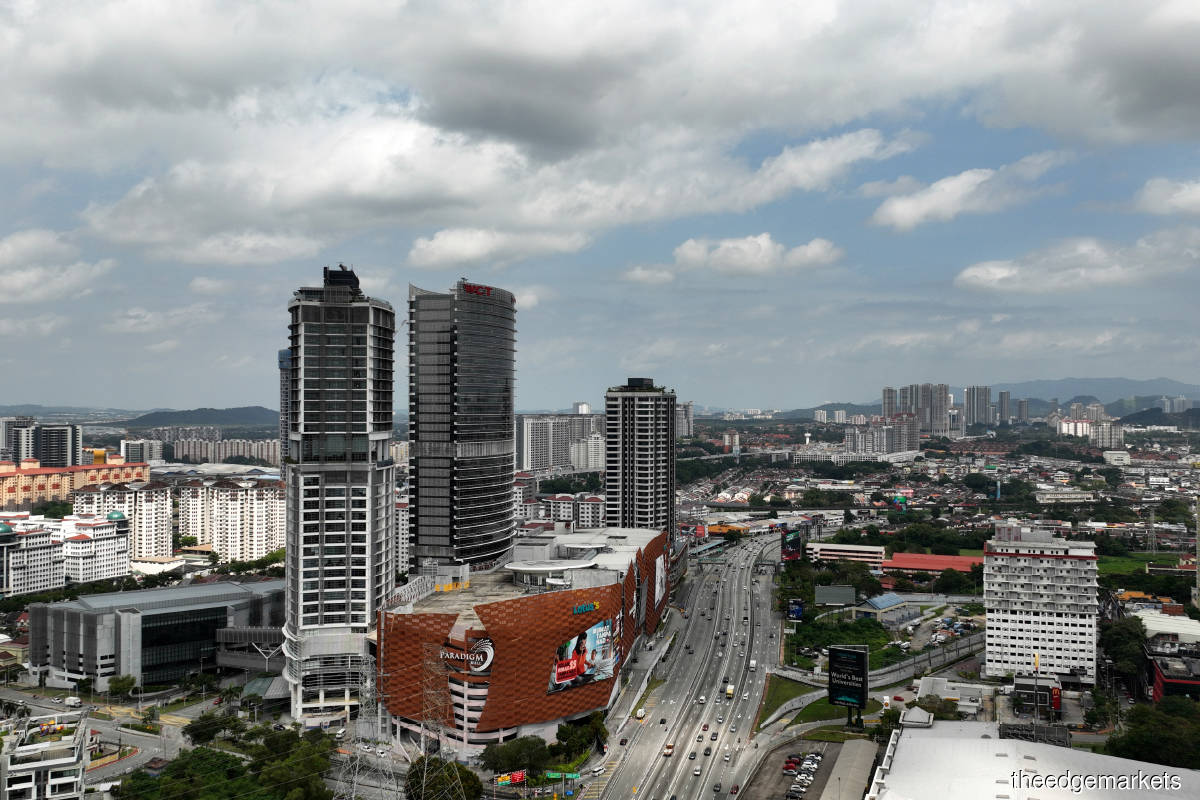 SS7 is one of five sections that make up Kelana Jaya, Petaling Jaya; the others are SS3 to SS6. Covering about 2.13 sq km or 527 acres — and comprising a mix of developments including terraced and semi-detached houses, bungalows, low- to high-rise apartments, condominiums and serviced residences, retail malls, office towers and shop-offices — SS7 is well-placed with good connectivity, accessibility and amenities.
Served by road networks and major highways such as the Damansara-Puchong Expressway (LDP), Federal Highway and New Klang Valley Expressway (NKVE), as well as the Kelana Jaya LRT Line, SS7 also has a good mix of commercial, institutional, sports and recreational components. Notable ones include Paradigm Mall, Kelana Jaya Medical Centre, Taman Bandaran Kelana Jaya, Stadium Petaling Jaya, Kelana Jaya Municipal Pool, PKNS Sports Complex, Lincoln University College and Open University Malaysia Campus.
VPC Alliance (Malaysia) Sdn Bhd managing director James Wong notes that after the opening of Paradigm Mall in 2012, SS7 saw more high-rise developments come up. These include The Azure Residences and Sapphire Paradigm by WCT Holdings Bhd, and Pinnacle Kelana Jaya by South Malaysia Industries Bhd (SMIB), which were completed in 2018. Highpark Suites by Gamuda Land was completed last year.
Sapphire Paradigm and The Azure Residences are 29- and 30-storey serviced apartments that are part of the Paradigm Petaling Jaya integrated development by WCT, along with the 659,000 sq ft Paradigm Mall, 300-room five-star hotel Le Méridien Petaling Jaya (formerly known as New World Petaling Jaya) and 32-storey corporate office tower, The Ascent.
Pinnacle Kelana Jaya is a 228-unit small office/home office (SoHo) development while Highpark Suites is a serviced apartment with 1,024 units.
In addition to Pinnacle Kelana Jaya, SMIB is also responsible for Zenith Residences, Zenith Corporate Park, Kelana Mahkota Condominium, Kelana Square and Sterling Condominium.
Other prominent developers in the area include Sima Group (Parklane Commercial Hub and Laguna Residences) and Glomac Bhd (Plaza Glomac, Plaza Kelana Jaya and Kelana Business Centre).
The appeal of Kelana Jaya's SS7 has clearly not waned as a number of developments, all serviced apartments, are underway in the area and its immediate vicinity. They are Sunway Serene by Sunway Property, [email protected] Jaya by Glomac, Panorama Residences by LLC Bhd and The Arcuz @ Kelana Jaya by Exsim Group. All are slated to be completed next year (see Table 1).
PPC International Sdn Bhd managing director Datuk Siders Sittampalam believes that the ongoing projects will be some of the last few developments in SS7 as land in the area is mostly developed.
In terms of outlook, Siders says, "With its fair share of both commercial and residential developments, SS7 is well-served by good infrastructure such as the LDP and Federal Highway. The area can be considered the centre of Kelana Jaya as it offers all the amenities of a typical town such as hospitals, schools, shopping malls, commercial centres, parks and a stadium. SS7 being an established township development, we envisage growth in terms of capital value appreciation and the popularity of the area."
VPC Alliance's Wong expects SS7's property market to remain stable in the medium term and improve gradually in the long term due to its existing amenities and infrastructure. "Kelana Jaya is considered a mature and desirable PJ suburb for living and also for work. However, the Covid-19 pandemic has affected the demand for strata residential properties, including serviced apartments and condominiums, due to their [higher] supply compared with landed properties."
Savills Malaysia group managing director Datuk Paul Khong is optimistic about SS7's long-term outlook, owing to its strategic location next to the LDP. "Its convenience, amenities and recreational facilities are all within easy reach, well-served by a network of highways, public rail lines as well as the upcoming LRT3."
Other established amenities in SS7 and the wider Kelana Jaya include schools like SK Kelana Jaya 1, SK Kelana Jaya 2, SK Sri Kelana, Nobel International School, SMK Kelana Jaya, SMK Lembah Subang and SMK Sri Permata; a Giant hypermarket; commercial centres such as Kelana Square, Kelana Business Centre and Zenith Corporate Park; and the Tengku Kelana Jaya Petra Mosque.
The area also has easy access to a wide range of amenities available in Petaling Jaya as well as in neighbouring Shah Alam, Subang Jaya and Bandar Sunway. These include popular malls such as Atria Shopping Gallery, 1 Utama and Sunway Pyramid.
Upward recovery in residential prices
Transacted prices of existing condominiums in SS7 peaked in 2018 to 2019, before coming down slightly, by about 4% to 8% in 2020, due to the Covid-19 pandemic, says VPC Alliance's Wong. "In 2021, the price trend was mixed. At Kelana D'Putera and Sterling Condo, transacted prices showed a slight decline over 2020 prices. But for Kelana Puteri and Kelana Mahkota, prices in 2021 were slightly higher than that in 2020."
According to Wong, average unit transacted prices in 2021 at Kelana D'Putera ranged from RM320 to RM400 psf for built-ups of 1,055 to 1,248 sq ft while those at Kelana Puteri were from RM351 to RM406 psf for built-ups of 1,033 to 1,345 sq ft. Kelana Mahkota Condo saw a range of RM411 to RM483 psf for built-ups of 1,216 to 1,259 sq ft while Sterling Condo's were from RM399 to RM499 psf for built-ups of 1,259 to 1,905 sq ft.
In terms of the existing high-rise residential properties, Khong notes that they have performed relatively well with an 11-year compound annual growth rate (CAGR) of 5% to 7.6%. "The prices had almost doubled from 2010 and peaked in 2015, before subduing thereafter. In 2021, a slight upward recovery was observed." (See Table 2 on next page.)
Recent transactions of existing condominiums as highlighted by PPC International's Siders include a 1,033 sq ft unit at Kelana Puteri that fetched RM400,000 this year. In 2009, a similar unit was transacted at RM170,000. Meanwhile, a 1,916 sq ft condominium at Sterling Condo had changed hands at RM780,000. In 2008, a similar unit was transacted at RM369,000.
In terms of landed properties, Wong notes that 2-storey terraced houses in SS7 saw transacted prices peak in 2018 and 2019, before tapering off. "In 2021, prices of terraced houses were on an upward trend again, with an increase of about 15%."
Two-storey terraced houses with built-ups of 1,302 to 1,518 sq ft were transacted at RM700,000 to RM810,000 last year, compared with RM600,000 to RM700,000 in 2020, he adds.
According to Siders, a 2-storey intermediate terraced house with a land area of 1,507 sq ft and built-up of 1,441 sq ft was transacted at RM750,000 this year. A similar unit was transacted at RM387,000 in 2010.
As for semidees, Savills' Khong notes that the typical 2-storey unit saw transacted prices of RM1.5 million to RM1.9 million in 2021, while a 2-storey bungalow with a land area of circa 9,400 sq ft was transacted at about RM3.4 million last year (see Table 3).
Khong notes that there are about 1,000 landed properties in SS7, of which 70% to 75% are terraced houses. Semidees and bungalows make up an equal share of about 15% each. 
Commercial prices remained flat
In the commercial property segment, Khong says that transactions for shop or office lots within shopoffice developments remained relatively flat in 2021, with a limited number of transactions in the market. "Between 2010 and 2020, this segment showed mixed performance in terms of capital appreciation. In 2020, these office lots were priced from RM300 to RM350 psf, while the ground floor shoplots were from RM600 psf. The buyers or occupiers of these shop or office lots are mainly small and medium enterprises." (See Table 4.)
According to Wong, a ground floor stratified shop unit at Plaza Kelana Jaya recorded an unusually high transacted price of RM1,039 psf in 2017. "This is a ground floor unit facing the lake with good ambience for dining [prior to the Covid-19 pandemic]." In 2021, similar units at the same development saw an average transacted price of RM430 psf.
At Kelana Square, transacted prices of shop units ranged from RM267 to RM359 psf last year, Wong notes.
According to data provided by PPC International, a recent commercial transaction in SS7 involved an office unit in Kelana Square measuring 1,371 sq ft, which fetched RM400,000 last year. In 2020, an office unit at Kelana Business Centre measuring 2,196 sq ft was sold for RM575,000. At Zenith Corporate Park, a 1,555 sq ft office unit was transacted at RM700,000 in 2018.
Overall, Siders believes that as property values in the area appreciate, some of the older residential and commercial developments may give way to redevelopments, or at least a facelift. "Currently, the LDP that runs across SS7 is known to be congested during peak hours. A study can be undertaken to reduce the traffic load either via a traffic diversion or construction of other access roads."
Khong concurs. "SS7 is a well-built area and there are not many undeveloped parcels remaining. Redevelopment opportunities [at brownfield sites] are possible in the future, such as the PKNS Sports Complex, with the maturing status of this neighbourhood."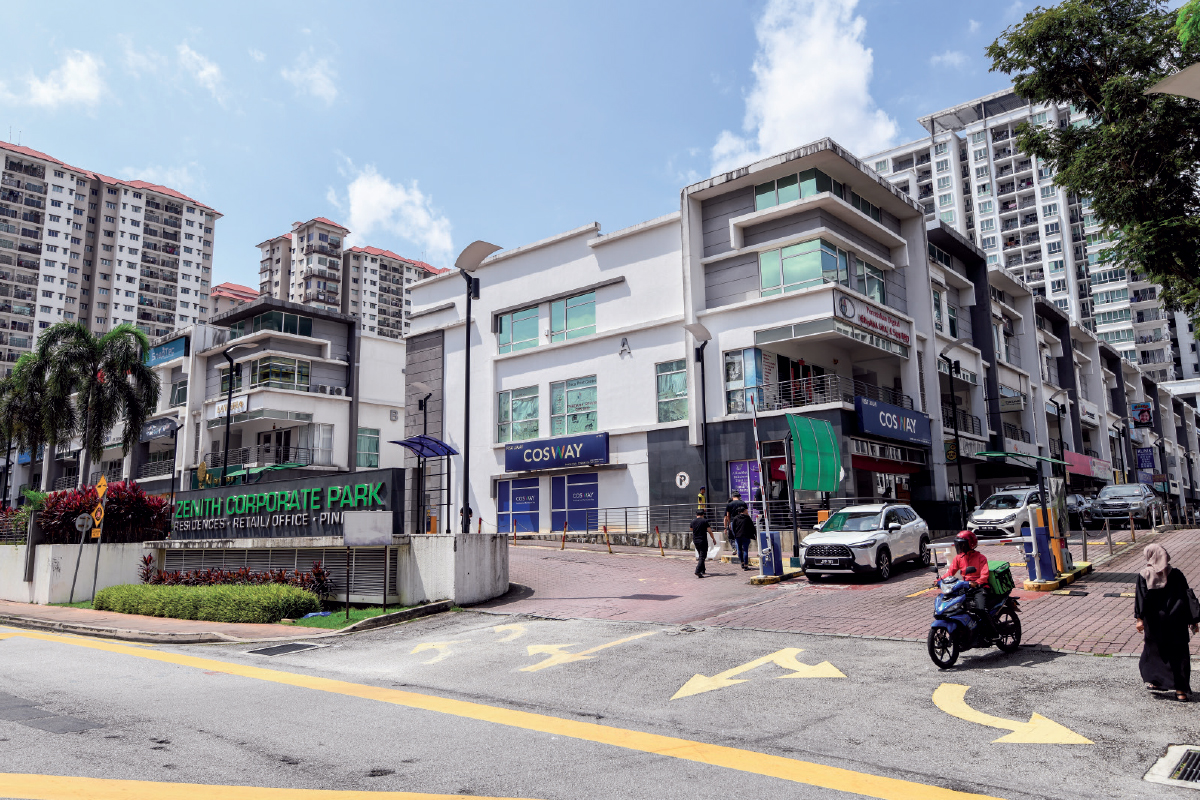 Zenith Corporate Park is among the many commercial areas in SS7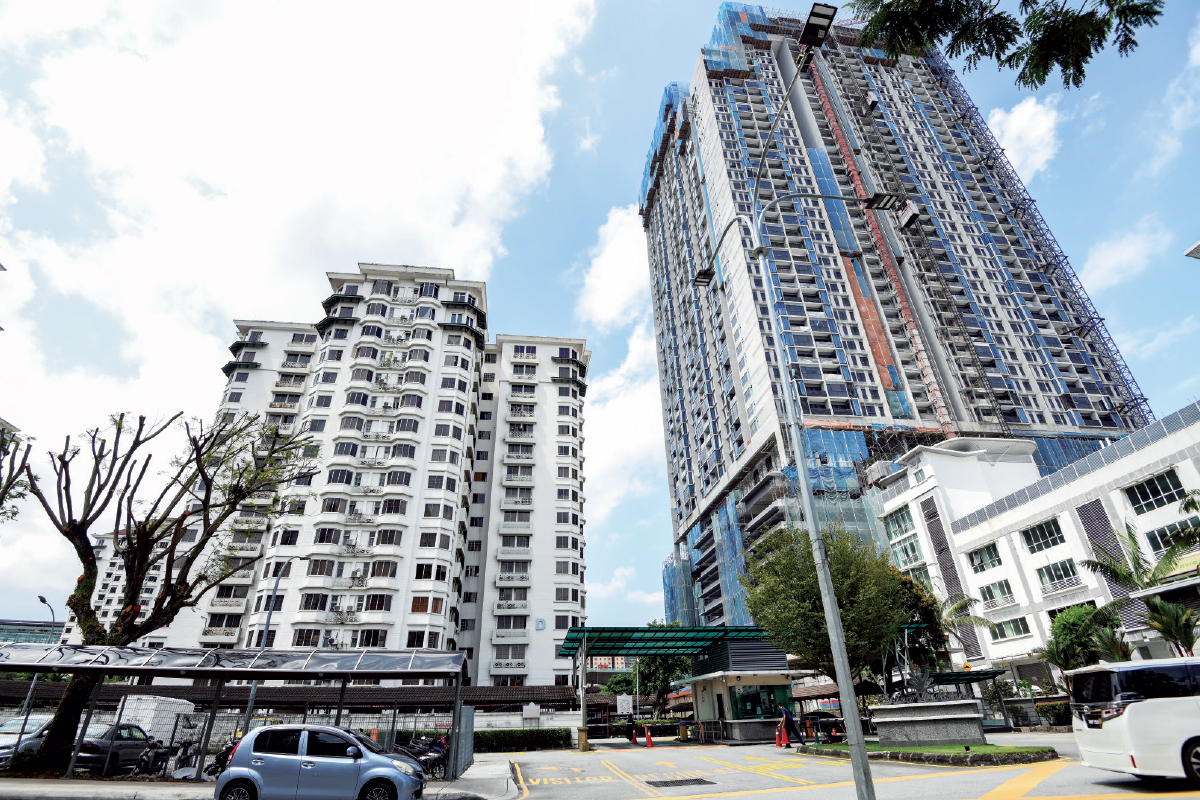 Kelana D'Putera condominium (left) and ongoing development, The Arcuz @ Kelana Jaya serviced apartments
The changing landscape of Kelana Jaya
Originally an oil palm and rubber plantation, the Kelana Jaya neighbourhood is today a Petaling Jaya suburb comprising SS3, SS4, SS5, SS6 and SS7. Previously known as Seaport Estate, the area was renamed in 1983 by the late Sultan Salahuddin Abdul Aziz Shah of Selangor to give the neighbourhood a localised flavour, notes Savills Malaysia group managing director Datuk Paul Khong.
The completion of the Federal Highway in the early days attracted developers to build more residential and commercial properties here. According to VPC Alliance (Malaysia) Sdn Bhd managing director James Wong, Perbadanan Kemajuan Negeri Selangor (PKNS) was the largest landowner and pioneer developer in Kelana Jaya, developing 2-storey terraced houses and bungalows. "PKNS later entered into a joint venture with Glomac Bhd to develop office blocks known as Plaza Kelana Jaya on a 9.7-acre parcel fronting the Kelana Lake in 2007."
PPC International Sdn Bhd managing director Datuk Siders Sittampalam says the completion of the Petaling Jaya Stadium in 1996 also resulted in more residential developments in the area.
Kelana Jaya then received a boost from the completion of the New Klang Valley Expressway (NKVE) and Damansara-Puchong Expressway (LDP) in 1993 and 1998 respectively, as well as the Kelana Jaya LRT Line that commenced operations in 1998 and was extended to Putra Heights in 2016.
"The completion of the LDP and LRT further changed the entire landscape of Kelana Jaya. The LRT line has provided effective connectivity to this suburb with about five stations serving the area, namely the Taman Bahagia, Kelana Jaya, Lembah Subang, Ara Damansara and Glenmarie stations," says Khong.
"The LDP has enabled Kelana Jaya to be connected directly to Puchong, [Bandar] Sunway, Bandar Utama, Taman Tun Dr Ismail and Kepong," he adds.
Since the opening of Paradigm Mall in 2012, more new developments have been introduced in the suburb.