This article first appeared in City & Country, The Edge Malaysia Weekly, on July 5, 2021 - July 11, 2021.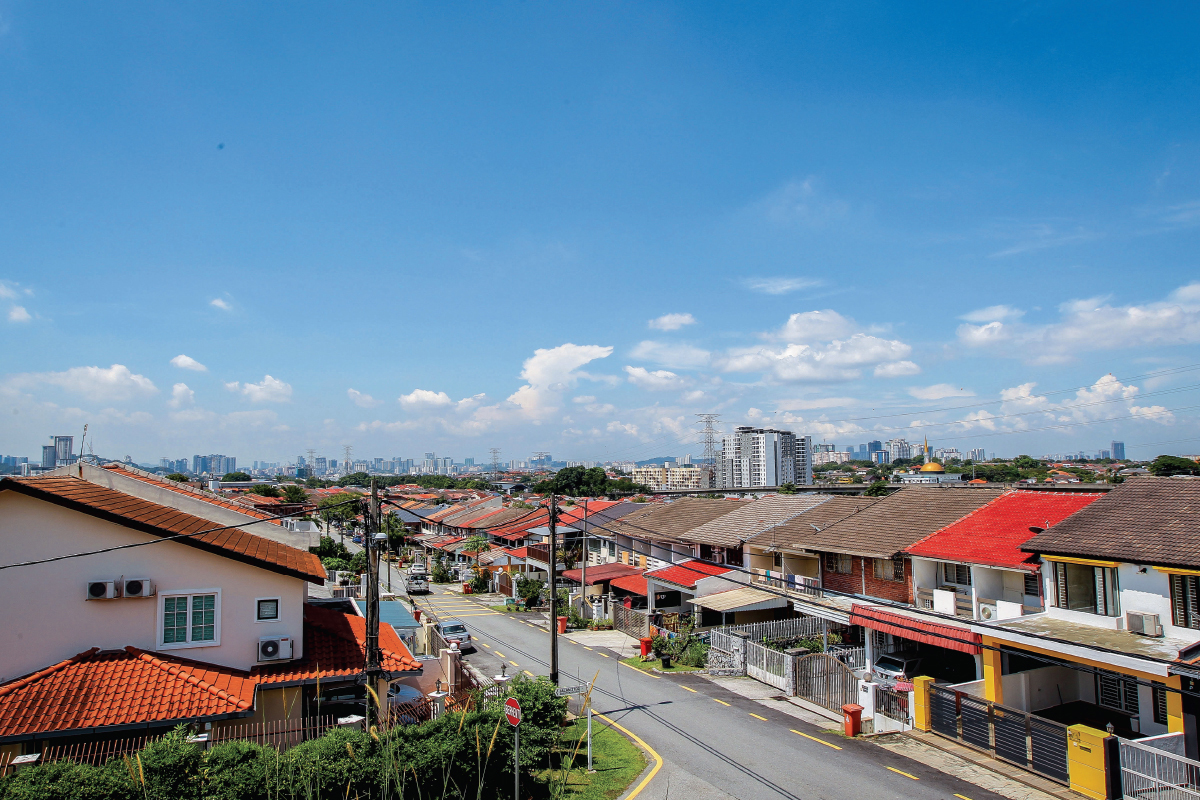 Sea Park or Seksyen 21 is one of the older suburbs in Petaling Jaya. Not to be confused with Taman SEA or SS23, Sea Park was developed by Tan Sri Lee Yan Lian's SEA Housing Corp Sdn Bhd in the 1960s.
"Nearby Taman Paramount (Seksyen 20) was also developed about the same time as Sea Park. At that point in time, Petaling Jaya was seeing rapid development as it was a new satellite township of Kuala Lumpur," says Metro REC Sdn Bhd managing director Ng Weng Yew.
Today, the mature Sea Park neighbourhood comprises mainly 1- and 2-storey terraced houses, some detached houses, the Sea Park apartments and a vibrant commercial area comprising several rows of terraced shophouses and a wet market.
"Sea Park is an established area. It is  one of the earliest developments in Petaling Jaya, and it has become a prime neighbourhood owing to rapid development in the area," says CCO & Associates (KL) Sdn Bhd director Chan Wai Seen.
As Sea Park is almost fully developed, there has not been any major projects in the area except for the upcoming Seapark Residences, also known as Ruby Seapark, by Midas De Sdn Bhd. The project, on the site of the former Ruby Cinema, comprises 406 units of serviced apartments in two blocks of 29 and 24 storeys. The units will have two- and three-bedroom layouts ranging from 660 to 940 sq ft. Attempts were made to contact Midas De via real estate agency Venture Properties but the developer has yet to respond.
According to Ng, indicative selling prices of the partially furnished units start from RM560,000 or about RM850 psf. "Each unit comes with two to three parking lots and the project is expected to be completed in 3Q2023," he says.
Ng notes that the project's pricing appears on a par with that of the latest condominium developments in Petaling Jaya generally. "The site is in a strategic location in Sea Park as there are not many flatted schemes in the localities nearby.
"The project will lead to more traffic in the area and may attract younger buyers and families to the mature and older neighbourhood," he adds.
Chan says the outlook for the new project is good. "This is largely due to the established and mature neighbourhood, supported by good amenities and infrastructure. There are limited new high-rise residential projects in this area, thereby limiting competition and [reducing] speculative activities."
He notes that the 2.32-acre site is located near the Taman Paramount LRT station and has easy access to the Federal Highway. "The project has yet to be officially launched," he adds.
Easy access to amenities and good infrastructure 
The main draw of Sea Park is its access to amenities and good infrastructure. "This is a mature neighbourhood with amenities readily available. There are banks, clinics, pharmacies and a wide selection of dining options, both in Sea Park and neighbouring Taman Paramount," says Nawawi Tie Leung Real Estate Consultants Sdn Bhd managing director Eddy Wong.
Sea Park's bustling commercial area — bounded by Jalan 21/1, Jalan 21/11, Jalan 21/21 and Jalan 21/22, and on Jalan 21/12 — offers many popular eateries and conveniences.
Ng notes that the commercial area also serves the neighbouring areas, including Taman Paramount, Kampung Tunku (SS1) and SS2.
Sea Park enjoys easy access to the Damansara-Puchong Expressway (LDP) and the Federal Highway and is located close to both the Taman Paramount and Taman Bahagia LRT stations. 
It is also close to schools such as SJK(C) Puay Chai, SMK Taman SEA and SK Taman Megah.
According to Ng, property prices and rents in the Sea Park area are sustainable owing to generally healthy occupancy and take-up rates. "The overall prospect in the medium to long term is [good], with possible price/rent increases, albeit gradually, given the freehold titles, complete with commercial and institutional [properties] as well as good infrastructure," says Ng. He notes that most properties in the area are more than 50 years old.
Owing to the age of the properties in Sea Park, Wong says one can find reasonably priced 1- and 2-storey freehold terraced houses here. "This will appeal to those who prefer landed property vis-à-vis high-rise living, as Sea Park offers the option of landed housing that is centrally located, close to amenities, has good connectivity and is affordably priced.
"The outlook for the property market in the area is positive as demand will always be there for well-located freehold, landed properties," he adds.
Chan shares a similar view on Sea Park's property market. "Sea Park is an attractive location, supported by good infrastructure and public amenities such as public transport. The area also enjoys easy access to major highways, retail complexes and commercial shops," he says.
"As it is one of the earliest areas in Petaling Jaya to be developed, a large proportion of its residents are from the baby boomer generation and are in the high-income group. Such an occupant profile ensures stability in this locality." 
Gradual price appreciation
As Sea Park is almost fully developed, with only several small pockets of available land, Chan notes that the supply situation is well under control and prices have been quite stable. "Prices have not been subject to much property speculation and have generally increased gradually over the last 10 years," he remarks.
In terms of transacted prices, Chan notes that 1-storey terraced houses (20ft by 70ft) range from RM500,000 to RM600,000 whereas 2-storey terraced houses (22ft by 75ft) are RM810,000 to RM860,000.
Transacted prices of 2-storey detached houses with built-ups of 4,500 to 5,050 sq ft range from RM1.85 million to RM2.15 million, while those of the walk-up apartments are RM325,000 to RM410,000, adds Chan.
For comparison, Ng notes that transacted prices of intermediate 1-storey terraced houses with built-ups of 1,400 sq ft were RM550,000 to RM650,000 between 2016 and 2020, and RM420,000 to RM570,000 between 2011 and 2015; whereas 2-storey terraced houses with built-ups of 1,650 sq ft were transacted at prices ranging from RM770,000 to RM900,000 between 2016 and 2020, and between RM520,000 and RM800,000 from 2011 to 2015.
As for the 2-storey shops with built-ups of 1,540 sq ft, Ng says they were transacted at prices ranging from RM1.88 million to RM2.2 million between 2016 and 2020, and from RM1.8 million to RM2.45 million between 2011 and 2015.
He adds that asking prices for properties in Sea Park today are comparable to the upper limit of transacted prices between 2016 and 2020 in general.
Nonetheless, asking prices can vary, depending on the age of the properties, their condition and whether they have been renovated, says Wong. "Asking prices for 1-storey terraced houses would be RM600,000 to RM700,000, while those for 2-storey terraced houses are RM700,000 to RM900,000.
"The 2-storey shophouses are commanding prices of RM2 million to RM2.5 million, depending on their condition and frontage," Wong says. He concurs with Chan that in this mature suburb, property prices are stable, with gradual price appreciation over the years.
Redevelopment and transformation opportunities
Given the scarcity of sizeable vacant land in Sea Park, the property consultants say there is very limited future development potential in the area. Nonetheless, the area may offer some redevelopment potential.
"Empty land used as car parks and several adjoining old bungalows can be amalgamated, and old commercial buildings can be redeveloped, as old buildings are deemed to be economically obsolete and not optimally utilised. The increasing prices and high plot ratio or density have also made the redevelopment of older properties attractive," says Chan. He adds that in some cases, an area needs fresh projects for its rejuvenation.
As it is, Chan notes that Sea Park is deemed to be less well planned than newer townships such as Bandar Utama, Mutiara Damansara and Kota Damansara.
He says development in Sea Park needs to be viewed and planned holistically. "A number of old buildings that are no longer attractive in terms of design and layout are prime targets for redevelopment. These old buildings can be redeveloped into projects that will enhance the area's appeal.
"To ensure sustainable development, new projects in the locality need to be supported by enhanced infrastructure and amenities such as public transport, wider roads and quality schools. This is to avoid congestion and raise the standard of living in the neighbourhood," he notes.
Meanwhile, Wong observes that properties in Sea Park, particularly the 1-storey terraced houses, are ripe for transformation as they have a more accessible price point. "The fact that the properties are old may actually be a positive [thing] for those who like the flexibility of renovating them according to their own preferences. The land being freehold is an added appeal.
"As with any older suburb that is situated in a desirable location, it will undergo a process whereby the younger segment of the population will move into the neighbourhood and gradually transform the place through the renovation of the properties there. The transformation is usually gradual in the beginning but once it reaches a tipping point, the pace will accelerate."
Ng hopes more parking spaces or a multi-level car park can be made available in the neighbourhood. "There is traffic congestion, both vehicular and pedestrian, within the commercial centre, especially during weekends, and in the morning at the wet market."
He adds that better maintenance of basic infrastructure such as drainage and sewerage can also be considered. "An upgrade may be necessary given that the project was developed almost 60 years ago."