This article first appeared in City & Country, The Edge Malaysia Weekly, on June 20, 2022 - June 26, 2022.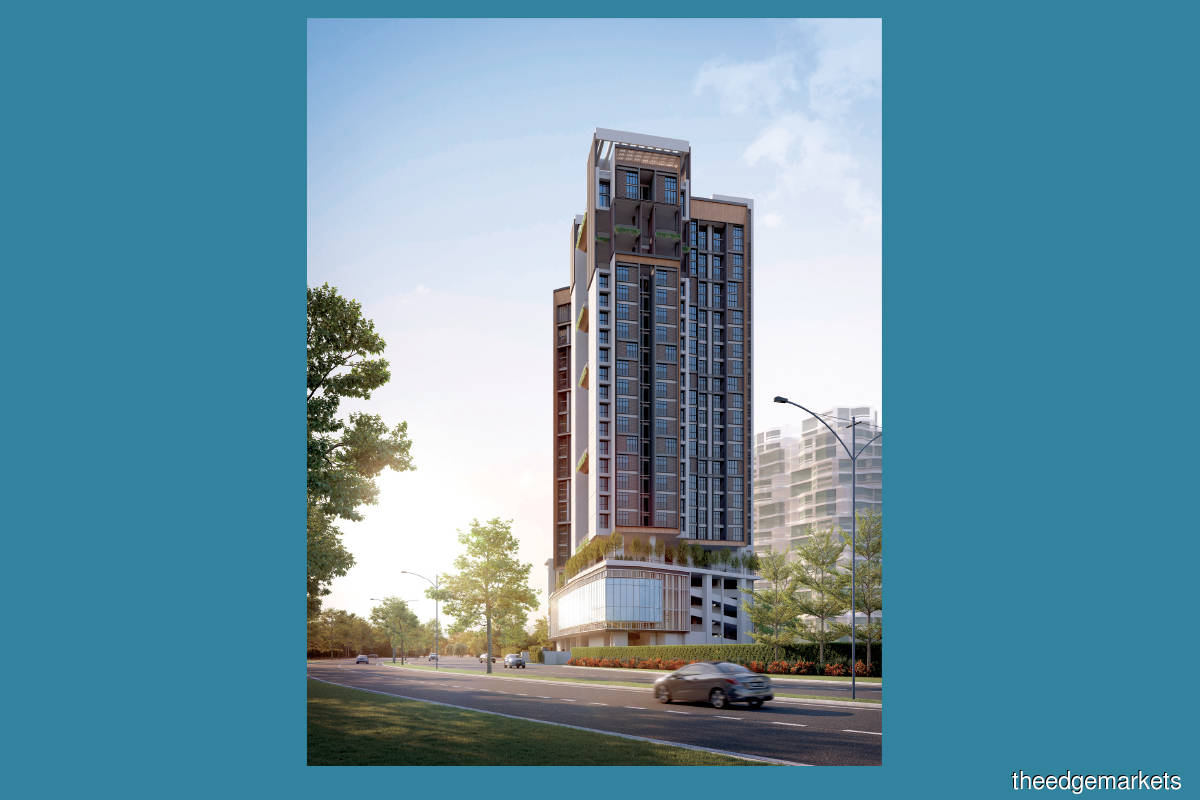 It had been ages since City & Country last caught up with boutique developer Puncakdana Sdn Bhd and it had plenty to update us on. Between acquiring a 2.35-acre freehold parcel (via Luster Industries Bhd) in Ara Damansara, Petaling Jaya, on March 1 and its plans to launch four projects this year, the company has certainly been busy.
In the interview at its sales gallery, executive director Chuah Chong Ewe is only too happy to talk about the developer's latest offering.
"Our most anticipated project this year is Myara Park in Ara Damansara, which we plan to officially launch by June 30. So far, we have attained bookings of nearly 90% and we are confident that it will do well," he says.
At 23 and 17 storeys, the two-tower Myara Park will be the tallest project in Ara Damansara, he points out.
Scheduled for completion in 2026, the low-density, freehold mixed-use project has a gross development value (GDV) of almost RM200 million. The 23-storey tower will comprise 126 serviced apartments while the 17-storey tower will have 129 SoHo suites. 
The towers will be connected by a facilities podium (on the fifth floor), four levels of commercial retail space and a three-level basement car park. There will also be seven levels of corporate offices adjoining the 17-storey tower.
Several types of products are being offered. Myara Park Suites offers units with 2 bedrooms + 2 bathrooms that have built-ups of 753, 764, 786 and 810 sq ft. Myara Park Residence offers units with 3 bedrooms + 2 bathrooms that are between 850 and 861 sq ft. Myara Park Residence Duplex offers units with 3 bedrooms + 4 bathrooms, or 4 bedrooms + 3 bathrooms, that have built-ups of 1,324 and 1,346 sq ft. Myara Park Residence Penthouse offers units with 4 bedrooms + 4 bathrooms that have a built-up of 1,701 sq ft. 
Prices range from RM530,900 to RM583,200 for the suites and RM726,000 to RM1.5 million for the residences. All the units are partially furnished.
The developer is targeting young families and owner-occupiers. "Myara Park will appeal to those looking for sleek, spacious units that are suitable for families and upgraders," says Chuah.
"While we are anticipating our buyers to be mostly owner-occupiers, we believe the project will also attract a good mix of investors, seeing how well Ara Damansara has performed over the years. Having observed consumer behaviour and the changes brought about by the Covid-19 pandemic, we will also offer a co-working space of about 2,000 sq ft (on the facilities podium) in the development," he adds.
"Regardless of market conditions, it is almost a guaranteed success if we develop projects based on the locations and adjust the prices accordingly with the catchment area, and our research."
Established in 1996, Puncakdana emerged as a developer of condominiums in Ara Damansara. Its projects include Puncak Nusa Kelana Condo, Dana 1 Commercial Centre and D13 Office Tower.
The company is also behind the development of Citta Mall in 2010. The three-level mall has a net lettable area of 424,000 sq ft and a gross development cost of RM100 million.
Puncakdana launched AraTre' Residences in Ara Damansara in 2018. Scheduled to be handed over in the middle of this year, the RM520 million development comprises 727 apartment units in three 27-storey towers, with built-ups ranging from 775 to 1,227 sq ft and selling prices starting at RM501,400 (RM645 psf).
A fresh and modern offering
Myara Park is designed to be a fresh and modern take on traditional run-of-the-mill mixed-use developments with residential suites. Its features include a sleek lobby and drop-off area as well as a co-working space for the needs of its residents.
"Myara Park is one of our higher-end products. The design is clean and contemporary," says Chuah, as we look at the show units at its new sales gallery in Tropicana, Petaling Jaya. 
Apart from the co-working space, its facilities podium will also include a multipurpose hall, an infinity pool, a wading pool, a sun deck, a Jacuzzi, a yoga deck and a gym.
Myara Park is within easy reach of Subang Airport, Universiti Kuala Lumpur – Malaysian Institute of Aviation Technology, Asia Pacific Schools, SEGi University & Colleges, Thomson Hospital Kota Damansara, Tropicana Golf & Country Resort and St Joseph's Institution International School Malaysia, among others.
Metro Homes Realty Bhd executive director See Kok Loong says the developments in Ara Damansara have been successful and it is anticipated that they will continue being so. "Ara Damansara is one of the best in terms of new townships because of the town planning and overall development.
"More importantly, there isn't any traffic congestion in Ara Damansara because the developer, Sime Darby, has followed the town planning guidelines."
On the estimated value of properties in the area, he says, "Intermediate terraced houses are transacted between RM1 million and RM1.5 million, while semi-detached units are typically transacted between RM2.4 million and RM3.3 million. Bungalows go for RM4.3 million to RM5.5 million and the 3½-storey shopoffices are usually sold at about RM 1.3 million.
"Personally, I feel [that properties in Ara Damansara] have good value and their prices are reasonable compared with the older townships in Petaling Jaya or Damansara. In addition, the majority of the units are freehold. As for their outlook, I foresee that prices will only appreciate because of the scarcity of land plus high construction cost [that we have witnessed] in the last 12 months."
Future plans
Puncakdana has three more projects lined up for 2022 and 2023 — Cybersouth City Phase 1 in Bandar Cybersouth in Dengkil, Selangor; Al-Waqf @ Tunjong Phase 2 in Kota Baru, Kelantan; and Puncak City @ Seberang Perai Selatan in Juru, Penang.
Cybersouth City Phase 1 will comprise 338 units of townhouses and 80 units of terraced houses on a 62-acre tract. Future phases will include a three-block high-rise project. The first phase will have a GDV of RM268 million and will be soft launched in late 2Q2022.
Al-Waqf @ Tunjong Phase 2 in Kota Baru is a commercial development that comprises three towers — one each for serviced suites, offices and a hotel. With a GDV of RM500 million, the second phase is scheduled for launch in 2Q2023.
Puncak City @ Seberang Perai Selatan in Juru is a commercial development, comprising a hotel, 3-storey semi-detached and detached shopoffices, 2-storey terraced shopoffices, 1-storey terraced and detached shopoffices and a 3-storey business centre. The first phase will have a GDV of RM200 million, while other phases are still in the planning stage, says Chuah.
Meanwhile, the company plans to develop the newly acquired 2.35-acre parcel in Ara Damansara via Luster Ara Sdn Bhd (a subsidiary of Luster ­Industries). Chuah, who is a major shareholder of both Puncakdana and Luster Industries, says, "We would like to develop a residential project there and will reveal more details of it soon.
"We will launch our projects depending on the market conditions, which we believe are starting to look up. Our focus this year is on projects that are in the price range of RM450,000 and above."