This article first appeared in City & Country, The Edge Malaysia Weekly, on June 27, 2022 - July 03, 2022.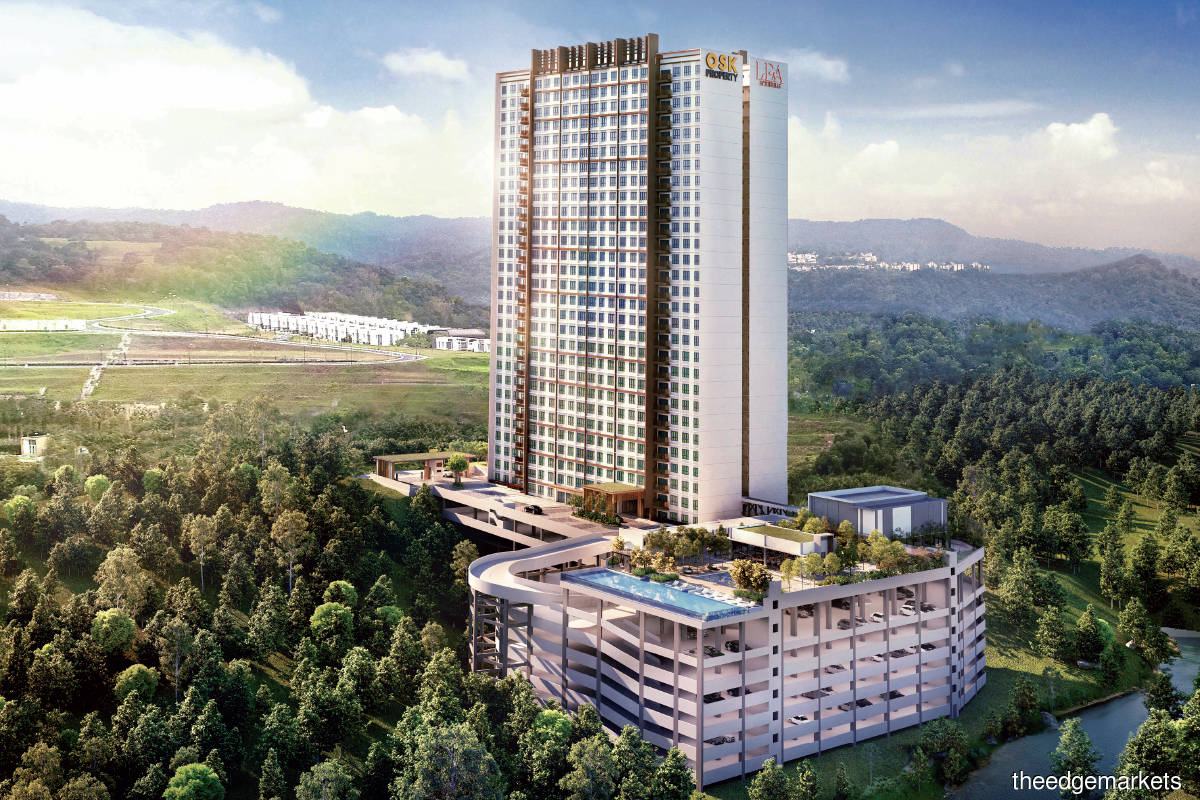 After exchanging cordial greetings, OSK Group's CEO of property development Ong Ghee Bin's first remark during our Zoom call was, "We have been very busy preparing for launches!"
The last time City & Country caught up with Ong was in August last year, when he updated us on OSK Property's RM1.76 billion Shorea Park development in Puchong and the launch of the first phase, MIRA, which comprises 908 units of serviced apartments in two 31-storey towers that sit on 4.98 acres. Officially launched on Sept 25 last year, MIRA is currently 85% sold.
OSK Property has lined up three launches for this year — LEA by the Hills in Taman Melawati, Selangor; Rubica in Butterworth, Penang; and ANYA, the second phase of Shorea Park. The developer is tentatively planning to launch LEA by the Hills on July 2, and the other two in the third quarter.
OSK Property is also planning to launch new phases of two of its townships — Iringan Bayu in Seremban, Negeri Sembilan, and Yarra Park in Sungai Petani, Kedah. "These launches will keep us busy for the rest of the year," says Ong.
"As the country is transitioning to endemicity, we are starting to see more people going out and their confidence returning. Even in the last few months, we have noticed more people buying properties, which gives us a lot of encouragement in terms of the timing to go to market. Personally, I think the property market in 2022 is on the way to recovery and I foresee 2023 being an even better year."
LEA by the Hills
Located in the mature neighbourhood of Taman Melawati, the 2.9-acre leasehold condominium project has a gross development value (GDV) of RM220 million and comprises 344 units in a ­29-storey block, with 12 units per floor.
"The beauty about this project is that it is surrounded by landed developments and it has a very majestic view of the Klang Gates Quartz Ridge. It is not big, just a single development. We bought the land about two years ago from Nadayu Properties Bhd and have since resubmitted the development plans to better suit the current market demands," says Ong.
LEA by the Hills will offer bigger layouts of three to four bedrooms — with built-ups ranging from 1,050 to 1,454 sq ft — to suit families, he says. "Since Covid-19, I think a lot of people have been looking for bigger built-ups. For example, at our Puchong project [MIRA at Shorea Park] launched last year, we noticed that the bigger built-ups were taken up surprisingly faster than the smaller units. So, we have intentionally designed 3- and 4-bedroom units here."
Units are priced from RM560,000 and will come with two parking bays each. The developer has also designed 27 lifestyle facilities — including an infinity pool — for the residents' enjoyment, as well as multi-tier security for their peace of mind. The monthly maintenance fee, inclusive of sinking fund, is estimated at 29 sen psf. The project is slated for completion in 3Q2026.
According to Ong, LEA by the Hills is targeted at professionals, upgraders, small and mid-sized families as well as downsizers, especially those from Taman Melawati. The development, from which there are views of the hills and the city, is also suitable for parents looking to purchase units for their children, he adds.
LEA by the Hills enjoys convenient access to a myriad of amenities in and around the established neighbourhood, including shopping malls (such as Melawati Mall, Wangsa Walk Mall, KL East Mall and Setapak Sentral Mall); educational institutions (Malaysia Institute of Art, Tunku Abdul Rahman University College and Fairview International School); medical centres (Columbia Asia Hospital, KPJ Ampang Puteri Specialist Hospital and Gleneagles Hospital); and commercial areas that are home to eateries, shops, markets and banks. The National Zoo and Kemensah Recreational Park are a 15-minute drive from the development.
Rubica, Harbour Place
Rubica, which comprises 230 serviced apartments in a 35-storey block that sits on a 1.9-acre freehold parcel, is the seventh phase of OSK Property's 30-acre RM869 million Harbour Place development in Butterworth, Penang.
Harbour Place was launched in 2002 by PJ Development Holdings Bhd before the company became a subsidiary of OSK Group in a corporate exercise in 2015.
Previously completed projects or phases at Harbour Place are Park View Tower (handed over in 2005 with 316 units), Sea View Tower (2008; 268 units), Ocean View Residences (2012; 390 units), Wellesley Residences (2014/15; 415 units), Woodsbury Suites (2017; 426 units) and Luminari (2019; 469 units). All six phases have been fully sold and handed over. Harbour Place is currently 70% occupied, according to Ong.
"In the last two years or so, we were getting all the necessary approvals in place for Rubica and now, we are ready to launch. Again, the units will come with three to four bedrooms," he says.
Rubica, whose name is inspired by the infinite perspectives of the Rubik's Cube, has a GDV of RM136 million. The 3- and 4-bedroom units, with built-ups of 946 to 1,335 sq ft, have an indicative price of RM484,000 and upwards. All units come with two to three parking bays each and the 4-bedroom units offer the dual-key concept.
According to Ong, Rubica is targeted at owner-occupiers who want to live in a well-connected location, near highways and public transport, as well as family-centric homebuyers looking for bigger units.
Upon completion (tentatively in 3Q2026), the development will offer facilities such as a 25m swimming pool, gymnasium, games room, recreation area and multipurpose hall. The monthly maintenance fee is estimated at 32 sen psf, inclusive of the sinking fund.
Situated 1km away from Penang Sentral, Rubica will have easy access to ferry, train, bus and taxi services. The development has direct access to the Butterworth-Kulim Expressway and North-South Expressway, and is about a 10km drive from the Penang Bridge.
Nearby amenities include educational institutions (like UiTM Permatang Pauh, Penang International Dental College, Stanford International College, and government primary and secondary schools), commercial centres (Penang Sentral Mall, Sunway Carnival Mall, GEM Megamall, Penang Megamall, Econsave and Lotus's), and medical centres (Seberang Jaya Hospital, Penang Sentral Hospital, Bagan Specialist Centre and Sunway Medical Centre).
On the Penang property market, Ong says, "The demand for property in Penang is very similar to that in the Klang Valley, although on a smaller scale due to its population. Hence, Rubica and the timing of our future developments are planned in such a way that we do not overwhelm the market with a surge of supply at one go."
As OSK Property still has available land at Harbour Place, Ong expects to launch four more phases in the future. "The entire Harbour Place is a strata development. And because they are all high-rise, you can actually see landmarks like the Penang Bridge and Penang Island from the development," he says.
"Looking back at our previous phases, we are confident that Rubica will achieve the same success, as the development is an exceptional example of a low-density development situated in a prime location in Butterworth."
ANYA at Shorea Park
One of OSK Property's newest offerings, the 27.7-acre freehold Shorea Park in Taman Meranti Permai, Puchong, has a total of five phases.
The entire development is multi-phased and stratified, notes Ong. "Shorea Park is also nature-themed, so each phase has a theme that ties back to nature. For example, MIRA's theme is water, while ANYA's is wood.
"MIRA's sales were better than expected. Hence, we quickly started developing the second phase," he adds.
Sitting on 3.91 acres, ANYA has a GDV of RM393 million and will offer 750 serviced apartments in two 34-storey towers, with up to 13 units per floor. Targeting buyers who want the multigenerational living concept and dual-key units, the project offers units with 1+1 to 4 bedrooms that have built-ups of 560 to 1,389 sq ft. Indicative prices start from RM250,000.
According to Ong, the 560 sq ft units have 1+1 bedrooms and are fixed-price units (affordable serviced apartments) under the Selangor Housing and Property Board (LPHS). "Of the total units at ANYA, 20% are fixed price. This is a state requirement. Similarly, 15% of the units at MIRA are fixed price," he explains.
"Buyers don't need to ballot for these units, they only need to go through the LPHS by registering on the board's website. One of the criteria for eligibility is that the applicant's [household income] is less than RM10,000 [or up to RM15,000] per month. I think a lot of people will qualify [for the scheme]. Once the application is approved by LPHS, the buyer can sign the SPA (sale and purchase agreement). The process is much easier than that of schemes like Rumah Selangorku."
However, the take-up for fixed-price units is not as swift as those on the free market. "I think it is because most people are not aware of or not very clear about the qualification criteria for these homes. So, we are getting agents and the team to explain to our prospects," says Ong.
While the built-ups of the affordable homes are smaller, they will have the same finishes and built quality as the free-market homes, he clarifies.
Similarly, the developer has consciously included more 3- and 4-bedroom units at ANYA. "Based on the response at MIRA, we find that the 3- and 4-bedroom units did very well and were sold faster. Maybe because of Covid-19, buying preferences have changed," Ong reasons.
The free-market units, which have built-ups starting from 915 sq ft, come with 3 bedrooms + 2 bathrooms and are indicatively priced from RM490,000.
Purchasers of homes in the first phase are mainly first-time home buyers purchasing for their own use. "Not a very high percentage of the buyers are buying for investment," says Ong.
"Most of the buyers are from the surrounding areas, mostly from Puchong, while the rest are from the fringes of Puchong, such as Subang Jaya, Seri Kembangan, Kajang and Cyberjaya. We also get buyers from KL and Cheras."
The facilities at ANYA, which is slated for completion in 3Q2026, will include a 50m swimming pool, hydrotherapy spa, forest ramble playground, co-working space and multipurpose hall with half basketball/badminton court.
Located in the amenity-rich area of Puchong, Shorea Park enjoys easy access to major highways such as the South Klang Valley Expressway, Damansara-Puchong Expressway and North-South Expressway Central Link, as well as educational institutions (Multimedia University, Limkokwing University, Taylor's International School, and primary and secondary schools), commercial hubs (Tanming Boulevard, Taman Puchong Prima, Bandar Bukit Puchong and Prima Business Hub), supermarkets (Tesco Extra Bukit Puchong, Aeon Big Puchong Utama and Hero Market Puchong Utama) and medical centres (KPMC Puchong and Columbia Asia Hospital).
Ongoing projects
In addition to the three new projects this year, OSK Property plans to launch new phases at its Yarra Park and Iringan Bayu townships. "Over the last two years, these two townships have done exceptionally well in terms of take-up rate and have exceeded our targets," says Ong.
"Yarra Park is part of the bigger Bandar Puteri Jaya development that we started over 20 years ago, whereas Iringan Bayu is near Seremban 2. Both townships comprise terraced houses, semidees and bungalows. It's like we have a supermarket of products in these townships."
To date, the company has completed and handed over six phases at Yarra Park and five phases at Iringan Bayu.
In January, OSK Property launched Northfield Zone 3 in Yarra Park, which comprises 171 units of 1-storey terraced houses that have a total GDV of RM53.14 million. At Iringan Bayu, the developer launched Erama 8B2 in February and Gitaran 8D in May. The former, with a GDV of RM41.3 million, comprises 56 units of 2-storey semidees while the latter, with a GDV of RM161 million, comprises 316 units of 2-storey terraced houses.
One of the company's ongoing developments, YOU CITY III in Cheras 9th Mile, is 70% constructed and 99% sold. "As we speak, there are six units left, which are waiting for [loan application approvals]. We are targeting to complete YOU CITY III in 1Q2024," says Ong.
Part of the developer's RM1.2 billion 20-acre YOU CITY township, YOU CITY III has a GDV of RM492 million and comprises 800 serviced apartments in two 39-storey towers. Units have built-ups of 678 to 1,776 sq ft and are priced from RM438,800 to RM1.22 million.
Meanwhile, Phase 1 of its A$2.9 billion Melbourne Square project in Australia is 80% sold and was completed and handed over to buyers in 2020. "Melbourne Square has six towers and is one of the biggest integrated developments in the city of Melbourne. So far, we have completed two apartment towers," says Ong.
He adds that there will be another office tower, hotel tower and two apartment towers in the development.
On the home front, the developer is facing several challenges, including the rising cost of construction materials and the shortage of construction workers. "These two challenges contribute to an increase in our costs, which makes it challenging to price ourselves lower," says Ong.
One of its strategies is the OSK PropCon model, where it synergises two of its business pillars, property development and construction, he says. "We started this in 2017 and since then, our construction team has been working together with the property team to come up with designs that are easy and inexpensive to build. We don't want to have difficult designs that are very expensive to build but that don't give much value to our customers.
"Being builders ourselves, we have full control of the quality, and we can control our costs better and ensure timeliness in delivery. We're happy to share that projects that were completed over the past two to three years under the PropCon model have achieved a minimum Qlassic score of 80%, except for TimurBay in Kuantan, which scored 76% but is still the highest for that location.
"In terms of delivery, none of the projects was delayed. This is what the PropCon model has helped us to achieve, and it is something we are very proud of."
In terms of land bank, OSK Property has about 1,978 acres of undeveloped parcels in Malaysia and Melbourne, which translates into a GDV of RM14.7 billion.
"As a property developer, we don't stop looking for land. We feel that we will need to have at least one to two more townships, as during the worst of times, our township developments surprisingly have done exceptionally well. This has prompted us to focus on looking for more township land outside the Greater Klang Valley," says Ong.
"We have another piece of land [measuring 4.35 acres] in Taman Melawati, just across the road from LEA by the Hills. If LEA does well, we plan to launch our second project there. We also have a new 15.4-acre parcel in Shah Alam near the stadium that we bought from Naza TTDI and another 10-acre tract in Sentul."
Moving forward, OSK Property remains committed to building affordable homes. "In every location we go to, we talk about essential homes and ensure that we control our costs. We want to develop products that we can price affordably, which means when compared with similar products in that location, our prices are set to be fair," he says.
"For example, we are conscious of the type of facilities we provide and the cost of maintaining these facilities. Our focus remains the same, with the goal of providing value-focused products in each location we are in."