This article first appeared in The Edge Malaysia Weekly, on November 21, 2022 - November 27, 2022.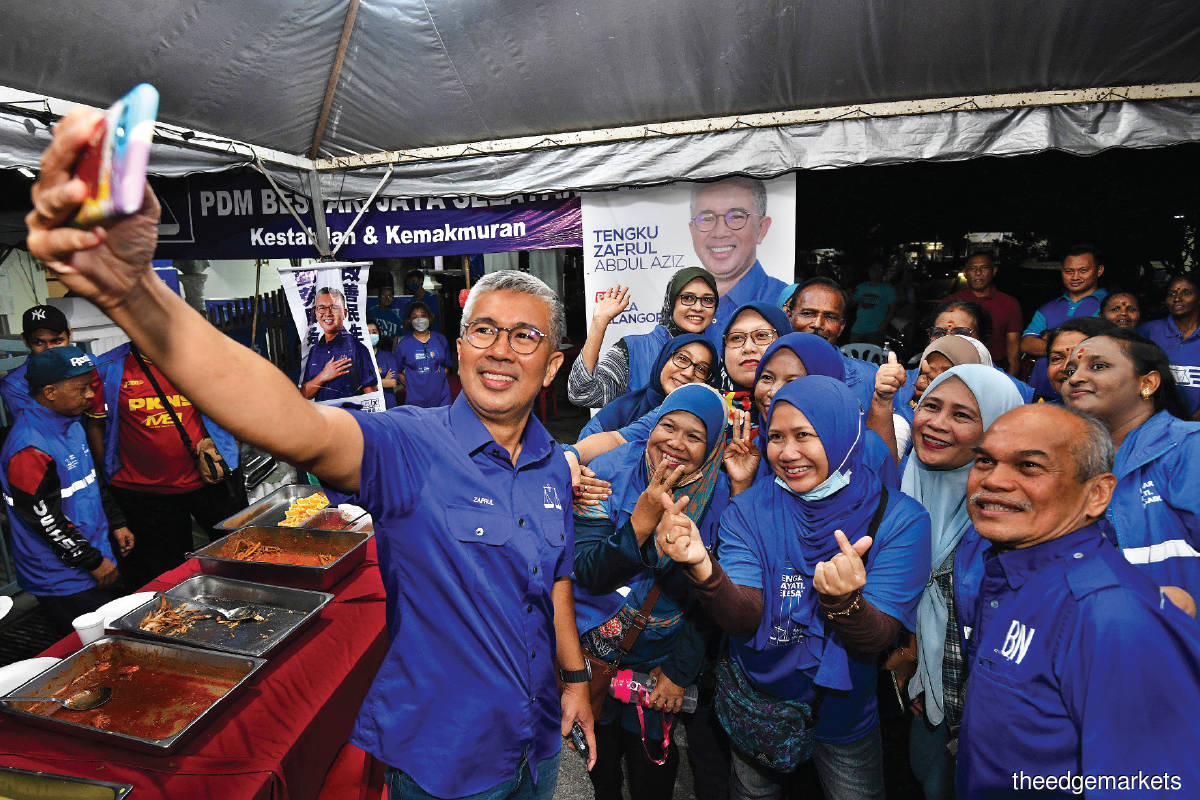 THE heat of battle is rising in Kuala Selangor, Sungai Buloh and Shah Alam — three parliamentary seats that may determine whether Pakatan Harapan (PH) could lose its grip on Selangor in the next state election.
Consider the Barisan Nasional (BN) strategy of fielding smart, articulate and younger candidates in these seats. There is technocrat Tengku Datuk Seri Zafrul Abdul Aziz, 49, in Kuala Selangor; Harvard University graduate and former Economic Planning Unit department director Isham Jalil, 46, in Shah Alam; and popular three-term member of parliament for Rembau Khairy Jamaluddin, a University of Oxford graduate, also 46, in Sungai Buloh.
"If BN comes out on top in these three constituencies — and if [Datuk Seri] Amiruddin [Shari] loses in Gombak — then the fate of PH's state government will hang in the balance. It will be a boost not only for BN to win these three seats, but also for Umno," said Azmi Hasan of Nusantara Academy for Strategic Research.
Professor Dr Sivamurugan Pandian of Universiti Sains Malaysia agrees that BN is eyeing these constituencies as a way to wrestle back Selangor from PH. "The general election's results will influence the voting patterns in the state election later. The decision not to have the federal and state elections together could backfire on the current state governments if they don't perform," he says.
"I think that's why you're seeing all these people — Zafrul, Isham and Khairy — being planted in Selangor, while names like [Tan Sri] Noh Omar were dropped."
Noh Omar, the BN Selangor chief who managed to retain his Tanjung Karang seat in GE14 — but with his majority halved from 4,394 to 1,970 — has given way to Wanita Umno chief Datuk Habibah Mohd Yusof. Tanjung Karang and Sabak Bernam were the only two parliamentary seats in Selangor that BN won in the last general election.
In Sungai Buloh, which comprises the state seats of Paya Jaras and Kota Damansara, caretaker health minister Khairy is seen as the strongest candidate in a seven-cornered fight. The seat was previously held for three terms by PH's Sivarasa Rasiah, who has been replaced by Parti Keadilan Rakyat (PKR) deputy information chief Ramanan Ramakrishnan. The PKR candidate is not seen as a strong contender despite having the backing of PH chairman Datuk Seri Anwar Ibrahim.
The other candidates are Akmal Yusoff (Gabungan Tanah Air (GTA)), Mohd Ghazali Md Hamin (Perikatan Nasional), Ahmad Juflis (Parti Rakyat Malaysia), and independent candidates Syed Razak Alsagoff and Sifu Linda.
Khairy's main hindrance is his party's tarnished image. However, he is using this hurdle as a springboard by marketing himself as a future PM candidate who will change the party from the inside and bring about a better Malaysia.
In Shah Alam, it is a four-way fight that pits three reasonably experienced and well-known politicians against each other — Isham, who is also an Umno supreme council member; Penang state assemblyman for Seberang Jaya Dr Afif Bahardin (PN), a protégé of Datuk Seri Azmin Ali; and Selangor Parti Amanah Negara deputy chief Azli Yusof (PH). The fourth candidate is Rafique Rashid (GTA), a political novice.
This seat was held for three terms by PH's Khalid Samad, who is now facing Umno heavyweight Datuk Seri Johari Abdul Ghani in Titiwangsa. Azli, who served as Khalid's political secretary when he was federal territories minister during PH's 22-month administration, is a familiar face in the constituency. Shah Alam comprises the state assembly seats of Kota Anggerik and Batu Tiga.
As for Gombak, there are five contenders for the seat. But the focus is on the race between Amiruddin, the current menteri besar of Selangor, and his former PH colleague and mentor, Azmin, who held Gombak for three terms under PKR and is now contesting under PN. Azmin, also a former MB of Selangor, has a strong track record in government, but will find out how voters rate him for his role in the Sheraton Move that toppled the PH government.
The three other contenders are Datuk Dr Aziz Jamaludin (GTA), Megat Zulkarnanin Omardin (BN) and independent Zulkifli Ahmad. Gombak comprises the state assembly seats of Sungai Tua, Gombak Setia and Hulu Kelang.
The race between the 'tortoise' and the 'kayangan'
In Kuala Selangor, which comprises the state seats of Ijok, Bukit Melawati and Jeram, incumbent Datuk Seri Dr Dzulkefly Ahmad, who regained the seat in GE14 with a majority of more than 8,000 votes after losing the contest in GE13, said he is seeing a level of support that he has not seen before.
"In the really Malay areas, such as Bukit Hijau, Bukit Kuching, Bukit Kuching Tengah, Bukit Cherakah and Felda Bukit Cerakah [in Jeram], honestly, I have never won in those places. They were either PAS or Umno areas. [But now] I see the people there coming forward, telling me, 'My prayers are with you'; I've never seen this kind of support before," the PH candidate said when we met last Tuesday after wrapping up a 3pm high-tea session with Datuk Seri Anwar Ibrahim in Kg Bukit Badong, Ijok. Ijok and Bukit Melawati remain his strongholds, he said, and anecdotal evidence indicated that easily 80% of the people he met on his walkabouts want him to win.
Residents in the neighbourhood have few complaints against "Dr Dzul", as most call him. The comments usually run along the lines of: "Yeah, he's nice." "He's a decent man." "He does his work … I have nothing against him." But will they come out to vote? Most of those whom we met said yes. "But what difference does it make? All the parties are the same. They just plot for themselves, while our lives don't get any easier or better," said a shopkeeper, just as Anwar's voice sounded from a loudspeaker across the street, followed by chants of "Reformasi" from his supporters.
Dzulkefly acknowledged the political fatigue, and while the 66-year-old likened himself as one plodding slowly "like a tortoise" as he goes about his campaign, he said he is targeting such voters. "I tell them — voters who gave us the win previously — to not be disheartened. Because in those 22 months [PH was in government], we have done our best. We fulfilled 60% of our manifesto. Imagine if we were to get 60 months ... But if you don't come out to vote, what will happen is what happened in Melaka and Johor," he said, referring to how BN last year recaptured Melaka's state assembly and its super-majority win in Johor earlier this year, sweeping 40 of the 56 state seats.
It is not about whose side is victorious, but about economic development, which has been slow in reaching Kuala Selangor, and about job opportunities, said a restaurant worker. "I don't care who becomes prime minister. PH held this seat for two terms already, but what did we get? Things have not really changed much here. And the Lim family at DAP, what have they done for us Chinese? They're just busy fighting with MCA."
Besides Zafrul, two other candidates are trying to wrest the Kuala Selangor seat from Dzulkefly — Mohd Noor Mohd Sahar (PN) and Mohd Shaid Rosli (GTA). But the real battle here, where the number of eligible voters has jumped 48% to 102,951 from 69,397, is between Zafrul and Dzulkefly.
Later that night, Zafrul was seen making what he said was one of "27 stops a day" in the constituency at nearby Bestari Jaya. There was an air of expectancy as a white Toyota Alphard rolled into the neighbourhood for his scheduled walkabout, but it wasn't him. Instead, Zafrul, whom political pundits have said will need to shed his image as a "kayangan" (elite) to appeal to voters, arrived in a fashionably local Proton SUV, and the small crowd rushed forward to meet him. They were almost exclusively from BN's election machinery in the area — people who will be campaigning hard for him — sporting new blue BN tees and jackets. Some even have his face emblazoned on them, or his initials, TZA.
The session was meant to be one of the few pit stops planned for the night, while his speech — made after he handled a problematic microphone provided to him by promptly whipping out his own mobile speaker and wireless microphone — was brief and focused on the action plans he had formulated to tackle more than 50 concerns raised by the people. These were concerns his team identified after going to the ground here over 230 times, he said.
Among his plans were setting up a road task force to tackle dark and dangerous roads in the constituency, and adding a lane to busy roads. Having had to pick our way there really carefully via narrow kampung roads — long stretches of which were pitch-black — after a quick dinner in Pasir Penambang some 30 minutes away, we could appreciate these promises. These were among the almost 40 action plans his team had put together and categorised — infrastructure and public transport; welfare, community and improving the quality of life; jobs and businesses; education and skill development — for easy reference on a website specially set up for his campaign.
"Initially, we thought of having a vision statement for Kuala Selangor. But then, we realised what the voters want is for us to resolve daily issues here first. Don't talk about making Kuala Selangor the largest contributor of GDP growth for Selangor when they need lighting, repairs for their roads, [and there is] flooding because of [poor] drainage. Much of the issue is about maintenance," Zafrul said as he stopped for a brief chat with the media.
But would he be committed to his initiatives, regardless of who the state assemblymen or ADUNs will be after the next state election?
"Of course. I think the approach has to change. As long as we can help the people, we should work with the ADUN — even if the ADUN is from a different political party. But actually, if we win the parliamentary seat for Kuala Selangor, and if we show — if we impress — in the months before the state election [what we can do for the people], we will have a better chance to win the state seats. So, all the more reason why all the things we have promised must be done as much as possible before the state assembly is dissolved. So people will know that when we say we are doing something, we are going to do it."
The caretaker finance minister, who is focused on the smaller local issues, said he was getting "good, positive feedback" that had bolstered his confidence for his first election. "I think the incumbent naturally will have the advantage. He's been here for a while — for at least 15 years. But I think what's important is my strategy — we look at issues … on what we can resolve. I don't think we should be focusing on personalities or the shortcomings of individuals, because we all have our own. So, let's focus on convincing voters what I can do for them if I'm chosen."
This focus is working to his advantage, according to political observers. While his relative youth, lack of political baggage and the efficient, dynamic technocrat image he projects represent a possibility for change and growth, which are definite pluses for him.
This could very well be the case as well for the other candidates BN is fielding in Sungai Buloh and Shah Alam, which may just give them the edge they need to penetrate the state that has been a PH stronghold since it toppled the coalition in 2008.