This article first appeared in City & Country, The Edge Malaysia Weekly, on September 27, 2021 - October 03, 2021.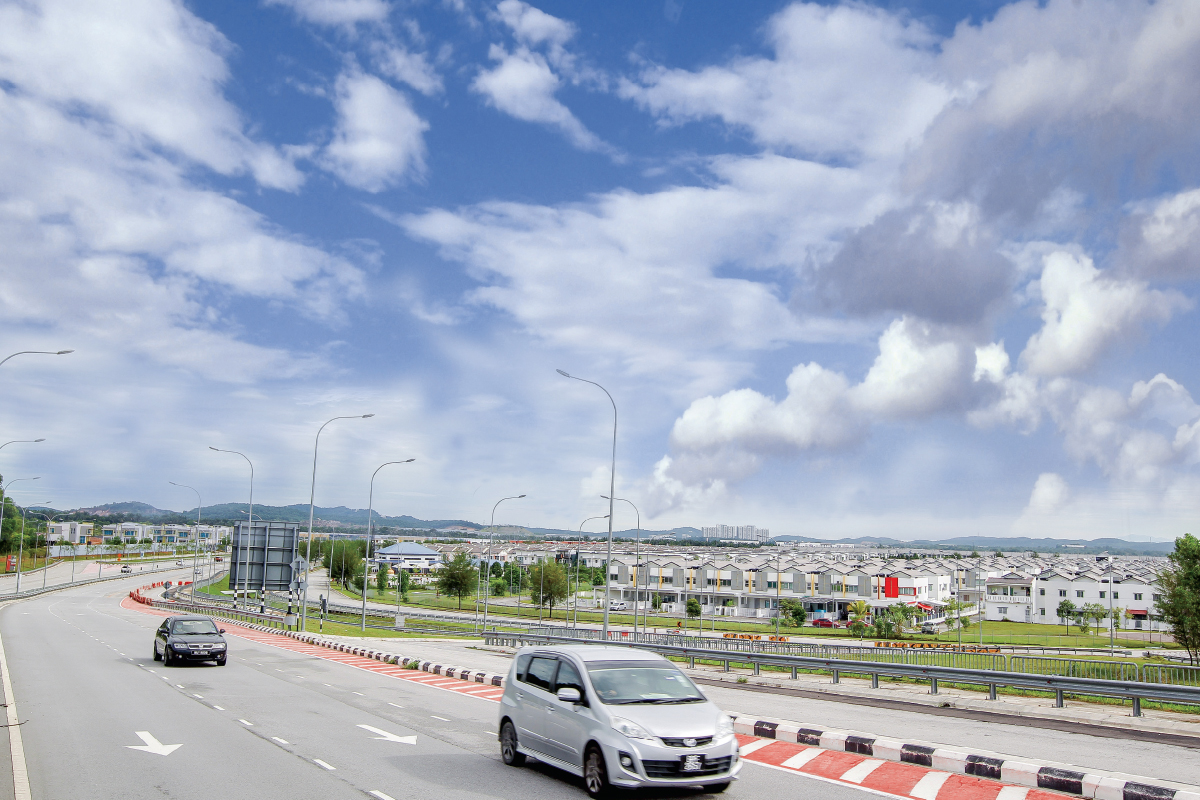 Shah Alam's Seksyen U10, U11 and U12 and their vicinity have been identified as an area of growth, thanks to improved connectivity as well as several early developments that served as catalysts for the growth in population and property values here. 
"Shah Alam Seksyen U10 to U12 are located within the Shah Alam City Council jurisdiction and were formerly part of Bukit Cerakah Forest Reserve," says Laurelcap Sdn Bhd executive director Stanley Toh. 
"The lands were alienated about 20 years ago and at present, there are many new housing developments along Persiaran Mokhtar Dahari, connecting Bukit Jelutong to Ijok. The area is also well known for being where Altantuyaa Shaariibuugiin's bone fragments were found — near the Subang Dam in Puncak Alam," he adds.
Seksyen U10 to U12 have developed gradually over the years. Newer developments by well-known developers have come up in neighbouring areas, attracting the interest of homebuyers. 
"Seksyen U10 is located almost midway between Meru in the west and Sultan Abdul Aziz Shah Airport in the east, and Bandar Saujana Utama in the north and Shah Alam city in the south," says Landserve Sdn Bhd managing director Chen King Hoaw.
"Puncak Perdana, which lies along the northern side of Persiaran Mokhtar Dahari — previously known as the Shah Alam-Batu Arang Highway — is the main township in Seksyen U10. It was developed in 2005 by TRIplc Bhd, which also developed the adjacent Perdana Heights.
"Some of the earlier developments along Persiaran Mokhtar Dahari are Kampung Subang Baru, Sunway Kayangan, Kayangan Heights and Cahaya SPK. The UiTM Puncak Perdana campus in Puncak Perdana, which opened its doors in 2005, was the catalyst in the area. Located just about eight minutes to the north, or 6.6km in road distance, is the Tasik Subang Dam, a natural water catchment area.
"Meanwhile, Seksyen U11, also known as Bukit Bandaraya, and Seksyen U12 — with Desa Alam and Cahaya Alam — are located about 20 minutes or 17.5km to the south of Seksyen U10. They front the northwestern side of the New Klang Valley Expressway (NKVE), right at its interchange to Bandar Setia Alam. 
"Bukit Bandaraya was developed by Lebar Daun Bhd. The Selangor State Development Corporation (PKNS) is the master developer of Desa Alam while Cahaya Alam is developed by Encorp Bhd," says Chen.
The property types in these three areas comprise mainly terraced houses as well as apartments, semi-detached houses and bungalows. There are commercial shops as well.
"The demographic of this area has a higher proportion of Malays. The residents tend to be working professionals and civil servants," says KGV International Property Consultants executive director Anthony Chua. 
According to Laurelcap's Toh, the residents comprise mainly young families who probably work in KL city or Shah Alam and want a bigger house. He says there are also a lot of upgraders, families who used to live in terraced houses and who want to upgrade to a bungalow or semi-detached house.
"The demographic profile of this area is predominantly families from the low- to medium-income group. The Universiti Teknologi MARA (UiTM Puncak Alam) campus is in Seksyen U10, while the Universiti Teknologi MARA main campus and Universiti Selangor (UNISEL Shah Alam) are located near Seksyen U11 and U12. So, apart from the lecturers and staff of these universities, there are many undergraduates too," says Chen.
"We foresee that this will gradually change. With better connectivity, homebuyers from Shah Alam, Petaling Jaya and other parts of the Klang Valley, including those in the medium- to high-income segment, will be drawn to this area. 
"In fact, while existing schemes comprise mainly 2-storey terraced houses, more high-end homes, including semi-detached and detached houses, are being developed here to cater for the potential demand in the near future," he elaborates.
The benefits of infrastructure
Landserve's Chen observes that the area has benefitted from several earlier infrastructure projects. One of them is the Shah Alam-Batu Arang Highway, which commenced construction in the mid-1990s with the aim of providing better access to the new township of Puncak Alam in the northwest, from Subang and Shah Alam. The highway was opened in 2003 and in 2014, it was renamed Persiaran Mokhtar Dahari, says Chen.
"In 2005, we saw the completion of the Guthrie Corridor Expressway, which has an interchange at Kampung Subang Baru, connecting the expressway to the then Shah Alam-Batu Arang Highway."
Kiara Realty principal Lee Meng Tuck attributes the upgrading of Persiaran Mokhtar Dahari from a two-lane carriageway to a four-lane thoroughfare as a significant development in the area. "This road links Guthrie Corridor Expressway to Jalan Bukit Cerakah from Meru, Klang, and onwards to LATAR Highway."
Lee says that the opening of a new road at Bandar Alam Budiman behind the Setia Alam township led to better accessibility to the northern part of Shah Alam, and that the soon-to-be completed Damansara-Shah Alam Highway (DASH) will also have a positive impact on and increase interest in the area.
Toh concurs. "DASH is probably the biggest catalyst as it opens up the area to traffic from Damansara Perdana, Mont'Kiara and Greater KL. As such, property values have increased, notwithstanding the effects of the Covid-19 pandemic. 
"The highway also provides opportunities for families who want a bigger home but cannot afford city prices. With the highway, they are able to cut travelling time from Seksyen U10 to KL city by 30 minutes off-peak. It usually takes at least one hour using existing routes," he adds.
According to Chen, the 20.1km DASH is 96% completed and will connect Puncak Perdana to Penchala and Damansara Perdana in Petaling Jaya, reducing travel time from 90 minutes to 20 minutes. "It will have 13 interchanges altogether, which are set to benefit areas like Puncak Perdana, Alam Impian, Alam Suria, Denai Alam, Kampung Melayu Subang, Bandar Pinggiran Subang, Subang Dua, Subang Airport, RRIM, Persiaran Surian, Seksyen 5, Kota Damansara, Sunway Damansara, Damansara Perdana and Penchala.
"Besides, there is also a new access road from the NKVE to Eco Ardence Setia Alam, which in turn connects to Persiaran Penaga along Seksyen U12. With such connectivity and reduced travelling time, properties in these areas will be more appealing to homebuyers in the Klang Valley," Chen says.
Where the action is
According to Kiara Realty's Lee, in the last five to 15 years, developers have built projects along and around Persiaran Mokhtar Dahari, which he reckons is where all the action is. 
There is Glomac Bhd's Bandar Saujana Utama; SHL Consolidated Bhd's Alam Budiman; Eco World Development Group Bhd's Eco Grandeur; MKH Bhd's Hillpark; Amcorp Properties Bhd's Kayangan Heights; SPK Homes' Cahaya SPK; Sunway SPK's Sunway Alam Suria; LBS Bina Group Bhd's Alam Perdana and Alam Awana Industrial Park; and LYL Group's LYL Logistics Park. 
He believes that new growth areas will see occupancy rates of around 80% for their residential and commercial components. He highlights, however, that the area currently lacks schools, retail components and government service centres and hospitals. 
"With the successful newer projects undertaken by established developers over the last few years, the area will eventually develop into a newer northern residential area of the Shah Alam township," says Lee. 
Based on transaction records for terraced houses in Alam Budiman and Cahaya SPK, and townhouses in Puncak Perdana, Toh says, "The price trend over the years has moved in an upward trajectory due to the continuous improvement of infrastructure works in the area, such as the upgrading of Persiaran Mokhtar Dahari and the upcoming DASH."
As for new or upcoming developments, he points to Land & General Bhd's Aria Rimba Phase 1, featuring 150 two-storey terraced houses. Aria Rimba, which sits on 112 acres of leasehold land, will have a gross development value (GDV) of RM1.1 billion. 
There is also LBS Bina's Melodi Perdana, on 21.755 acres, which has a GDV of RM562 million. It will offer 1,520 apartments measuring 901 sq ft. In addition, EcoFirst Consolidated Bhd is building 1,098 SoHo units on 4.6 acres in Seksyen U9 Shah Alam in Cahaya SPK, with a GDV of RM311 million.
KGV International's Chua highlights Worldwide Holdings Bhd's Dillenia Bukit Bandaraya. Located in Seksyen U11, it comprises 102 two-storey semi-detached houses and five 2-storey detached houses. The semidees range from 2,822 to 2,911 sq ft in built-up, with land area of 3,600 to 4,000 sq ft. The starting price is RM1.52 million. The detached houses, meanwhile, have a built-up of 3,829 to 4,104 sq ft and prices start from RM2.314 million. 
In Seksyen U12, he says there is Encorp's Clover Cahaya Alam, which comprises 185 two-storey terraced houses. With built-ups of 2,357 to 2,588 sq ft, the homes are priced between RM1.02 million and RM1.65 million.
Chua also points to Bukit Bayu by Kimlun Land Sdn Bhd, where the developer bought completed bungalows in an existing scheme and redesigned them. "As at mid-2021, the developer had sold 28 out of the 30 bungalow units at an average price of RM2.2 million since their refurbishment project started in 1Q2020. The land size averages about 10,000 sq ft and the built-up ranges from 5,806 to 6,475 sq ft." 
He adds that Kimlun Land plans to launch the next phase in 4Q2021. This phase will comprise another 16 bungalows of similar land size and built-up as the previous units, priced at RM2.4 million each. It plans to launch a further 23 bungalow units in 2Q2022.
These new/upcoming projects are also highlighted by Landserve's Chen in his research, along with the newly completed Dahlia in Cahaya Alam, Seksyen U12. Developed by Encorp, the two-storey terraced houses have a land area of 1,650 sq ft and built-up of 2,304 sq ft. The selling price starts from RM730,000.
Area outlook
While the property market has been impacted by the pandemic and subsequent lockdowns, the property experts are optimistic about the area around Seksyen U10, U11 and U12 as well as the Persiaran Mokhtar Dahari corridor.
KGV International's Chua believes the locality is a "hidden gem". "It adjoins the well-known Setia Alam and Setia Eco Park townships, and the upcoming Eco Ardence. However, property prices in the three seksyen of Shah Alam lag behind their better-known counterparts, partly due to their facilities, amenities and product offerings. In the light of this, we see the potential for newer phases in existing schemes or upcoming new developments bridging the gap by upscaling and offering better products."
For Landserve's Chen, the area has a positive outlook with DASH becoming operational soon. 
"Once DASH is opened, we foresee a lot of traffic in the area, and we also see positive movement in terms of property prices. We also notice that developers who recently purchased land in the area have gone high-rise and high-density. This shows confidence in the area as a mature and established development enclave, especially within the northwestern corridor of the Klang Valley," Laurelcap's Toh says.
Kiara Realty's Lee believes that in the next 10 years, there will be an estimated 500 to 1,000 acres of available pocket development land between the Guthrie Corridor Expressway in the west, NKVE in the south and LATAR in the north. 
"There will be a migration of Klang's and PJ's population to the newer and highly accessible areas of Seksyen U9, U10 and U14 located along Persiaran Mokhtar Dahari — the new untapped northern section of the Shah Alam township," he adds.