This article first appeared in Enterprise, The Edge Malaysia Weekly, on February 10, 2020 - February 16, 2020.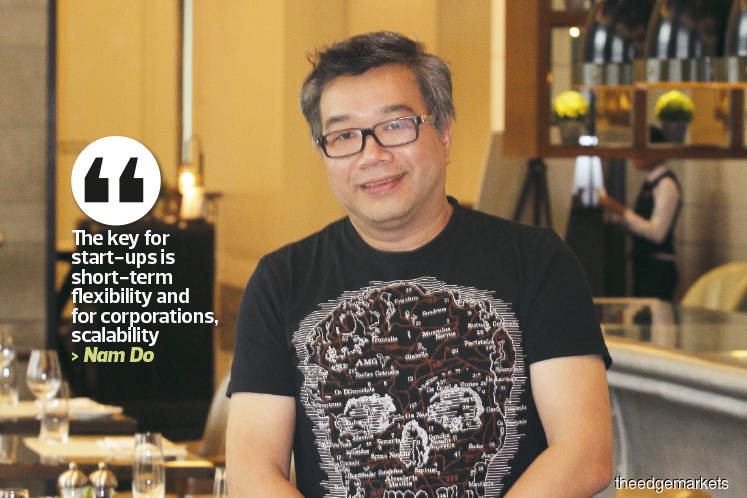 The co-working industry has been shaken up, thanks to WeWork. In a span of a few months, the company has withdrawn its IPO plans, changed leadership, announced job cuts and had to be bailed out by Japan-based SoftBank.
While the issues surrounding this decade-old company were unprecedented, this was just what the industry needed to take it to the next level.
But WeWork, the pioneer co-working space company, has been influencing the industry since its inception. In fact, it inspired UPGen founder Nam Do to set up Vietnam's largest office space solution in 2016.
Do went the extra mile. To understand the concept better, he lived in one of the spaces when he was based in San Francisco eight years ago and realised there were a few problems with the traditional co-working model, the first being brand dilution.
"The important thing is for companies to build their own brand and culture. It is very hard to do when you are in the same space with other companies. That is why when you go to a traditional co-working space, you will see new faces after six months," says Do.
The second issue was that the traditional co-working model failed to take into account human emotions, specifically the fact that humans are creatures of habit. "Everybody has their favourite spot in a co-working space and over time, they will buy a spot to be exclusively theirs, taking away the 'sharing' part of the model. If you look across the board, the best performing co-working spaces have a maximum occupancy rate of 85%," he says.
Because of this, while the space is great for a small company just starting out, it tends to hinder expansion plans.
Do's curiosity resulted in him spending the next five years trying to solve the issues he had identified. Nobody in the market was filling the gaps.
He was running bioinformatics and technology company Emotiv, which he had set up in Silicon Valley in 2003. In 2013, he exited the company and a year later, he returned to Vietnam to help build the company's tech centre.
"Silicon Valley was getting too expensive for tech support and the trend of having external tech support was increasing. I chose Vietnam because of my background and because it was very cost-effective there," says Do.
He was exposed to the Vietnamese start-up scene and started advising a couple of ministries on their policies that related to innovation. When he first went back, Vietnam did not have a start-up ecosystem. But since then, it has developed one of the strongest tech start-up ecosystems in the region, thanks to government support.
"During this time, I started to realise that the problems of a fast-growing country such as Vietnam. It is similar to Silicon Valley, but without the money," Do quips.
He had the UPGen model in mind, with hopes of filling the gap in the start-up ecosystem there. What he came up with was a flexible office space that accommodated companies wanting to expand, supported by a co-working space.
UPGen opened its first location in Hanoi in 2016 and from there, the company grew exponentially. Within the first seven months, Do managed to secure a loan for the business. Two years later, the company signed up Tiki and BE Group as its first two corporate partners and anchor tenants.
"In this line of business, we have no assets. Our business model is pretty secure because once we acquire a customer and find a location, we can get the funds," he says.
The concept
Southeast Asia is the fastest-growing region in the world and as companies grow, they need more space. However, when office space is fixed, it can be a problem. That is why UPGen allows companies to take up more space as they expand.
A typical UPGen space is larger than a co-working space. It usually takes up 10,000 sq m and sometimes, the entire building. An anchor tenant occupies between 40% and 50% of the space and over time, it takes up the rest of the space.
Until then, the extra space is turned into a co-working space. But the co-working portion of the business only brings in about 5% of the company's revenue.
If a company currently occupies one floor of a building and needs another two floors in three years, UPGen will pump in the capital expenditure (capex) to fit out the additional two floors. These floors will be used as co-working spaces until the anchor tenant is ready to take over. As for the co-working customers, their contracts are for three to six months, so they will not be left hanging.
"A co-working space is for a completely different set of customer profiles — mostly start-ups and people who do outsourcing and freelancing. The key for start-ups is short-term flexibility and for corporations, scalability," says Do.
"This is an issue faced by developing countries, especially in Southeast Asia. Tiki, Vietnam's fastest-growing e-commerce platform, is a nine-year-old company and has changed offices eight times because its staff numbers keep doubling."
This is a waste of capital expenditure, he points out. "If I had been at this company for five years, it would have bought five different chairs for me."
With UPGen, anchor tenants are guaranteed a space to grow and since the anchor tenant is committed to taking up the entire space in future, it virtually makes the co-working space cheaper for start-ups.
"All our corporate customers sign a minimum five-year contract and we make sure they have enough space for five years of growth. This means amortisation of assets is over five years rather than one [if they have to keep moving offices every year]. Start-ups get a higher quality co-working space and access to corporate leaders for a cheaper price," says Do.
The co-working space also encourages interaction with the start-up ecosystem. Do says this is beneficial from a social and community point of view as the anchor tenant is not only a service provider but also a partner of UPGen in managing talks and community programmes.
"For example, in Vietnam, VPBank partnered us to have three floors in its headquarters and we help them bring in people to turn the space into a financial technology (fintech) centre. We bring in top fintech start-ups for VPBank. Let's say they want an artificial intelligence solution for their app, they will have access to 10 companies. We are in the middle, tying up large corporates with smaller start-ups," he says.
UPGen also organises two-way pitching events, where larger companies pitch their problems to the start-up community and start-ups pitch their solutions. A pitching session can be run as a talk show, through a sharing platform, training sessions, hackathons or conferences.
"Each location is a mini-ecosystem that revolves around the anchor tenant, transforming it from being just a normal co-working space. It gives companies a chance to enhance their culture and brand," says Do.
"We do not believe in multiple people sharing the same seat, but we do believe in multiple companies at different stages of development sharing the same facilities."
Another interesting feature is UPLabs, which is a high-tech makers lab that gives tenants access to 3D printing machines, laser-cutting machines and a computer numerical control machine, among others. Do says the equipment there is worth more than US$1 million.
This means any of its tenants can create a physical product. In fact, several products were born out of the lab, including an electric car with an exterior created using a 3D printer, professional headphones by ItsFit and even watches.
Expansion
In 2020, UPGen will open its first co-working spaces in Kuala Lumpur at Menara Etiqa and Menara HLA. It has partnered 500 Startups, which will move all of its portfolio companies into the space at Menara Etiqa. UPGen and 500 Startups will announce a programme that will be launched sometime this year as well as an investment into the start-up community, says Do.
He foresees an oversupply of office space in Kuala Lumpur, which will be a challenge for the company. "In Vietnam, if you see an office space that you want, you will need to take it now or it will be gone in the next month. In Kuala Lumpur, you can wait six months and the property will still be vacant," he says.
Another issue is the three-year lease period of properties in Malaysia. Do says most countries have a five-year lease period, which makes amortisation more worthwhile. He points out that a three-year contract will not encourage people to set aside money for their capex.
However, when it comes to co-working spaces, Do believes that it is time to get rid of the old model. Since WeWork's problems, most co-working spaces have been finding it difficult to secure funding.
"I do not think traditional co-working spaces will survive. It is now time for the next wave of co-working spaces, with new models. The industry needs to evolve," he says.