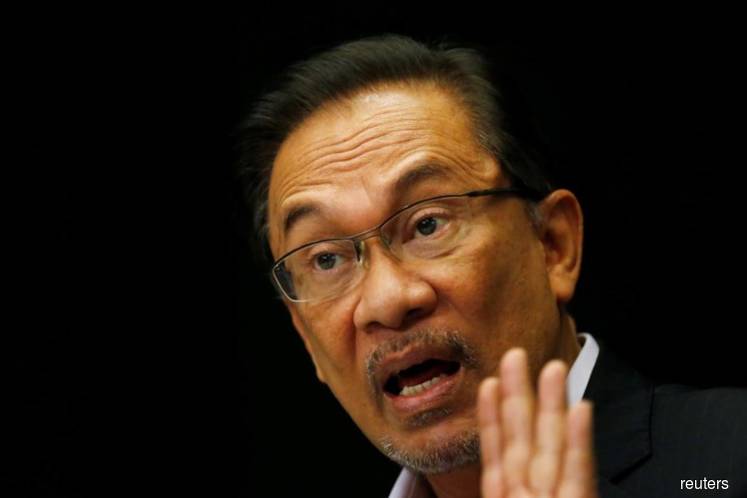 KUALA LUMPUR (March 26): Datuk Seri Anwar Ibrahim, Member of Parliament (MP) for Port Dickson, said it is the prerogative of the Speaker of the House of Representatives to discuss with the Prime Minister and members of the Public Accounts Committee (PAC) on the appointment of a new chairman for the bi-partisan committee.
"The Speaker must take it upon himself because this is a mandate given by the Pakatan Harapan (PH) government to be managed by the Speaker of the House," he told reporters at the parliament lobby today.
"But to avoid any misunderstandings, there should be a discussion between the Speaker and the ruling party, and the opposition, and also seek the advice from the Prime Minister," Anwar added.
The issue of the PAC chairman has been raised since Beluran MP Dr Ronald Kiandee, the current chairman, left Umno and the opposition bloc to join Parti Pribumi Bersatu Malaysia and be part of the government coalition in December last year.
In its election manifesto, PH has promised that the position must be reserved to an opposition lawmaker.
"Frankly, I don't think this is a major issue. We just need to sit down and discuss, and settle this because the problem is that the manifesto is too clear," Anwar said.
"It is not something that would require billions of ringgit to make the necessary corrections. It is just a matter of a quick political decision whether we think that the position taken by PH in its manifesto is worth reconsidering due to present circumstances, or we can just proceed.
"My personal view is that we can proceed. It's not a complex issue at all," he added.