This article first appeared in Digital Edge, The Edge Malaysia Weekly, on November 29, 2021 - December 05, 2021.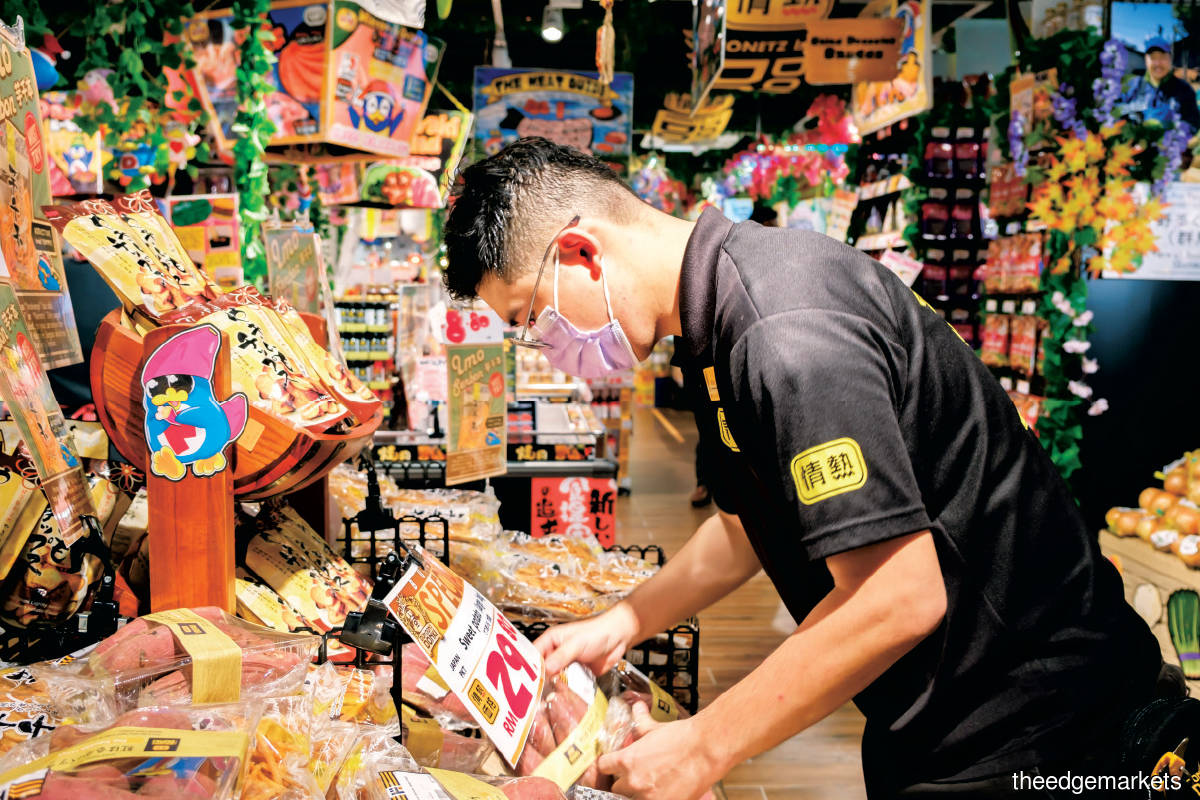 Hiring a large number of candidates in a short period of time can be difficult.
Mass hiring is common in industries such as retail and hospitality, where there is a need for a large volume of new employees for new store openings, business expansion or seasonal employment.
It is a task that requires meticulous planning and proper execution — an activity that was already challenging before the pandemic.
But Pan Pacific Retail Management (Malaysia) Sdn Bhd, the company that brought JONETZ by Don Don Donki — the Southeast Asian edition of Don Quijote, Japan's biggest discount store — locally, could not postpone the opening of its flagship Kuala Lumpur outlet, which it had been planning for since 2018.
The company decided to bite the bullet and opened the establishment in Lot 10 in March this year despite the pandemic. But first, it had to hire 300 non-executive employees to manage its 23,476 sq m of retail space, which spanned three floors.
Given that the state-imposed Movement Control Order (MCO) was still in place at the time and gatherings were still prohibited, large-scale, on-ground recruitment was out of the question.
The managers of Don Don Donki decided to engage FastJobs Malaysia, a tech-driven job platform for entry-level and non-executive employment, to help bring the arduous physical task of hiring en masse virtually.
"We needed to fill more than 100 operation support positions such as cashiers and sales associates, and some culinary-related positions [as well] because we also have a food and beverage (F&B) section," says Hazizal Ab Hamid, senior manager (support division) at Don Don Donki.
"The basic criteria were that the candidates could communicate well and had basic knowledge and experience in retail. For the culinary positions, candidates were required to have experience working in F&B, and preferably be able to make Japanese cuisine," he says.
With the requirements given by Don Don Donki, FastJobs began working on job announcements and virtual recruitment protocols. "Although JONETZ by Don Don Donki was being launched in a very difficult environment with Covid-19 infections on the rise, hiring virtually will likely become more common going forward.
"We realised that during the pandemic period, job seekers were no longer able to do what they used to do. They couldn't attend walk-in interviews or show up for career fairs. This was how mass hiring events took place," says Joelle Pang, general manager at FastJobs Malaysia.
Now that it was being done virtually, job seekers needed to submit résumés beforehand and prepare for virtual interviews.
FastJobs, which already had a database of 1.5 million job seekers, had put out the vacancy announcements and received close to 10,000 applications.
"The advantage of FastJobs is that as a digital and technology platform, we have quite a bit of data insights and analytics on our job seekers. So, during the application process itself, our marketing and outreach efforts were all targeted towards job seekers who fit profiles that Don Don Donki was looking for," she says.
As Don Don Donki is a renowned brand among the hundreds and thousands of Malaysians who thronged Don Quijote outlets during their visits to Japan, FastJobs received a huge number of applications when vacancy announcements were published.
"Jonetz by Don Don Donki is such a strong brand; we got more than 10,000 applications. This is where our recruitment and hiring solution had stepped into the forefront. We facilitated 600 online interviews and more than 100 of the job seekers were offered positions.
"This is why in the first round of applications itself, only job seekers with skills that matched the vacancy requirements were streamed and selected to move on to the interview stage," says Pang.
The pre-qualifications were also done so that the candidates applying for the positions matched hiring criteria, says Pang. This differs in physically conducted volume hiring interviews as employers are not privy to the details of candidates before they show up.
"We then arranged for the interviews with the applicants. Built into the platform is an instant chat feature like WhatsApp, where we communicate directly with job seekers to pre-qualify them for the job. So, first, we made sure that they had all the relevant experience Don Don Donki was looking for.
"Given the travel restrictions during the MCO period, we had to make sure the finalised candidates were based in Kuala Lumpur," says Pang.
According to her, many moved back to their hometowns outside the capital when the pandemic struck in 2020 following job losses and furloughs after many non-essential retail establishments had to shut down permanently and temporarily.
"After that, we let them know within 24 to 48 hours if they had qualified and scheduled interviews within the pre-determined period," she says.
As it is common for non-executive and entry-level job seekers to not have a résumé, FastJobs has a résumé generator, which Pang says helps job seekers to have equal access to employment opportunities.
"They can submit their own résumé, but if they don't have one, they can fill in their profile with their past experience or educational qualifications using the FastJobs app and it will generate a résumé.
"We also called each one of them to remind them to come for interviews. In the meantime, we shared with them online interview etiquette and tips on how to ace their online interviews," she says.
But it wasn't without challenges.
Scheduling 600 interviews via videoconferencing meant that there were bound to be connectivity issues. "With some candidates, we had to try more than 10 times to get their video and sound issues sorted.
"We had to do some troubleshooting and help our job seekers switch to another platform like WhatsApp video, for example, when that happened.
"But this is part and parcel of adopting any new platform and technology. We were able to refine our processes because of the partnership with companies like Don Don Donki. We had conducted 10 sessions for their online mass hiring," says Pang.
Some 80% of the job seekers joined the online interview using their smartphone, she adds.
"Digital hiring has also introduced a lot more empathy into the hiring process because job seekers not only have to face the nervousness and anticipation of an interview, they have to struggle with internet connectivity issues as well," says Pang.
For Hazizal and the team at Don Don Donki, however, the digital hiring process has been a game changer. "None of us, even in our previous employment, has done mass recruitment virtually before. But we realised the potential of virtual recruitment for the kind of volume of jobs we were looking to fill as it is much more efficient and streamlined," he says.
"The team has done online interviews before but that was for one or two candidates at a time. I was doubtful that mass online interviews would go smoothly because of the sheer volume but after having scheduled five to six successive sessions in one go, I must say that it is much more efficient than having to do it physically. As an employer, it was easy to access the candidates' résumés and categories of interviews according to batches. It truly saved a lot of time," he explains.
Although life is returning to normal in the Covid-19 era, the future of talent acquisition is likely to be a hybrid of the physical and virtual experience, adds Pang.