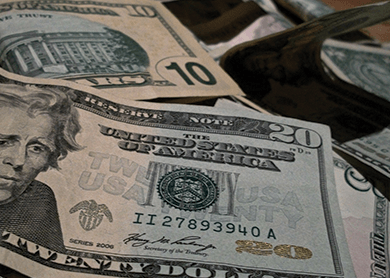 NEW YORK (Nov 11): The dollar climbed on Tuesday to touch a 6-1/2-month high against the euro and a seven-month peak against the Swiss franc, propelled by expectations of divergent interest rate moves from the Federal Reserve and European Central Bank.
A surprise increase in U.S. wholesale inventories in September and revised upward numbers for August suggested the government's third-quarter economic growth estimate could be increased.
Bullish bets on the dollar have grown as an improving economy have bolstered expectations the Fed would raise interest rates at its Dec. 15-16 meeting, as many believe it wants to do.
"I believe the (Federal Open Market Committee) is on pace to hike come hell or high water, almost literally," said Kim Rupert, managing director of global fixed income analysis for Action Economics, in a Reuters Global Markets Forum interview. "They will be lifting off unless there is a real meltdown."
A possible Fed rate increase, coupled with the threat of a deposit rate cut from the ECB, helped push the dollar higher against most major currencies.
The dollar index, which measures the greenback against a basket of currencies, hit its highest since April on Tuesday, rising 0.4 percent to 99.371, outpacing Friday's post-jobs report highs.
Friday saw the dollar up sharply after the government's U.S. non-farm payroll report showed a rise of 271,000 last month, the most since last December.
"I think the jobs report was most significant," said Rupert of data that could encourage the Fed to raise rates. " t reversed the market thinking of US economic weakness from the prior two months."
U.S. Treasuries yields have risen sharply in the wake of the jobs report, briefly sending two-year yields to their highest in 5-1/2 years.
European currencies came under pressure Monday after four European Central Bank governing council members said a consensus is forming at the central bank to take one of its benchmark interest rates deeper into negative territory in December.
Talk of a cut to the ECB's -0.2 percent deposit rate dragged euro zone bond yields lower on Tuesday.
The dollar edged up 0.3 percent against the euro to $1.0711. The euro-zone currency has lost nearly 3 percent against the dollar so far in November.
The dollar jumped to 1.0089 Swiss franc earlier in the day, its highest since March 20. It was last up 0.4 percent at 1.0066 franc.