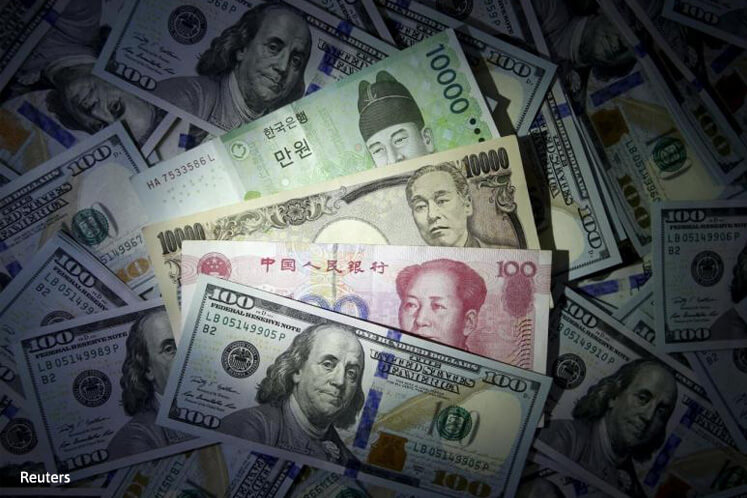 SINGAPORE (April 6): Investors increased their bullish bets on the Chinese yuan, Singapore dollar and South Korean won in the last two weeks as the US dollar continued to struggle, buoying sentiment toward  most emerging Asian currencies, a Reuters poll showed.
Long positions in the Chinese yuan rose to the highest since July 2015, according to the poll of 18 traders, analysts and fund managers.
After slumping 6.5% against the surging dollar in 2016, the Chinese currency has regained composure so far this year, advancing 0.7% as the greenback lost steam.
In addition, China's cross-border money flows are expected to be more balanced this year due to tighter capital controls and improving fundamentals in China's economy.
Bullish bets on the Singapore dollar rose to their highest in a year ahead of the central bank's semi-annual policy decision due on April 13.
The Monetary Authority of Singapore (MAS) is widely expected to keep its exchange-rate based policy settings unchanged next week, while a small minority see the risk of tightening later in the year in response to rising inflation and as exports have been on the mend.
A pick-up in exports and factory output since late 2016 have reduced expectations for any policy easing in many Asian economies.
Bullish bets on the South Korean won also increased slightly to the highest since last August.
However, investors were estimated to have slightly reduced their bullish bets on the Indonesian rupiah, Taiwan dollar, Indian rupee and the Thai baht.
Bearish bets against the Malaysian ringgit declined further, and sentiment toward the ringgit was the least pessimistic since August last year, when investors had been slightly long the ringgit.      
The Asian currency positioning poll is focused on what analysts and fund managers believe are the current market positions in nine Asian emerging market currencies: the Chinese yuan, South Korean won, Singapore dollar, Indonesian rupiah, Taiwan dollar, Indian rupee, Philippine peso, Malaysian ringgit and the Thai baht.
The poll uses estimates of net long or short positions on a scale of minus 3 to plus 3. A score of plus 3 indicates the market is significantly long US dollars.
The figures include positions held through non-deliverable forwards (NDFs).