This article first appeared in The Edge Malaysia Weekly, on November 8, 2021 - November 14, 2021.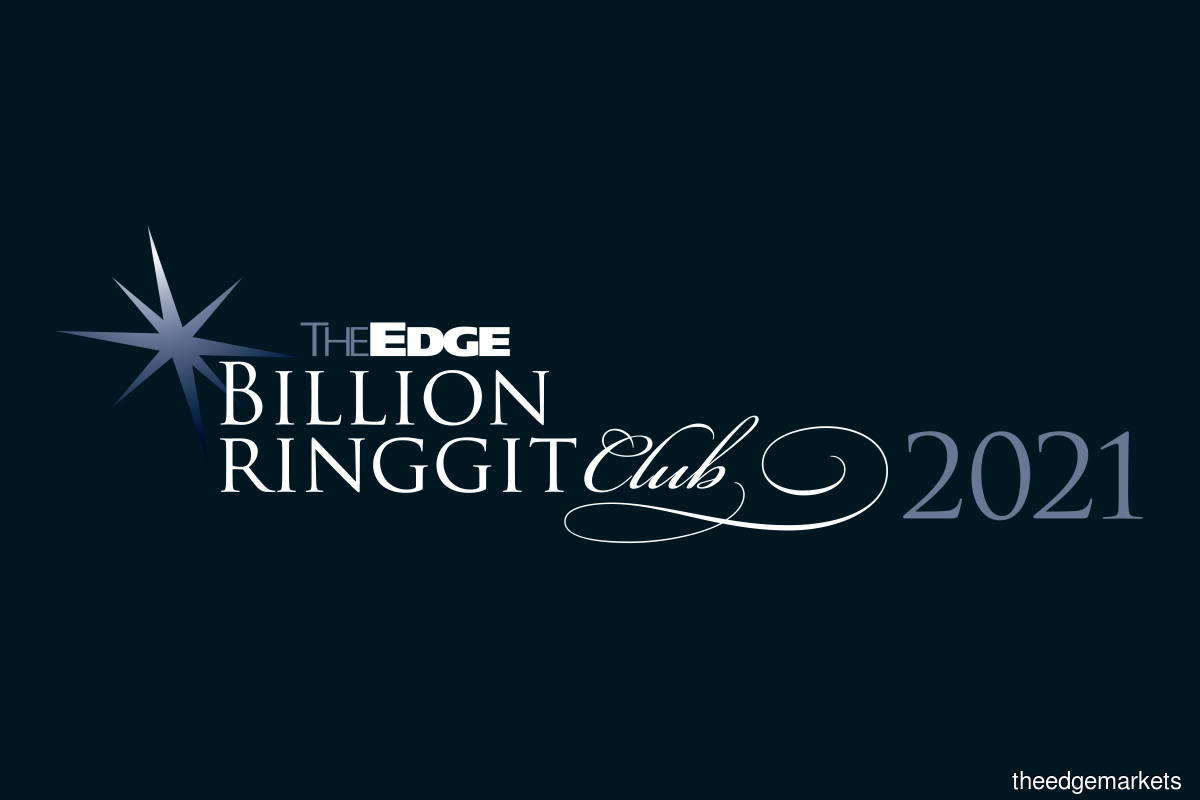 THE Edge Media Group and its partners are celebrating Corporate Malaysia's best-performing listed companies and top responsible organisations at The Edge Billion Ringgit Club (BRC) awards ceremony for the 12th year. The BRC gala dinner, which was postponed last year as Malaysia battled the Covid-19 pandemic, will be held with the necessary health-related protocols in place.
"History has shown time and again that tough times never last; tough people and businesses do. We look forward to gathering together again in person this year, with the necessary SOPs, to celebrate excellence and sustainable practices as Corporate Malaysia demonstrates its resilience in the new normal post-Covid-19," says Datuk Ho Kay Tat, The Edge Media Group publisher and CEO.
The main sponsor, OCBC Bank Malaysia, has been a key partner since the awards' inauguration in 2010. Also returning as a sponsor for the seventh year is Mercedes-Benz Malaysia, which provides the award's official car. Cartier by Cortina Watch Malaysia, which supported the awards last year, comes on board officially as supporting sponsor this year.
"I thank OCBC and Mercedes-Benz for their steadfast support of the BRC and welcome Cartier by Cortina. This prestigious gathering would not continue being Corporate Malaysia's most anticipated corporate awards ceremony and gala dinner without these distinguished partners," Ho adds.
Datuk Ong Eng Bin, CEO of OCBC Bank Malaysia Bhd, turns the spotlight on Corporate Malaysia's crème de la crème and puts emphasis on sustainability. "The Edge Billion Ringgit Club winners for this year have yet again done well by doing good. This is the sum total of what is being recognised. The call to the winners is now to do more of the same, that is, to do even better beyond the pandemic period. If we look back at almost two pandemic-stricken years, it is evident that it is those who have maintained a keen eye on sustainable practices that have survived the onslaught of Covid-19. This has been the telling difference.
"Corporate Malaysia must now move forward with a greater sense of optimism without ever losing sight of the environment, society and good governance. The Edge Billion Ringgit Club awards must, moving forward, be far more about the sum total of sustainable efforts rather than mere profitability," he says.
Having won numerous awards for being an excellent institution, corporate citizen and employer as it pushes the boundaries of technology and innovation, banking giant OCBC exemplifies its belief in sustainability, inclusivity and wellbeing, and hopes to inspire continued excellence.
"I would say Corporate Malaysia responded well with the new normal and this was largely due to their ability to move quickly to transform digitally and enable their operations to remain resilient while keeping their staff safe and working remotely. Coming out from the pandemic, they look to be most ready to help the country recover strongly, led by, not surprisingly, the banking industry," Ong observes.
Michael Jopp, vice-president of sales & marketing (passenger cars) at Mercedes-Benz Malaysia, congratulates Corporate Malaysia for staying resilient. "This prestigious award recognises Malaysian corporate excellence with the highest standard, which falls in line with our pursuit of a high-performance culture. As we gather with other industry leaders, we applaud the hard work and dedication put in by these organisations who strive for continued success and excellence in their respective business fields. At Mercedes-Benz, the spirit of competition defines us and we are honoured to be part of this highly anticipated annual awards," he says.
Tay Liam Khoon, managing director of Cortina Watch Malaysia, also applauds Corporate Malaysia's best in class. "A big congratulations to all the winners. They did a good job earning these prestigious awards, especially in the past year amid the pandemic where all of us faced numerous challenges, including those unforeseen. Nevertheless, they've prevailed and I wish everyone good fortune for the upcoming new year and years to come. May we continue to pave the way towards achieving sustainable growth and excellence," he says.
Due to capacity restrictions, only companies that are receiving awards (and not all BRC members) are invited to the gala dinner this year.
Like The Edge Media Group's Ho, OCBC Bank's Ong looks forward to meeting face to face again. "The ability to meet physically is something we used to take for granted in the past but this is certainly one of the best events to look forward to as we end 2021. It is a good signal to be optimistic about the future and is a testimony of The Edge and OCBC Bank's solid partnership in recognising the best of Corporate Malaysia as they evolve over the past many years!" Ong concludes.
Mercedes' Jopp is similarly elated, describing the event as one which "signifies our spirit of adapting and moving forward". "We are excited to co-sponsor this prestigious gala dinner which we have been a part of for seven years now [in 2010 and 2016 to date]. As we enter an endemic phase, we applaud the hard work and dedication by the many organisations here who strive for continued success and excelling in their respective business fields," says Jopp, adding that Mercedes-Benz remain focused on taking a holistic approach towards achieving automotive excellence with a customer-centric strategy to create a sustainable future.
Indeed, Mercedes-Benz — which aims to go all electric by the end of the decade, where market conditions allow — is already making use of extensive reskilling schemes to prepare its global workforce and production network for a sustainable future as it transitions from internal combustion engines to electric vehicles.
While the pandemic has had a profound impact globally, Anne Yitzhakov, managing director of Cartier Singapore & Malaysia, says it "has also given us an opportunity to reflect and rethink our corporate initiatives towards a more sustainable future". This, she says, is reflected in the ambitious impact-focused goals and low-carbon mission under the Watch & Jewellery Initiative 2030 that Cartier — delegated by Richemont and Kering Group, in partnership with The Responsible Jewellery Council — has set out to achieve.
The Edge BRC recognises excellence in companies with a market capitalisation of above RM1 billion. The billion-ringgit cut-off serves as an aspirational target for dynamic smaller companies. Companies are added to the annual list automatically at the cut-off date of March 31 and are evaluated on growth in profit, returns to shareholders and corporate responsibility (CR) commitments, among others.
Apart from their respective Bursa Malaysia-defined industry peers, BRC members are also ranked against companies with similar market capitalisation through the creation of the Super Big Cap (companies with more than RM40 billion in market capitalisation) and Big Cap (companies with RM10 billion to RM40 billion in market capitalisation) categories.
Awards to be given out include Value Creator: Malaysia's Outstanding CEO; The Edge BRC Most Profitable Company; The Edge BRC Highest Profit Growth Company; The Edge BRC Best Performing Stock; The Edge BRC Best CR Initiatives; and the coveted The Edge BRC Company of the Year.
Previous Company of the Year winners are Hartalega Holdings Bhd, Press Metal Aluminium Holdings Bhd, Petronas Dagangan Bhd, AirAsia Bhd, Nestlé (M) Bhd, Tenaga Nasional Bhd, Dutch Lady Milk Industries Bhd, DiGi.Com Bhd, Genting Bhd, QL Resources Bhd and Supermax Corp Bhd.
Past winners of the Value Creator: Malaysia's Outstanding CEO award are Public Bank Group chairman Tan Sri Teh Hong Piow, CIMB group chairman Datuk Seri Nazir Razak, AMMB Holdings Bhd chairman Tan Sri Azman Hashim, AirAsia group CEO Tan Sri Tony Fernandes, former S P Setia Bhd president and CEO Tan Sri Liew Kee Sin, former Malayan Banking Bhd president and CEO Tan Sri Abdul Wahid Omar, Axiata Group Bhd president and group CEO Tan Sri Jamaludin Ibrahim, Sunway Group chairman Tan Sri Jeffrey Cheah, Khazanah Nasional Bhd managing director Tan Sri Azman Mokhtar, Westports Holdings Bhd executive chairman Tan Sri G Gnanalingam, Dialog Group Bhd executive chairman and co-founder Tan Sri Ngau Boon Keat and QL Resources Bhd executive chairman Tan Sri Chia Song Kun.