This article first appeared in Enterprise, The Edge Malaysia Weekly, on December 30, 2019 - January 05, 2020.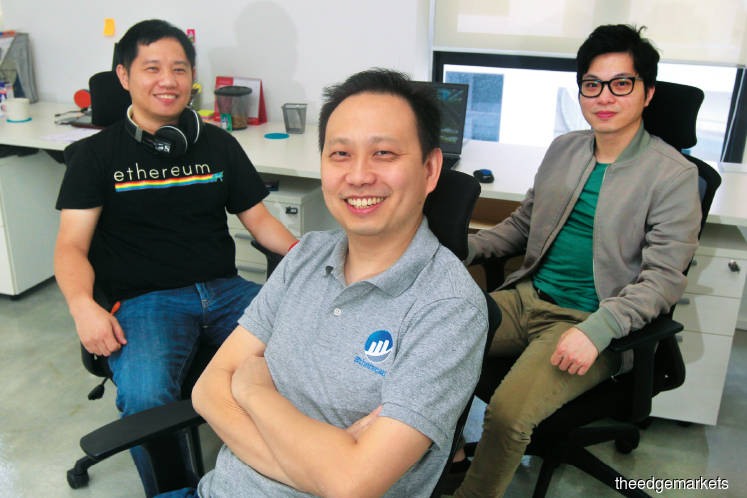 Sector: Blockchain and cryptocurrency
Addressable market: US$180 billion (as of Dec 18)
Intellectual property status: Brand trademarked in Malaysia
Product description and USP: Provides blockchain search services and data analytics
Users: Mainly in the US, China, Germany and South Korea
Industry challenges: A changing regulatory environment, slow adoption and scalability of blockchain
Matthew Tan first came across the word "bitcoin" in 2011. Although he was a technopreneur who had founded and sold a web application development company, he had no idea what it meant.
"It was kind of mythical back then. And there were very few early adopters in Malaysia," he says.
Bitcoin and its underlying blockchain technology was created in 2009 by a Satoshi Nakamoto, whose real identity remains unknown. Two years later, when Tan stumbled across the word, it had gained a small following, but was still relatively unknown to the general populace.
The technology, which enabled a decentralised digital currency, piqued his interest. He did some research and downloaded a bitcoin client, software that allowed him to connect to the bitcoin blockchain network.
"When you are connected, you can see all the nodes [software that is used to validate and record transactions on the blockchain] around the world. There were probably only four or five nodes in Malaysia. One of them was mine," says Tan.
He was not only intrigued by the technology but attracted by the concept of bitcoin and blockchain. For starters, it was "permissionless", which meant anyone could run a node or become a miner. Also, it was open source, which meant that anyone could contribute their views and solutions to enhance the network's efficiency and fix its bugs.
People were also able to build solutions involving the bitcoin blockchain freely as it was a new technology and understood by very few. Even today, the blockchain industry remains relatively unregulated, says Tan.
"If you are a Malaysian entity and you want to build something on a global scale with blockchain, you can probably just go ahead and do it," he adds, comparing it with the approvals needed to put an app on the Apple platform.
A passion project
A single bitcoin was US$17 when Tan first heard about it. Little did he know that it would skyrocket to about US$20,000 in 2017. Regardless, he started building solutions around the bitcoin blockchain.
"As a software developer, you always want to solve new and difficult problems. This fit the bill," says Tan.
From late 2013 to 2015, he developed and launched Blockscan, an online search engine that allows people to search for transactions on a particular blockchain. It is like a third-party receipt issuer that allows cryptocurrency users to verify transactions, he says.
"Let's say, I send you money and inform you about it. Then, you tell me that the money did not arrive. I insist that it has. Who is right? You can use a search engine like Blockscan to find out. It is a simple service that gives you peace of mind," says Tan.
There were many similar search engines in the market back then. But many of them, including Blockscan, only allowed users to search for straightforward transactions from one party to another. These search engines, or so-called first-generation block explorers, could not cope with further technology advancements when the smart contract function was introduced in July 2015 with the launch of the Ethereum blockchain.
Put simply, a smart contract allows users to come up with and execute a contract without an intermediary, using lines of computer code. Transactions had become increasingly complicated within the Ethereum blockchain as cryptocurrency (or digital money) could be sent to multiple parties under various conditions, depending on the terms and conditions of the smart contract in question.
"It is no longer a transfer of value from point A to B. There are a lot more things that the search engine needs to be able to show," says Tan.
When the Ethereum blockchain was launched, he enhanced the functions of Blockscan and turned it into Etherscan, a second-generation block explorer that has been adopted by cryptocurrency players around the world. As at October, 20 million users had used it to search for and verify their ether (a cryptocurrency embedded in the Ethereum blockchain) transactions over the past 12 months, says Tan.
"The initial project was bootstrapped and I was doing the coding in my living room in the first year. Fast forward to 2019 and I have a strong and diverse team of 15 professionals, whom I am proud to be working with," he says.
It was funded by two US-based venture capital firms — Boost VC and Digital Currency Group.
The entity behind Etherscan — Block Solutions Sdn Bhd — is already profitable, says Tan. "We are cash-flow positive. We would have burnt through the US$500,000 in the past three years had we not been."
The company's profit mainly comes from "small and unobtrusive advertisements" posted on the Etherscan website, he says.
Tan emphasises that the company does not conduct targeted advertising through a third-party service provider that could lead to a leak of its internal data. "We understand that people in the blockchain industry value data privacy," he says.
The company also generates part of its income by providing data analytics services to clients, he adds.
The Silicon Valley experience
In 2016, Tan applied to participate in an accelerator programme in the US organised by Boost VC. The programme, which lasted three months, allowed him to refine his business idea and secure initial funding to kick-start his new venture.
"It was an eye-opener. I started working in the Malaysian IT industry in 1998 and founded a company with my partner. We had our own way of doing business, which is very different from that of Silicon Valley," says Tan.
"In Malaysia, you start a business, make a profit, re-invest it and repeat the process. In Silicon Valley, you evaluate the potential of a start-up, raise the money you need and try your best to hit the target before going for the next round of funding."
During that period, Tan would join other young entrepreneurs from around the world to meet one investor after another to pitch business ideas. His idea and pitch may not have been good at first, but he would gradually make it better and more convincing.
Eventually, Tan managed to secure US$500,000 in funding by marketing Etherscan as a Malaysian start-up. He would later bring the money back home and operate his business out of Shah Alam, Selangor.
One advantage of doing this was that costs were lower and Tan could stretch the money much further. The downside was that he had to be more convincing to persuade investors to give him money.
"There were people who said they did not invest in companies outside certain countries such as the US, Hong Kong or Singapore. It was not because they were biased, but because investors like them had to deal with regulatory issues that vary from country to country. It would take extra effort to invest in a company based in a country they were not familiar with," he explains.
However, Tan managed to wow them with his numbers. Etherscan had been increasing in popularity and with the right business model, it had a lot of potential. Today, he is proud that its services have gained traction around the world despite the fact that the company is based in Malaysia.
Going forward, Tan is looking to expand to other blockchains that are innovative and have vibrant ecosystems. "We will be launching several new services," he says.
Tan is enhancing the company's back-end system as the Ethereum blockchain will be upgraded next year. The upgrade, known as Ethereum 2.0, will be gradually implemented in four stages and enable more transactions to take place in the blockchain more quickly.
Tan is pretty satisfied with the institutional support that is available in the country. He is appreciative of the Multimedia Super Corridor programme as it allowed the company to bring in foreign talent, enjoy tax incentives and gain recognition during the early stages of development. He is also a fan of the Malaysian Industry-Government Group for High Technology's (MIGHT) initiatives and demonstration of use cases for blockchain technology in Malaysia.
But in the future, Tan hopes to see clearer regulations for the blockchain industry. "I would like to know what is allowed and what is not when it comes to cryptocurrencies and use cases such as tokenisation," he says.