This article first appeared in Enterprise, The Edge Malaysia Weekly, on December 25, 2017 - December 31, 2017.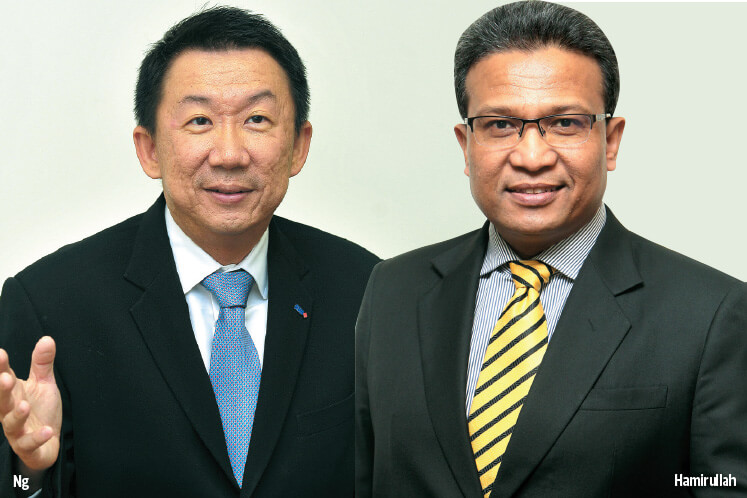 Internationalisation has always been an important theme for Malaysian small and medium enterprises (SMEs) as it allows them to tap a much bigger market than just a population of 32 million.
Regional and international free trade agreements are putting additional pressure on SMEs to go global. With the entry of foreign players into the Malaysian market, local players can no longer afford to rest on their laurels.
SMEs would need to have financing facilities to support their day-to-day operations as they expand their businesses overseas. They would also need trade finance facilities for them to carry out international trade transactions.
These facilities include letters of credit, whereby a bank guarantees that a seller will receive the buyer's payment on time and for the correct amount. If the buyer is unable to make payment, the bank will cover the full or remaining amount.
Other examples are export credit insurance and factoring. The former protects an exporter against the risk of non-payment by a foreign buyer while the latter allows SMEs to sell its account receivables to a third party at a discount for cash.
SMEs also need to know how to hedge against foreign currency volatility as they will be paid in different currencies. They would need information on the markets they intend to expand into and useful advice on how to enter it.
So, banks play an important role in helping SMEs to internationalise their businesses. Enterprise talks to local and foreign banks about the services they offer SMEs looking to internationalise their business.
Alliance Bank
Alliance Bank partners Google and government agencies, such as the Ministry of International Trade and Industry, Malaysia External Trade Development Corporation (Matrade) and SME Corporation Malaysia, to help SMEs explore new markets overseas via the Go Global Malaysia initiative.
Ernest Kwong, executive vice-president and head of group SME banking, says the bank provides SMEs with expert advice on e-commerce, international trade and digital payments, among others. The bank also provides advice on choosing the right trade credit facilities as well as business online banking, online payment acceptance and chargeback management services.
What is chargeback management? To put it simply, a chargeback means a customer is asking the credit card issuer for a refund for a purchase already made. This happens when a customer does not receive the item that was ordered or receives a damaged or defective item.
The bank also advises SMEs on business expansion, how to deal with foreign customers and how to manage foreign exchange volatility.
Kwong says the bank does not have specific financing packages or programmes targeting certain countries. However, it does offer financing based on the business plan and financial strength of the SMEs.
The bank offers loans of up to RM30 million and up to 4.5 times the collateral value pledged to the bank, depending on the type of programme the SMEs want to take on. The loan drawdown ranges from 45 days to three months, also depending on the programme the SMEs participate in.
"Go Global Malaysia is free for local SMEs to sign up for, subject to availability of the workshop. To apply for financing from Alliance Bank, SMEs are required to have been in operation for at least three years and be profitable," says Kwong.
CIMB Bank
CIMB Group Holdings Bhd has set up a regional office that serves as an advisory centre to help ambitious SMEs grow their presence in Asean. "The regional office is equipped to provide the necessary guidance and support to our customers and help them connect with the right parties in the region," it tells Enterprise via email.
An SME looking to expand its business in the region would get in touch with the centre, which would then do a preliminary screening before referring the company to its branch in another Asean country. Through the screening process, the bank gathers information related to the company, including its nature of business, activities and size. Then, it assigns the company a dedicated regional manager to advise it on the banking regulations and requirements in that specific country.
CIMB provides products and services that are tailored to the local market in countries such as Singapore, Indonesia, Thailand, Cambodia, Vietnam, Laos and Brunei. The bank also provides SMEs with a financing programme, depending on their strength and profitability. The average loan size, based on past deals, ranges from RM4 million to RM85 million.
The required documents are:
Company profile, business plan and documents of incorporation.
Latest three-year audited accounts, management accounts and financial projections.
Latest debtors' and creditors' ageing listing (a tool used by collections personnel to determine which invoices are overdue for payment).
Latest six-month bank statement.
List of completed projects, past performance, achievements, contracts in hand and similar documentation.
The average time for loan disbursement is one to two months after the bank receives the complete documents.
RHB Bank
For SMEs keen to expand to Cambodia, RHB Bank may be the way to go, says head of SME banking Jeffrey Ng Eow Oo. He points out that the bank has organised two trade missions to that country this year alone in its aim of exposing Malaysian and Singaporean SMEs to this up-and-coming market.
"The aim of the trade missions is to connect the bank's clients with opportunities in Cambodia and equip them with insights on venturing into the country. Also, SMEs have the chance to gain first-hand knowledge of operating a business in Cambodia through interactions with local businesses, trade associations, regulators and governmental agencies," says Ng.
He adds that the bank is looking forward to organising more trade missions to the country to help SMEs internationalise their businesses in the near future. He points out that the bank has seven branches in Cambodia and, thus, the capability to provide SMEs intending to expand into that country with the necessary support.
Meanwhile, the bank also provides financing packages to SMEs via government schemes such as the Working Capital Guarantee Scheme (WCGS) and Service Sector Guarantee Scheme (SSGS). Both schemes provide financing of RM100,000 to RM5 million.
The basic requirement is that the applying company has to be incorporated under the Companies Act 1965, with at least 51% of its shares held by Malaysians. The funds can only be used for working capital and capital expenditure purposes.
While the interest rate, profit rate and commission are decided by the bank, SMEs with 50% export activities can enjoy a 2% rebate on the interest rate charged, says Ng.
More details can be found on the Syarikat Jaminan Pembiayaan Perniagaan Bhd's official website. SJPP, which is wholly-owned by the Ministry of Finance, administers and manages the two schemes.
Standard Chartered Bank Malaysia
Being one of the oldest banks globally, StanChart focuses on helping SMEs manage various risks when expanding overseas. In an email reply to Enterprise, the bank says it helps SMEs manage the risks of non-performance by overseas suppliers and non-payment by overseas buyers. It also helps mitigate risks involving foreign currency exposure and cross-border funding.
StanChart provides services that help SMEs manage extra cash due to inconsistent settlement times and tracks, reconciles and reports on cross-border transactions. "Our clients can tap our extensive research and leverage our connectivity across 27 commercial banking markets and more than 60 Standard Chartered Bank markets. They can rely on our local presence and expertise to get support in navigating new markets. They can also use our full suite of banking capabilities and cross-border solutions," it says.
Straight2Bank, the bank's multi-lingual digital platform, allows clients to manage transactions and accounts anywhere and anytime. The platform also provides fully integrated internet banking services for all transactional needs.
The WCGS and SSGS schemes are available at the bank.
Malayan Banking Bhd
Maybank customises financing solutions for SMEs and is able to connect them in 20 countries across Asia. Datuk Hamirullah Boorhan, Maybank's head of community financial services, says it is the only local bank with on-the-ground operations in all 10 Asean countries, which enables it to provide advisory services and localised financial services support to customers in each market.
He says the bank provides advisory services for SMEs on total financing solutions to assist them in going abroad. This is done via the bank's collaboration with the Ministry of International Trade and Industry under various programmes initiated by the government.
Maybank also offers digitalised cash management solutions and information management to its SME clients. Hamirullah says the quantum for financing is based on client requirements and there is no fixed maximum or minimum amount.
Funds typically take about two weeks to be disbursed, but this can vary depending on the complexity of each case. The WCGS and SSGS schemes are available at the bank.