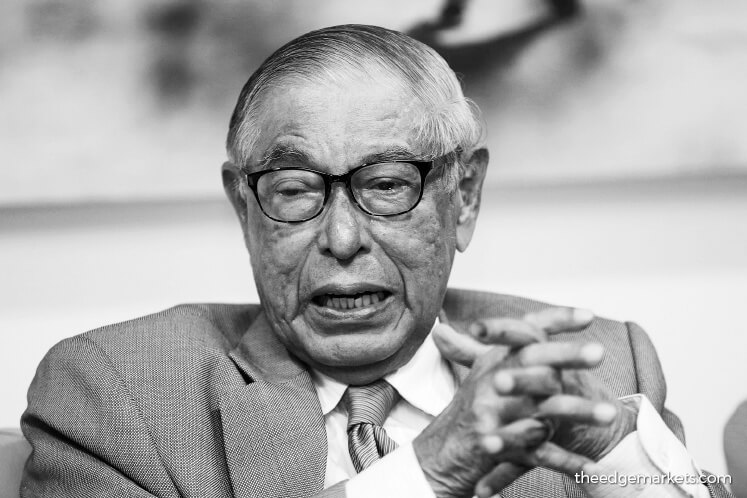 KUALA LUMPUR (April 12): Countless lawyers and former senior judges paid tribute to highly respected former Court of Appeal judge Datuk Karam Chand Vohrah, better known as KC Vohrah, who passed away today. 
Vohrah retired from the bench as a Court of Appeal judge in 2002, and became a consultant at Lee Hishammuddin Allen and Gledhill. He was appointed as a member of the Malaysian Human Rights Commission (Suhakam), and was also a member of the Institutional Reforms Committee set up by the Pakatan Harapan government.
He was part of the bench in the Ayer Molek Rubber Company vs Insas Bhd case, where he was then a High Court judge co-opted to sit at the Court of Appeal bench which includes the late Datuk NH Chan and Tan Sri Siti Norma Yaakob.
Vohrah was 83 when he passed away today, leaving behind his wife Datin Beatrix Vohrah.
Former chief justice (CJ) Tun Zaki Azmi, when contacted by theedgemarkets.com, described Vohrah's death as a great loss to the legal fraternity.
"I have known Datuk Vohrah when I served under the Attorney-General's Chambers. An extremely honest and straight and meticulous officer who I have the highest regard for," said Zaki, who was CJ from 2008 and 2011.
Former Court of Appeal judge and present Suhakam commissioner Datuk Seri Mohd Hishamudin Yunus described Vohrah as a beacon of inspiration.
"I am deeply saddened by his passing. I regard the late Judge KC Vohrah as a close friend, a colleague and a mentor. We grew up together in the Judicial and Legal Service, although he was my super senior. I recall that when I was a Senior Assistant Parliamentary Draftsman in the Drafting Division of the Attorney-General's Chambers in the early 80s, he was then the Head of the Advisory and International Division. 
"As a senior, he was friendly, knowledgeable and approachable, to whom we junior officers often without hesitation go to for advice or second opinion," Hishamudin said.
Man of integrity
Hishamudin said: "We were consultants at Lee Hishammuddin Allen and Gledhill; his room was next to mine, and I was always welcomed for a chit chat over coffee.
"On the bench, Judge Vohrah was a judge of high integrity and well learned in the law. A no-nonsense judge, respected by his peers, and before whom lawyers love to appear."
"He is well remembered as being a member of the panel at the Court of Appeal that delivered the bold and beautifully written landmark judgment in the infamous Air Molek case that pointed out and corrected an injustice that was perpetrated at the High Court.
"The reputation of the judiciary was at its low then. This judgment with its famous pun and quote from Shakespeare's Hamlet 'Something is Rotten in the State of Denmark' (the Kuala Lumpur High Courts were then located at Denmark House) is inspiring and a must-read for all lawyers and law students. Judge Vohrah was a beacon of inspiration. My deepest condolences to his family. May God bless his soul," Hishamudin added.
Malaysian Bar president Salim Bashir said it is with sadness the Bar received the news of Vohrah's passing.
"He is an exceptional gentleman, and a judge of high integrity and good temperament during his days on the bench. His judgments are usually couched in very simple language, succinctly to the issues at hand, and often used as authoritative references by judges and lawyers.
"His passing has left a great void to the members of the legal fraternity, and indeed we have lost a great legal luminary. Malaysian Bar conveys our heartfelt condolences to his family, and we share the grief, along with his loved ones. May God Bless his Soul," said Salim in a text to theedgemarkets.com.