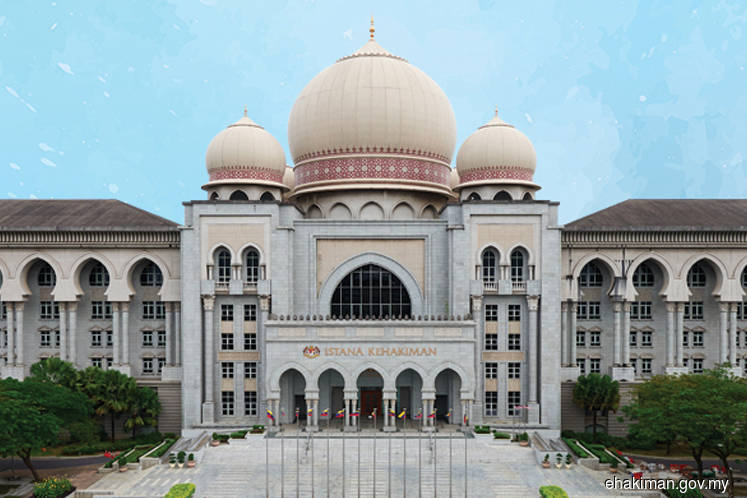 PUTRAJAYA (June 5): The Federal Court will have a nine-member bench seating on Tuesday to hear appeals relating to four drug trafficking cases. 
Though this is not the first time, it is seldom that a full bench of nine judges appear together.
There are 12 Federal Court judges including the Chief Justice, Court of Appeal president, Chief Judge of Malaya and Chief Judge of Sabah and Sarawak. 
In a statement today, the Federal Court registrar said in abiding with the conditions imposed due to the Covid 19 outbreak, Tuesday's hearings would not take place in any of the two Federal Courts but at the Palace of Justice banquet hall. 
"This is to ensure social distancing is accommodated during the hearing of the case on a constitutional point of law. 
"For this purpose, the Dewan Banquet had been altered to accommodate the increase in number of judges, the accused persons and the lawyers in the cases," the statement added. 
The statement did not give details of the four drug trafficking cases under Section 39B of the Dangerous Drugs Act 1954, but it is understood that the appeals concern the mandatory death sentence imposed. 
The argument by the defence is that the death penalty may be unconstitutional, as it prevented the court's discretion in giving other forms of sentence for trafficking, besides putting the accused to death. 
The Federal Court registrar's statement also stated all criminal appeals at the Court of Appeal and Federal Court would be heard via e-appellate applications on that same day. 
This means there would not be voluminous physical bundles of documents that would be used by the court, lawyers and prosecutors. 
Instead, the judges, lawyers and prosecutors can peruse the documents online through their iPads or tablets in looking or searching for documents. 
Chief justice Tan Sri Tengku Maimun Tuan Mat had previously said that the court wanted to adopt the system in a bid to reduce the use of papers and save trees.
#dudukrumahdiamdiam and get the news at theedgemarkets.com.