This article first appeared in Digital Edge, The Edge Malaysia Weekly, on November 30, 2020 - December 06, 2020.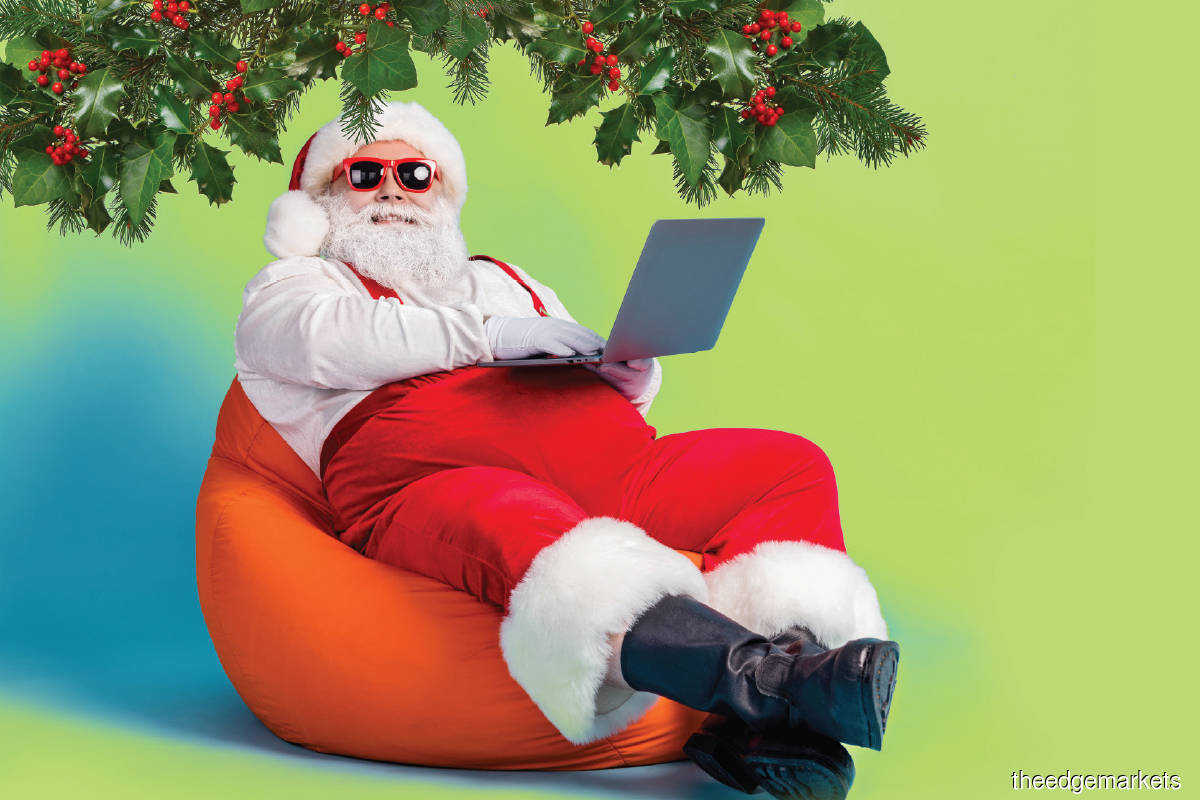 Christmas is a-coming! If you are struggling to find a gift for your friend or family member who is into gadgets, fret not. Check out this gift list and get ready to shop!
For the gamer in your life
PlayStation 5
The much-awaited Sony PlayStation 5 (PS5) is finally available about seven years after the launch of its predecessor. The PS5 will be launched in Malaysia on Dec 11 at RM1,869 for the digital edition and RM2,299 for the disc. The confirmed game titles for the console include Marvel's Spider Man: Miles Morales, Demon's Souls, Final Fantasy XVI and Hogwarts Legacy. Game prices range from RM209 to RM299.
Xbox series X
Microsoft introduced its newest consoles Xbox Series X (RM2,199) and Xbox Series S (RM1,499) on Nov 10, just a day before Sony launched the PS5. Both models are powered by custom AMD Zen 2 eight-core processors, but Series X runs faster and has superior graphics processing. Series X has a solid sleek black box design while Series S resembles the older Xbox consoles. Confirmed titles include Assassin's Creed Valhalla, Call of Duty Black Ops: Cold War and Halo Infinite. 
Nintendo Switch
Want to get into the Animal Crossing club? Get the Nintendo Switch console, which is retailing at about RM1,899 (full set). It has been around since 2017, yet demand has not died down. This is driven by many factors, one being the release of highly-anticipated titles including those from the Mario, Zelda, Pokemon and the Animal Crossing series. Last year, the company released a more compact handheld-only version called Nintendo Switch Lite, which retails at around RM799. 
For the fashionista
Electric hair curlers
The Dyson Airwarp is definitely a winner in this category, but it may be rather costly. Brands such as Panasonic offer a more affordable range of electric hair devices to choose from. A better option would be a 3-in-1 curler, waver and straightener. Prices start from RM50.
For the book lover
The Age of Surveillance Capitalism by Shoshana Zuboff
This could be a good book for that person in your life who is suspicious of the big tech companies that are collecting and selling our data. The author examines how the fusion of capitalism and technology will define our future. This book is available at Kinokunya and Tintabudi for RM55.
Looking Back Life was Beautiful by Grandma Marina and Grandpa Chan
If you're in the mood for a heartwarming book, this could be it. Grandma Marina and Grandpa Chan are famous for the Instagram illustrations they posted on their account to connect with their grandchildren, who were living in another country. Who said that technology only drives people apart? This book is a collection of the pair's illustrations, which describe the family's life events. It is available at LitBooks for RM94.
Kindle 
While physical books are great, sometimes they may be a little bulky. Kindle Malaysia offers the basic Kindle (RM570), Kindle Paperwhite (RM820) and Kindle Oasis (RM2,525), all of which come with different perks and benefits. Be on the lookout for festive promotions that might be available on Shopee and Lazada. Find out more on kindlemalaysia.com.
For the gadget lover
New iPad Air
Want to take notes or do illustrations on the sleek new iPad? Apple launched the new iPad Air in September. It comes with a larger display, camera and audio upgrades, a new integrated Touch ID sensor and Apple's most powerful chip, the A14 Bionic which allow it render graphics 30% faster and improve its CPU performance by 40%. Prices start at RM2,599 at any Apple store.
For the fitness lover
ClassPass membership
You can book classes at over 800 studios and gyms in Malaysia via the ClassPass app and website. Most of the options are boutique studios and gyms that have small class sizes and well-trained instructors. You can check it out without having to commit to year-long plans. Membership fees for ClassPass start from RM19 per month (digital workouts only) and go up to RM635 per month.
Just Dance 2021
Dancing is a type of workout. If you own either the Nintendo Switch, PlayStation 4, Xbox One, or other compatible consoles, you can play Just Dance 2021, the latest edition of the popular franchise. As with the previous instalments, players can easily break a sweat by mimicking the on-screen dancer's choreography to a chosen song using either motion controllers or the game's app. Released on Nov 12, the game includes songs like Ice Cream by Blackpink and Selena Gomez, Adore You by Harry Styles and Don't Start Now by Dua Lipa.  
For the one who likes to watch videos in public
Wireless earbuds
This also makes a good gift for someone who enjoys audiobooks. While the Apple Airpods and Samsung Galaxy Buds may be above budget for most, there are other brands out there that offer cheaper alternatives with similar quality. There are a lot of funky colours available too! Prices start from RM25, depending on brand and audio quality.
For the social butterfly 
Subscription to The Entertainer
A subscription to The Entertainer app allows the user to make use of special dining, beauty, health and fitness promotions available in-app. The most common promo is the 'buy one, free one' promotion at most F&B outlets on the app. It also has attractive rates for hotels and attractions for its vendors. The price for 2021 has not been released yet but check theentertainerme.com/en-my/malaysia for more updates.
For aspiring green fingers 
Start your own edible garden
You can buy all-in-one planter kits online to kick off your planting journey through Eats, Shoots and Roots' planting kits. They come with seeds, soil and pots. You can also book garden consultations either virtually or on-site to learn how to build an edible garden. The consultations are RM190, while the planter kit starts from RM87.
For the repair fanatic
Sugru mouldable glue
Sugru is like play dough that can stick permanently on all types of materials. It is electrically insulating (it can be used to repair frayed wires) and waterproof as well. The best way to buy this in Malaysia currently is to source it from Lazada and Shopee. The price starts from less than RM10. Remember to check the reviews of the sellers first, though.
For the one who watches Netflix on the phone
Screen amplifiers
Whether it's for your binge-watching best friend or your mother who is obsessed with K-dramas, screen amplifiers are a simple yet thoughtful gift that will enhance their bingeing experience. Screen amplifiers are available on e-commerce platforms and, depending on your budget, they can range from a simple contraption that magnifies the phone screen to a mini projector that mirrors the phone. Prices range from RM5 to more than RM300.
For the young maker
Robotic kits on Cytron Marketplace
Cytron calls itself Malaysia's largest digital maker marketplace. On the site you can find DIY Wooden Robotic Dinosaur kits for RM12, the Robot Arm Building Block for RM350, Omni:bit smart robot car with Mecanum Wheel for RM350 and many more. It categorises its products based on best-selling items for different age groups. 
For the one who has no time to clean
Airbot
This is pretty much a variation of Dyson's cordless vacuum cleaner, but less expensive. It is lightweight, easy to use and you won't need to worry about finding the nearest plug point as it runs on a rechargeable battery. It can be found on airbot.sg, Lazada and Shopee, and retails from RM440.