This article first appeared in The Edge Malaysia Weekly, on September 30, 2019 - October 06, 2019.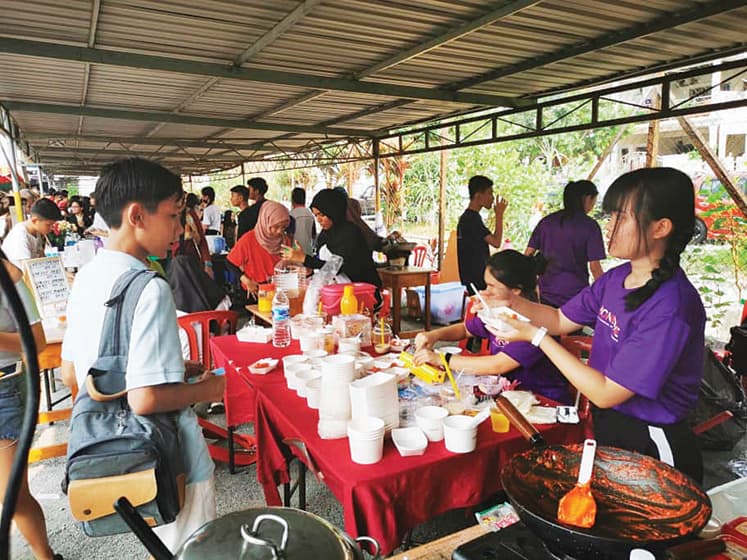 Money & Me participants at SMK Taman Connaught running their food stall on Sales Day at their school. Students learn both financial literacy and basic entrepreneurship skills from the programme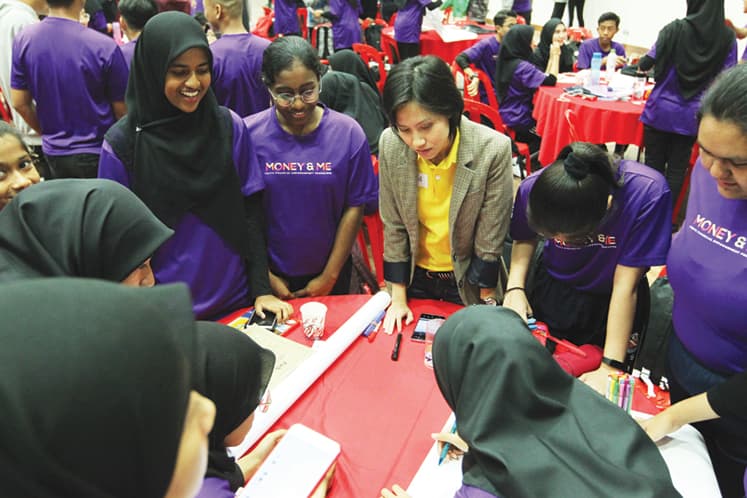 An EY volunteer working with a team from Convent Sentul to help them prepare to pitch their business plan in front of judges at the Money & Me Boot Camp at Taylor's University Lakeside Campus on July 31. The pitch was to enable them to earn capital for their small business.
On July 23, Prime Minister Datuk Seri Dr Mahathir Mohamad launched the National Strategy for Financial Literacy 2019-2023. The strategy sets out priorities and action plans to equip Malaysians with the knowledge they need to make informed financial decisions and nurture healthy attitudes towards financial management.
The national strategy was formulated by the Financial Education Network (FEN), an inter-agency grouping co-chaired by Bank Negara Malaysia and the Securities Commission Malaysia. FEN's founding members are the Ministry of Education, Perbadanan Insurans Deposit Malaysia, Employees Provident Fund, Agensi Kaunseling dan Pengurusan Kredit and Permodalan Nasional Bhd.
Equipping young Malaysians to make informed decisions on money and savings and inculcating positive attitudes towards managing their finances is what The Edge Education Foundation (TEEF) is doing through its "Money & Me: Youth Financial Empowerment Programme". This corporate responsibility initiative, which was launched in five schools in Kuala Lumpur in 2016, has since expanded to 13 schools in Kuala Lumpur and Selangor. The programme is funded by Citi Foundation and is approved as a co-curricular programme for Form 4 students by the Ministry of Education Malaysia.
Money & Me, which was designed by TEEF, targets students from the B40 category (bottom 40% of households with a monthly income of RM3,900 and below) by equipping them with financial literacy as a life skill. It also introduces participants to basic entrepreneurship skills to help them improve their economic prospects. Many of these students may not be able to pursue post-secondary education or training, so learning how to run a small business would provide them with an alternative to low-paying jobs.
Conducted in English, the programme is based on five modules that teach about saving, smart spending, earning, growing wealth and giving. Saving, managing and protecting money as well as planning ahead and ensuring a sustainable future are two of the three priorities of the National Strategy for Financial Literacy. The third is protecting oneself from fraud and financial scams.
Money & Me takes place over six months as part of co-curricular activities in the 13  schools. The lessons are taught by volunteers who are either staff, students or members of our partner organisations. This year, our partners are BHP, Citibank, Deloitte, EY, GE, INTI International College Subang and INTI International University at Nilai, KLK Oleo, PwC and the Rotary Clubs of Sentul, Central Damansara and Mont Kiara Gateway. At four of the schools, teachers teach three of the five modules and INTI students teach the remaining two.
In addition to learning things such as the importance of saving, differentiating between needs and wants, simple and compound interest, budgeting and credit cards, Money & Me participants learn how to create a business plan together with a budget and marketing plan. They are required to implement the plan during "Sales Day", which is when they set up booths to market their goods or services in their respective schools. Sales Day could range from just the recess period or several hours to a full day, depending on the school. Some teams boosted their revenue by taking orders ahead of Sales Day as well as selling on the day itself. Sales Day essentially allows Money & Me participants to put into practice what they have learnt during the programme.
This year, over 360 students participated in the Money & Me programme, with about 40 teams taking part in Sales Day at the 13 schools. Their "businesses" ranged from handicraft to food (Korean-inspired food such as fried chicken and bubble tea were firm favourites) and a PUBG tournament (PUBG or PlayerUnknown's Battlegrounds is a popular online multiplayer game developed by PUBG Corp, a subsidiary of South Korean video game company Bluehole). The enterprising team behind this project charged an entry fee for players (their schoolmates) and sold food, including nuggets and ice cream, to allay the players' and observers' hunger pangs.
Food was a popular choice, with the business plans of many teams referring to the limited food choices in their school canteens. The 39 teams made almost RM41,000 from Sales Day, and posted profit margins ranging from 10% to about 70%. The experience gave participants valuable exposure to what running a small business entails.
As Hanan Sofia Mohamed Ghazali, the teacher in charge of Money & Me at SMK (L) Bukit Bintang, says, "Everyone has ideas; however, not everyone can be successful in business. After the drafting, planning and carrying out the business [plan], I believe that the students now understand … the basic needs in doing business. They may start small, they will face a lot of hurdles and they may fail countless times, but if they are persistent and creative, they can pull it off."
Hanan Sofia says Money & Me has also indirectly helped the students in their Business and Principles of Accounts subjects.
SMK Lembah Keramat in Kuala Lumpur is one of the schools where teachers teach three of the five modules. Hamizah Abdul Hamid, the teacher involved in teaching the modules, says the 80 students in the programme do not just learn about money but also picked up soft skills like public speaking.
"They picked up a lot of new terms and, at the same time, improved their English and Malay proficiencies," she says.
"I must say that Sales Day is the peak of the students' performance. They worked really hard and challenged themselves to do better each time … The students also learnt a great deal about marketing. They used social media such as Facebook, Instagram, WhatsApp, YouTube, Telegram and Twitter. I could not believe my eyes when I read all those chats from their customers. Some of them [customers], they have no idea who they [students] were! Yet, those people trusted them and made their purchases!" she adds.
Other than Money & Me in schools, TEEF is also collaborating with two other partners to equip the youth outside schools with financial knowledge. In 2017, TEEF partnered Malaysian Care, a local NGO, to pilot a financial literacy programme (currently called "Money & Me Out of School") in Bahasa Malaysia for juveniles aged 18 to 21 at Sekolah Integriti Kajang (SIK) in
Kajang Prison. TEEF translated the Money & Me material into Bahasa Malaysia and Malaysian Care customised it for the SIK students. The juvenile correctional centre at Kajang Prison has since been relocated to Puncak Alam and is now known as the Puncak Alam Correctional Centre (PKPA).
Last month, Malaysian Care took in its third batch of students for this year. The programme runs every week for three months. Since 2017, 117 students have gone through the financial literacy classes. Unfortunately, not all complete the class and those who are in the class when it starts may not remain till the end.
"Due to the nature of PKPA, numbers have been fluctuating from class to class. However, our current average across five classes is 22 students for the August to October 2019 batch," says David Chin Yuen Win, community development leader at Malaysian Care. Chin adds that the NGO is trying to get the Prisons Department to help solve this issue as it determines which students attend the class.
The lack of consistency in attendance also makes it very challenging to measure impact (as with Money & Me in schools, the PKPA financial literacy programme conducts pre-programme assessment to benchmark the students' level of financial literacy at the start and post-
programme assessment to measure impact). Still, students with exposure to the financial literacy class, however little, do take away some important lessons.
"I learnt from the class that I must start by controlling myself so that I can control my spending. I also understand better the importance of counting your money [budgeting] every month, to avoid wasting money," says Ashang (not his real name), a former PKPA student.
Some 50 Orang Asli youth aged 17 to 28 at the SOLS 24/7 Youth Development Centre at Segambut in Kuala Lumpur are also learning how to manage money under the same programme. Subjects taught at the centre include character-building, mathematics, project management and IT. The centre decided to adopt the Money & Me out-of-school programme to help the youths make smart decisions on how to manage money.
It is also "to help them understand that if there is no proper preparation on money management, it will cause a lot of problems in their lives" because the youths "know nothing about financial matters such as types of banks, investment and scams", says Miri Adek, a teacher at the centre.
Whether it is Form 4 students, Orang Asli youth or young people at risk in PKPA, TEEF's hope is that by equipping them with the knowledge and skills to make sound financial decisions, we will contribute towards building a financially literate generation and help Malaysians improve their financial well-being.
---
Dorothy Teoh is the CEO of The Edge Education Foundation which focuses on two areas of CR: financial literacy and English proficiency. She was also a judge for the The Edge BCR Corporate Responsibility awards.