This article first appeared in The Edge Malaysia Weekly, on September 30, 2019 - October 06, 2019.
NEWS: Matrix Concepts continues to impress
Matrix Concepts Holdings Bhd's shareholders should be a happy lot as the property developer has been paying regular dividends despite the prolonged slowdown in the domestic property market.
The group declared a dividend of 13.5 sen per share for the financial year ended March 31, 2018 (FY2018), which translates into a payout ratio of 45%. In FY2017 and FY2016, its shareholders received 13.75 sen and 13.5 sen respectively.
In FY2018, Matrix achieved a return on equity (ROE) of 17.7%, outperforming its peers in the industry. Nonetheless, its ROEs were even higher in FY2017 at 18.1% and in FY2016 at 29.5%.
Matrix won two The Edge BRC awards this year — for the highest ROE over three years and the highest returns to shareholders over three years for companies with market capitalisations of not exceeding RM3 billion.
Given the strong headwinds, Seremban-based Matrix seems to have made an effort to enhance its long-term sustainability by expanding its development portfolio not only around Seremban but also into Kuala Lumpur and Australia.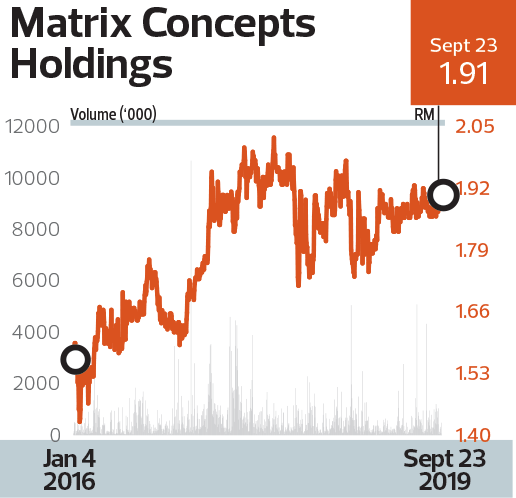 And that has given a big boost to the group's profitability in FY2019. It achieved a record-high revenue of RM1.045 billion, driven by positive take-ups of its residential and commercial property launches in Malaysia and Australia. The projects have an aggregate gross development value (GDV) of RM1.46 billion.
While most local property stocks have been in the doldrums in the past three years, Matrix's share price managed to hold its ground. It climbed 14% over a three-year period from RM1.631 in end-March 2016 to RM1.858 on March 31, 2019.
All four analysts who track the stock have rated Matrix a "buy" with target prices ranging from RM2.20 to RM2.40. The stock closed at RM1.91 on Sept 23, giving the company a market capitalisation of RM1.57 billion.
"We continue to like Matrix as it is well-positioned to ride the affordable housing theme within its successful townships with low land cost and sustained property sales," says Hong Leong Investment Bank research analyst Andrew Lim Ken-Wern.
"This is supported by an attractive dividend yield of 6.8% for FY2020 and 7.6% for FY2021 — one of the highest in the sector."
Matrix reported a core profit after tax and minority interests (Patami) of RM54.5 million in the first quarter of FY2020, up 8% year on year, helped by new sales of RM319.2 million, or 25% of its full-year target, and a healthy unbilled sales of RM1.2 billion. Hong Leong Investment Bank forecasts Matrix's FY2020 full-year Patami at RM236.4 million.
Given its exciting line-up of launches and encouraging sales recorded at its ongoing developments as well as recent launches, Matrix says it remains optimistic about maintaining its performance in FY2020, despite cautious sentiment in the property sector.
The group's prospects remain bright as it embarks on a few other exciting projects. Total ongoing developments swelled to a record high of RM2.9 billion in GDV as at June 30, 2019.
Following the success of its M.Carnegie boutique apartment project in Melbourne, launched in 2016, the group has soft-launched its second development there — M.Greenvale. With a GDV of RM72 million, M.Greenvale features 70 residential lots on 9.7 acres.
Additionally, the group has another Australian project in the pipeline — M.St.Kilda. It also plans to expand into the Indonesian market by participating in the development of the Islamic Financial Towers in Jakarta together with Indonesian conglomerates Agung Sedayu Group and Salim Group, and investment banking firm PT Nikko Sekuritas Indonesia.
The Indonesian twin towers project with an estimated GDV of US$200 million (RM836 million) is slated for launch in November.