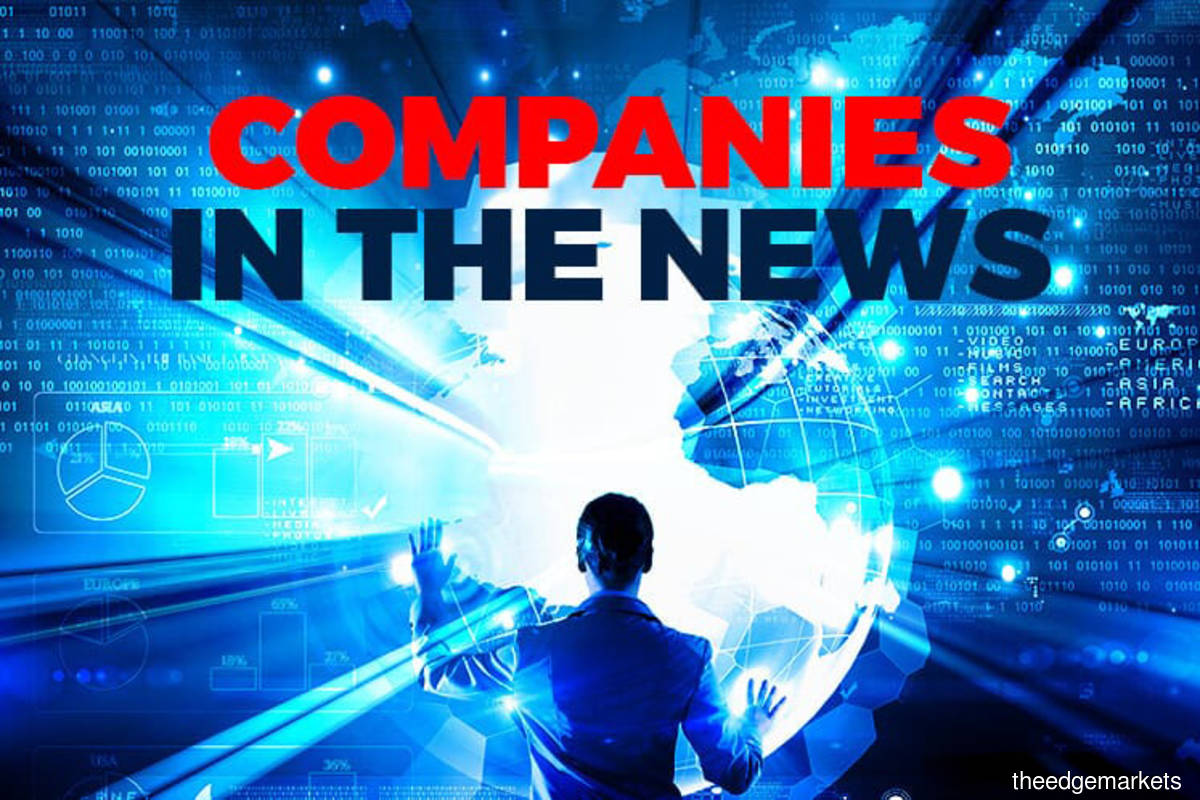 KUALA LUMPUR (Sept 17): Based on corporate announcements and news flow today, companies in focus on Monday (Sept 20) may include: Hup Seng Industries Bhd, Top Glove Corp Bhd, Gadang Holdings Bhd, Malaysia Airports Holdings Bhd (MAHB), Eco World Development Group Bhd, Eco World International Bhd, Handal Energy Bhd, NetX Holdings Bhd, MLabs Systems Bhd, Fintec Global Bhd, Southern Cable Group Bhd, AirAsia X Bhd (AAX), Bioalpha Holdings Bhd, Revenue Group Bhd and Perdana Petroleum Bhd.
Biscuits maker Hup Seng Industries Bhd said it has temporarily suspended the operation of its Johor plant's packaging machine for disinfection purposes to curb the spread of Covid-19. Its wholly-owned subsidiary Hup Seng Perusahaan Makanan (M) Sdn Bhd located at Tongkang Pecah Industrial Area in Batu Pahat, on Thursday received a notice from the Ministry of Health to temporarily suspend the operation of one packaging machine from Sept 16 to Sept 22. The group said production operations at all other unaffected areas remain unchanged.
Top Glove Corp Bhd's net profit fell 70.14% to RM607.95 million in the fourth quarter ended Aug 31, 2021 (4QFY21), compared with RM2.04 billion in the immediate preceding quarter. This is the first time quarterly net profit dropped below the RM1 billion mark since 4QFY20. Revenue almost halved to RM2.12 billion in 4QFY21 from RM4.16 billion in 3QFY21. On a year-on-year basis, net profit dropped 48.37% from RM1.18 billion in 4QFY20, while revenue declined 31.95% from RM3.11 billion. Full-year net profit surged 349.1% to RM7.87 billion, from RM1.75 billion in FY20, as revenue more than doubled to RM16.41 billion from RM7.24 billion.
Top Glove also said it will resume exporting and selling its gloves from Malaysia to the US as early as end-September this year, following the lifting of the US Customs and Border Protection (CBP) ban effective Sept 10, 2021, after more than a year of being prohibited from shipping goods to the US market. Its executive director Lim Cheong Guan said the company has been maintaining good relationship with its US customers and has been regularly liaising with them, hence these customers are all ready to do business with the company after the import ban on Top Glove's subsidiaries was lifted. Against this backdrop, he also said this positive development is expected to boost sales from Top Glove's Malaysian operations to the US, which accounted for 15% of the group's total sales for the financial year ended Aug 31, 2021 (FY21).
Gadang Holdings Bhd has secured a RM100.34 million sub-contract under the Central Spine Road (CSR) project — a 347km toll-free highway aimed at motorists travelling between Bentong in Pahang and Kelantan. The construction engineering group said the work includes demolition, site clearance, earthwork and the construction of an access bridge to Kuala Berang, with the 30-month subcontract to be completed by the first quarter of 2024.
Malaysia Airports Holdings Bhd (MAHB) has managed to ward off a huge chunk of a claim made by a construction firm involved in the upgrading of the Penang International Airport.
Syarikat Pembinaan Anggerik Sdn Bhd (SPASB), which had claimed RM66.83 million in a lawsuit against MAHB, was only awarded RM9.93 million plus interest by the High Court. The RM9.93 million was for balance of work payments. The court, however, dismissed SPASB's claim for acceleration costs and prolongation costs.
Eco World Development Group Bhd's net profit for the third quarter ended July 31, 2021 (3QFY21) dipped marginally by 1.9% to RM35.15 million, from RM35.83 million in the same period a year ago. Revenue fell 6.06% to RM448.91 million from RM477.87 million in the same quarter last year, mainly due to more completed or near-completed properties being sold, which enabled a higher percentage of revenue to be immediately recognised upon completion of sale of the units. However, for the cumulative nine-month period, Eco World's net profit rose 59.19% to RM139.9 million from RM87.88 million in the same period a year earlier, while cumulative revenue was up 1.14% to RM1.38 billion, from RM1.36 billion previously.
Eco World International Bhd's (EWI) net profit for the third quarter ended July 31, 2021 (3QFY21) fell 93.39% to RM2.49 million from RM37.63 million a year ago. Quarterly revenue slumped 79.34% to RM127.13 million from RM615.44 million. The group said the lower earnings were mainly due to lesser number of units sold to customers being handed over in the current quarter by its Australian projects, as well as a lower share of profits from its UK joint ventures. For the nine-month period ended July 31, 2021, however, EWI saw its cumulative net profit rise 11.04% to RM69.83 million from RM62.89 million a year earlier, while revenue fell 12.61% to RM537.97 million from RM615.6 million.
Handal Energy Bhd has secured a new contract from Tanjung Offshore Services Sdn Bhd for the provision of portable crane equipment and services package. The contract commenced on July 2 and the estimated completion date is in December 2021, The contract does not have any specified value, as it is on a "call-out" basis whereby a work order will be issued at the discretion of Tanjung Offshore based on the activities scheduled and rates.
Fintech Global Bhd's associate NetX Holdings Bhd has emerged as a substantial shareholder in MLabs Systems Bhd after acquiring a 5.52% stake in the loss-making company. NetX said it acquired the stake, comprising 80 million shares, in the open market through its subsidiary First United Technology Ltd on Sept 15 for RM3.62 million, which averages at 4.5 sen per share. With the acquisition, First United owns 104.46 million shares or a 7.28% stake in MLabs.
Southern Cable Group Bhd has received the nod from the Securities Commission Malaysia to transfer its listing status to the Main Market of Bursa Malaysia, 11 months after its ACE Market debut in October 2020. Southern Cable, which manufactures cables and wires used for the power and telecommunication sectors, said the transfer of the listing status is expected in the fourth quarter of this year, conditional upon approval from Bursa Securities. 
AirAsia X Bhd (AAX) has made "substantial progress" in months-long talks with creditors, as it aims to convene meetings with them to vote on a restructuring scheme by the end of October, its chief executive said. Benyamin Ismail told Reuters that negotiations with lessors, planemaker Airbus SE and service providers had progressed, but declined to share details. Benyamin said talks with creditors were in final stages and all had indicated they want to see the airline proceed with its restructuring.
Bioalpha Holdings Bhd's has signed an agreement with Suzhou Medicalsystem Technology Co Ltd (MEDIC) for the commercialisation of Biolapha's proprietary herbal formulations and products in China in the near future. Bioalpha said the proposed joint venture is to capitalise on the regional expertise of MEDIC in China, as it is well-known across many hospitals within the country. Bioalpha added the intended principal activities of the joint-venture company include conducting research and development and clinical trials to substantiate the efficacy of Biolapha's proprietary herbal formulations and products.
Electronic payments firm Revenue Group Bhd saw its net profit for its fourth financial quarter ended June 30, 2021 (4QFY21) fall 65.5% to RM1.28 million from RM3.71 million in 3QFY21, on lower sales of electronic data capture (EDC) terminals, although rental and maintenance returns rose. This is on the back of a 39.6% quarter-on-quarter decline in revenue to RM17.55 million, as the period under review saw the reimposition of the Full Movement Control Order. On a year-on-year basis, 4QFY21 saw lower sales of EDC terminals. However, Revenue Group recorded higher returns from rental and maintenance of EDC terminals. The latter, coupled with the more relaxed MCO compared with in 4QFY20, helped lift the group's net profit by 181.7% y-o-y to RM1.28 million, from RM455,000. However, revenue was down 25.2% to RM17.55 million, from RM23.48 million in 4QFY20.
Perdana Petroleum Bhd's net loss for the second quarter ended June 30, 2021 (2QFY22) widened to RM39.12 million from RM2.88 million recorded a year ago, on the back of a nearly 36% drop in quarterly revenue at RM38.56 million, from RM60 million previously. The company's financial performance was dragged by an impairment on property, plant and equipment amounting to RM29.9 million in the quarter under review. Perdana Petroleum also attributed the drop in revenue and wider losses to lower vessel utilisation at 51%, as compared to 58% in the previous corresponding quarter.