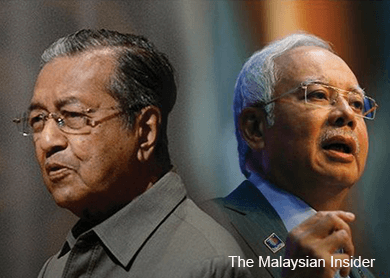 (April 20): Datuk Seri Najib Razak has "failed in many areas", said Tun Dr Mahathir Mohamad today, adding that he had expected the prime minister to do better than his predecessor, Tun Abdullah Ahmad Badawi.
The former prime minister said there were more issues than just the abandoned crooked bridge project that had pushed him to call for Najib's resignation.
"I had fully expected him to do better than Abdullah."
"When he failed, I told people that they should continue to support him. I was prepared, despite everything, to see him lead BN in the 14th general election.
"But now with the controversies dogging him, I am sure BN would lose if he leads it in the 14th GE," he wrote in his blog today.
Dr Mahathir said he was not "so frivolous" as to be upset over the crooked bridge project, but it was not enough for him to ask Najib to step down.
Dr Mahathir said Najib's failures included not continuing with the double tracking and electrification of the railway line from Johor Baru to Padang Besar, which cost RM14 billion and would have been completed five years ago.
Instead, Najib caved under pressure and sanctioned the continuation of the track from Ipoh to Padang Besar for RM12 billion, said Dr Mahathir, adding that the government had lost a great deal of money from the project.
"Najib is the son of Tun Razak, the man responsible for my elevation to prime ministership. Partly for that reason and partly because Najib showed good performance when I was PM, I wanted Najib to be PM.
"And people know I worked hard at it, pressuring Abdullah to appoint him as deputy prime minister so that he would become PM when Abdullah leaves. But Najib failed in many areas after becoming PM."
Najib became prime minister in April 2009, succeeding Abdullah who took over when Dr Mahathir retired in 2003.
Abdullah stepped down following criticism by Dr Mahathir after the ruling Barisan Nasional fared poorly in the 2008 general election, losing its customary two-thirds majority in Parliament.
In a television interview on April 9, Najib had said that two issues, the crooked bridge and 1Malaysia People's Aid (BR1M), could have been part of the reason for the former prime minister's relentless criticism.
Najib had said that Dr Mahathir wanted him to scrap BR1M and revive the "crooked bridge" linking Johor and Singapore.
But Dr Mahathir wrote in a blog post last Monday that he would have demanded the prime minister step down even before the general election in 2013 if he was angry that Putrajaya did not want to build the crooked bridge.
Dr Mahathir has been criticising Najib and his administration in recent months over the 1Malaysia Development Berhad (1MDB) scandal, for continuing BR1M, and also over the murder of Mongolian Altantuya Shaariibuu, and has repeatedly called for him to resign. – The Malaysian Insider