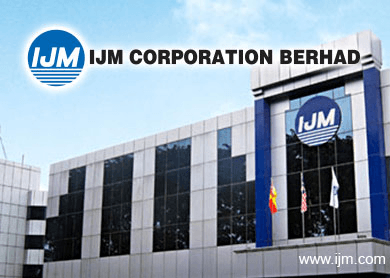 KUALA LUMPUR (Dec 8): IJM Corp Bhd is selling its 100% stake in India highway concessionaire Jaipur-Mahua Tollway Private Ltd (JMTPL) to ISQ Asia Infrastructure I-A Private Ltd for INR5.25 billion (RM295 million).
In a filing with Bursa Malaysia today, IJM Corp said the sale was estimated to rake in approximately RM188 million gain for the builder.
"The total consideration of the disposal was arrived at one a willing-buyer-willing-seller basis, after taking into consideration the discounted future cash flows of the project.
 
IJM Corp said its wholly-owned subsidiary IJM Rajasthan (Mauritius) Ltd had last Saturday (Dec 6) signed a conditional share purchase and debenture subscription agreement to dispose of the 100% stake comprising 195.14 million shares in JMTPL.
The sale will be done in two stages. IJM Corp said the disposal will see the initial 74% stake in JMTPL changing hands first .
The remaining 26% will be disposed of upon obtaining approval from the National Highways Authority of India.
IJM Corp said this would be done under a put and call option within two years from the completion of the 74% stake disposal.
JMTPL is the concessionaire for the Mahua-Jaipur stretch of National Highway – 11 within Rajasthan. The stretch is between km 120 and 228.
At 12:30pm, IJM Corp shares stood unchanged at RM6.57, giving it a market capitalisation of RM9.78 billion.
The stock had gained 13% this year, outperforming the FBM KLCI's 7% decline.