This article first appeared in Enterprise, The Edge Malaysia Weekly, on February 11, 2019 - February 17, 2019.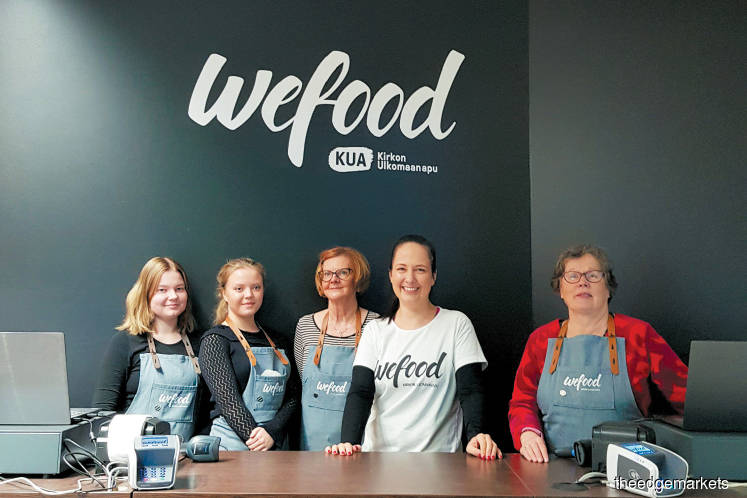 Roughly one-third of the world's supply of food for human consumption gets lost or wasted every year. That is US$680 billion and US$310 billion worth of wasted food for industrialised and developing countries respectively, according to the Food and Agriculture Organization (FAO).
Ironically, all this occurs alongside chronic poverty, with many not having enough to eat. And with climate change already impacting food production, food security is becoming an issue. To husband our food resources more carefully, some organisations are attempting to salvage the surplus food from grocery stores and supermarkets by selling it to consumers directly.
WeFood, a supermarket for "rescued food" in Helsinki, Finland, is one example. Project manager Else Hukkanen, who spoke to Enterprise during a recent media tour on the Circular Economy and Clean Tech in Finland, says 400 million to 500 million kilogrammes of food go to waste in the country each year.
"Our sister organisation in Denmark, DanChurch Aid, created this concept [of a supermarket for rescued food]. It already has three shops in that country and things are going very well there," she adds.
WeFood established Finn Church Aid, a faith-based organisation that provides humanitarian assistance, and launched a crowdfunding campaign to set up the one-year old supermarket. "We work with bakeries, food producers and grocery stores. We get all this food for free. If the food is edible, they will give it to us. We can take food that has already passed its 'best before' date, but it must be edible and safe. So, we have to check our food every day," says Hukkanen.
The food in this supermarket is 20% to 80% cheaper than in regular grocery stores. It costs around €100,000 (RM473,208) to set up the store, which is run by volunteers. It also relies on volunteers to transport the surplus food from various locations to the supermarket.
"We have had mainly positive feedback since the shop opened. But during our crowdfunding campaign, there were some sceptical comments on social media. Some were concerned as to whether there would be enough food waste for all the parties because there are already parties in Finland that give food waste for free to people in need," says Hukkanen.
"We had to have discussions with them on social media, saying that there is still so much food going to waste. When you buy produce from here, you also reduce emissions that are created for no reason because food waste is an environmental problem."
Another organisation is solving this problem by turning surplus food into fine cuisine. The non-profit From Waste to Taste launched the first waste food restaurant, Ravintola Loop, two years ago in Helsinki. It picks up surplus and rejected "ugly food" from supermarkets daily and has it turned into various dishes by its in-house chefs.
Some entities in Malaysia are also exploring solutions in this area. For instance, Grub Cycle — a social enterprise that was launched in 2016 — sells surplus food from supermarkets online. Penang has the Mutiara Food Bank, which was set up in 2017, to distribute surplus food to charitable organisations.
The Malaysian Agricultural Research and Development Institute (Mardi), in collaboration with the FAO, set up MySaveFood in 2016 to address food waste. According to a Bernama report, Malaysians dispose of at least 3,000 tonnes of food daily that is still fit for consumption, especially during festive seasons. MySaveFood was set up to research the issues behind food wastage.