This article first appeared in City & Country, The Edge Malaysia Weekly, on August 1, 2022 - August 07, 2022.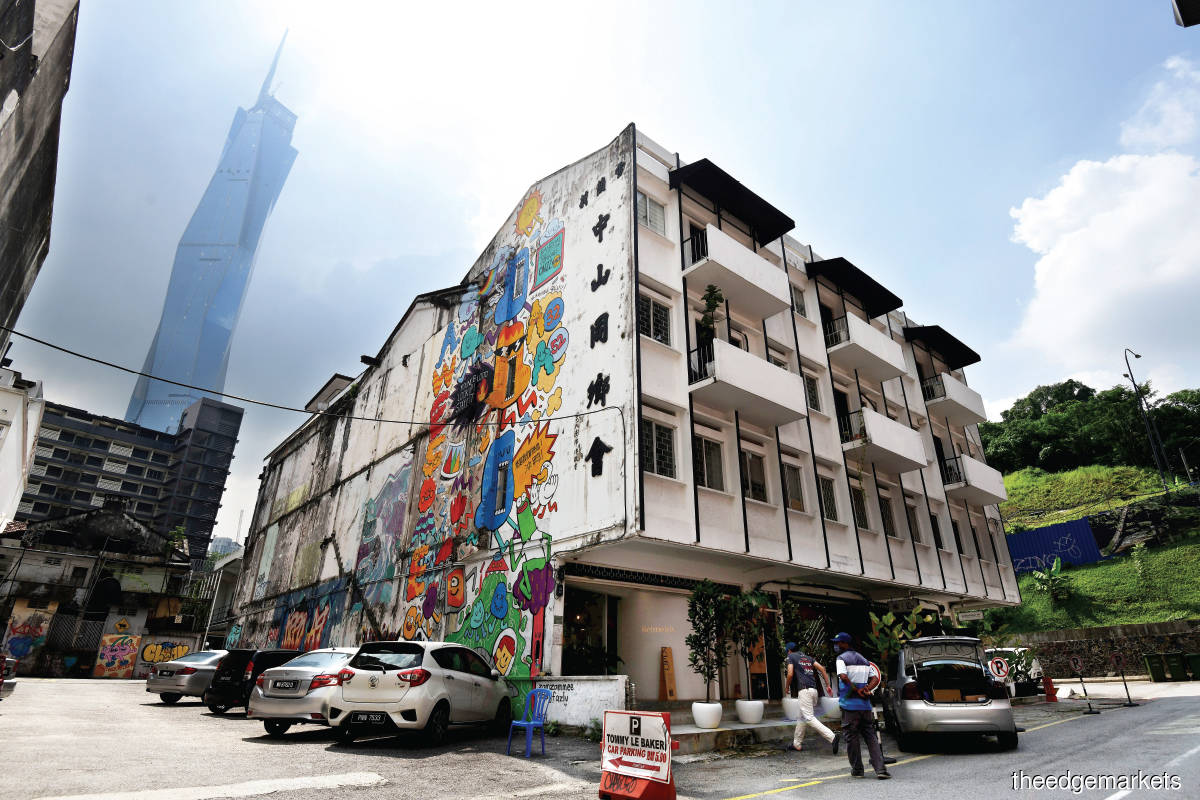 Kuala Lumpur is an amazing city. The mix of old and new buildings juxtaposed with pockets of greenery presents a tropical feel that only a few cities can boast of. As the city moves with the times, what is to be done to the older buildings? Should they be replaced with something sparkling new? Or should we consider the historical value they bring to the landscape? City & Country asks property experts about the practicalities of upgrading these old properties — be it through converting, refurbishing or rebuilding.
"This is a very interesting and evergreen topic, where all developers or landowners would like to know what to do with their old buildings when they are dated or demand is falling off the cliff," says Savills Malaysia group managing director Datuk Paul Khong. 
"There is no right answer to this question but it is a calculated risk exercise involving lots of money in repurposing these old buildings. The final decision comes down to 'ringgit and sen', feasibility, prevailing market conditions, ­actual demand and, especially, what really works in a specific location.
"In looking at redevelopment, the highest and best use, or Habu, principle is always adopted. And the land — usually in prime city centre locations — is valued to ensure that it is worthwhile undertaking the redevelopment, that the new or higher plot ratio approved justifies the feasibility of the redevelopment exercise and the demand," he says.
CBRE|WTW property and facility management managing director Tan Ka Leong believes that upgrading an old property provides opportunities for growth but this needs to be balanced with practicality.
"The benefits of converting, refurbishing or rebuilding a building are securing a different type or class of tenants or occupants, which could lead to the restoration of or increase in rental revenue; higher occupancy; and price appreciation. However, [it also ­depends] on the nature of the business and purpose, and also the location of the building. There may also be significantly lower investment costs as compared to a complete redevelopment of the existing property.
"The downside to this is the time spent and processes that have to be carried out, which relates to verifying the existing condition of the property, accepting the physical constraints and working around them where necessary," says Tan.
"Old buildings give us the opportunity to preserve the history and legacy of the city. But this has a price. The expectation that rents in older buildings are lower may be incorrect as such buildings also incur higher maintenance and upkeep costs. To be economically sustainable, such buildings have to be located in strategic areas and close to public transport and attractions," he says.
According to Savills' Khong, the analysis to upgrade a piece of ageing real estate "is both 'art' and 'science' of a decision-making process". 
"When considering redevelopment in the Klang Valley — ­especially in the city centre — the more pertinent questions would be the size and impact of the project. These projects invoke issues of sustainability and inclusivity — referring to the United Nations Sustainable Development Goals, or SDGs — as well as urban strategies and planning.
"Also, collaborative works between private and public entities are expected to yield better results, as evidenced by public-private partnerships (PPP) for comprehensive large-scale developments, backed by detailed master plans to ensure complementarities or agglomerations are achieved, allowing for better access to finance, corporate incentives and vital support mechanisms such as compulsory land acquisition and provision of infrastructure. Notable PPPs include KLCC, KL Sentral, KL Eco City, TRX (Tun Razak Exchange) and BBCC (Bukit Bintang City Centre)," he says.
However, key to the upgrading of old buildings are regulations. 
Says Tan, "What is preventing many old buildings around Kuala Lumpur and the Klang Valley from being converted, refurbished or rebuilt are the zoning regulations, which prohibit the change of land use from commercial, residential and industrial, or set limits on mixed uses or imposes heavy conversion charges.
Successful upgrades
Several successful projects prove that if done correctly, old buildings can make a positive contribution to society and property values. 
Savills' Khong points to The Zhongshan Building, which was built in the 1950s. The owners received a grant of RM200,000 from urban regeneration organisation Think City to restore the building. When the restoration was completed in 2016, the total cost amounted to about RM1 million. 
It is now home to an arts and research community of 30 artisanal tenants offering F&B, art galleries, speciality stores, bespoke services, music, archives and libraries, design and books. Monthly rental rates for ground floor spaces range from RM5,000 to RM7,000 (1,600 sq ft).
Another example Khong highlights is Plaza Batai in Bukit Damansara. Refurbishment began in September 2014 and was completed in 2Q2015. Changes were made to the property's layout, with more car parking and green spaces being added. Sitting on a 96,900 sq ft site, Plaza Batai boasts 16 shoplots with net lettable areas of between 1,500 and 1,600 sq ft; the ground floor offers a total of 21,760 sq ft of retail space and the first floor, 25,400 sq ft.
According to Selangor Properties Bhd's annual reports, Plaza Batai's book value grew from "circa RM32 million in 2015 to RM44 million in 2018", at a compound annual growth rate of about 11% per annum. The building was sold to a subsidiary of Pavilion Group for around RM100 million in 2020. 
Another successful project is Sentul Works in a Park, a 110-year-old railway headquarters that has been repurposed into a 4-storey office space with about 34,000 sq ft of net lettable area. 
Then there is The Stories of Bukit Tunku, formerly Taman Tunku Apartments, which was constructed in the early 1960s. It has been refurbished from 85 apartments and nine retail units into 19 retail units, 26 office units and 40 residential apartment units for lease. 
Lastly, there is Loke Mansion, which sits on a 55,000 sq ft parcel. This historical building was constructed by a wealthy merchant named Cheoh Ah Yok and was later acquired by tin businessman Loke Yew, who then had the mansion refurbished into its current form in 1902. Loke Yew's family stayed in the house until 1930. The mansion was later used as a base by the Japanese forces during WW2, and became a police training branch in 1948.
Datuk Loh Siew Cheang — managing partner of Cheang & Ariff law firm — decided to refurbish the mansion in 2006 and completed the works in 2008. The law firm (now known as Chooi & Company + Cheang & Ariff) currently leases the premises as its office, Khong says.
For CBRE's Tan, successful projects he's noticed have been conversions and refurbishments. He cites office buildings in the city centre that have been turned into hotels — Menara ING into Holiday Inn Express; Wisma KLIH into WOLO Kuala Lumpur, a 4-star hotel with 133 rooms, which was sold for RM115 million to HYM Signature Sdn Bhd in 2019; and Wisma Peladang into ANSA Kuala Lumpur.
Previously a wet market, Pasir Seni is now a commercial enterprise. Commercial properties that have been turned into residences are Majestic Cinema (D'Majestic Residence) and Wearnes Showroom (Robertson Residence). 
Adaptive reuse projects include KL33 in Jalan Sultan Ismail. Formerly Menara Prudential, the building was bought in 2016 for RM125 million (RM759 psf) and underwent an asset enhancement exercise. The building subsequently achieved a much higher sale price of RM215.5 million (RM1,100 psf) in 2019.
In Petaling Jaya, Jaya 33, originally an old factory, was bought by Jaya 33 Sdn Bhd for redevelopment. It was sold to Pelaburan Hartanah Bhd for RM324 million in 2013. Jaya 33 Sdn Bhd also redeveloped the old Sissons paint factory into Plaza 33. 
Tan also cites REXKL in Jalan Sultan. In 2017, several people — including architects and the owners of Sekeping Retreats and 3nity Design — teamed up to repurpose the theatre, transforming it into an open space for events and retail vendors that attract tourists that throng the Petaling Street vicinity.
Forward planning
With careful planning, the value of old buildings can be enhanced and new opportunities for society can be created. 
Says Khong, "The redevelopment works include refurbishment, asset enhancement and urban revival, rejuvenation or regeneration works that are part of a real estate's life cycle. In line with the UNSDG, and concerns of oversupply and overdevelopment, we foresee a growing trend in market participants focusing on refurbishing older buildings.
He highlights examples of "asset revival" works that have resulted in Mingle Cafe, Vintage 1988 and Tian Jing in Jalan Sultan, and LOKL Coffee Co and Cafe Kleptokrat in Jalan Tun HS Lee in Leboh Ampang.
Tan acknowledges that some buildings constructed within the last 50 years are unlikely to be converted, refurbished or rebuilt due to their lack of historical value. And with plot ratios increasing in the city, redevelopment is the best option.
"Buildings in good condition in secondary locations — with adequate road connections, public transport and commercial prospects — may be worth keeping instead of being demolished and rebuilt," he says.
"For example, the conversion of masses of empty shophouses into low-cost or affordable housing. However, more discussions and actions upon this matter will be needed to change the legal processes."
Deciding the fate of older buildings requires a confluence of many aspects, and possibly, the stars. However, this exercise should be considered carefully, so that these buildings will not be cast aside and forgotten but revived to meet the needs of future generations.