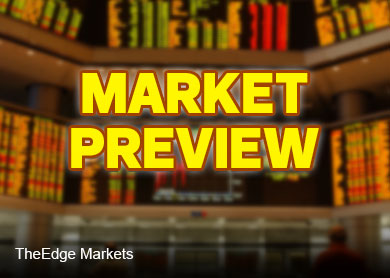 KUALA LUMPUR (Nov 11): The FBM KLCI is expected to trend higher in line with global equity markets today, which closed higher on Wednesday.
World equity markets hit their highest level in more than a month on Monday, lifted by a deal to give global investors easier access to China's $3.9 trillion stock market and more gains in U.S. equities, according to Reuters.
Wall Street ended higher, with the S&P 500 rising 0.3 percent to 2,038.26, a closing record, while the Dow industrials gained 0.2 percent to a new closing high of 17,613.74, it said.
AllianceDBS Research in its evening edition Monday said despite the weak down close last Friday, the FBM KLCI had on Nov 10 only traded marginally lower to 1,824.05 as market participants chose not to stage follow through selling activity.
The research house said that in the absence of stronger selling interest, the benchmark index rebounded to a high of 1,831.82 before settling off the day's high at 1,827.93 (+ 3.74, + 0.21%).  
"In the broader market, losers outnumbered gainers with 482 stocks ending lower and 345 stocks finishing higher.
"That gave a market breadth of 0.71 indicating the bears were in control," it said.
AllianceDBS Research said that having continued to languish in the red for 5 days consecutively, the benchmark index had on Nov 10 registered an up close after losing 34 points [1,858 (3 Nov 2014) minus 1,824 (10 Nov 2014)].
"It was good to see the market hold above the 1,822 level [a 38.2% retracement of the rise from 1,766 (17 Oct 2014) to 1,858 (3 Nov 2014)], because a downside violation of the 1,822 level would put pressure on the market down to the next support at 1,812 [a 50% retracement]," it said.
The research house said the ability of the benchmark index to stay supportive at 1,822 should establish a base for an upward move in the coming days.
Indicator wise, the MACD is still above the 9-day moving average line, it said.
"The analysis of overall market action on Nov 10 revealed that buying power was stronger than selling pressure.
"As such, the FBM KLCI would likely trade above the 1,831.82 level on 11 Nov," it said.