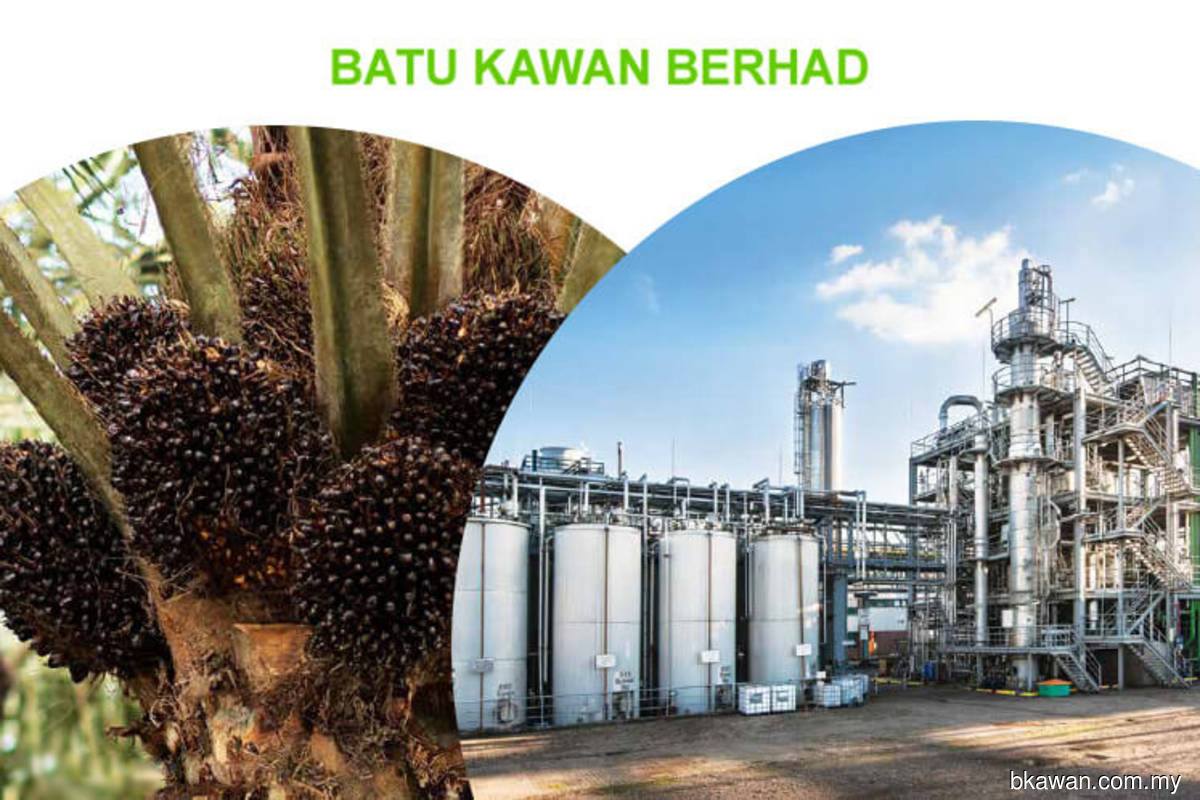 KUALA LUMPUR (Oct 7): Kuala Lumpur Kepong Bhd's (KLK) major shareholder Batu Kawan Bhd's share price climbed to a record high on Thursday (Oct 7) after rising as much as RM1.18 or 5.57% to RM22.38 as crude palm oil (CPO) prices at above RM5,000 a tonne fuel investor interest in shares of the plantation group.
KLK is a 47.43%-owned associate of Batu Kawan.
On Bursa Malaysia, Batu Kawan's share price pared gains to end at its record high closing price of RM22.28 at 5pm on Thursday (Oct 7), after the stock was transacted between RM21.50 and RM22.38. The stock saw 60,100 shares traded.
Meanwhile, KLK's share price ended up 40 sen or 1.83% to RM22.30, after the stock was traded between RM21.92 and RM22.42. The stock saw 1.39 million shares transacted.
At Batu Kawan's closing share price of RM22.28, the company has a market value of about RM8.79 billion, based on the group's 394.63 million issued shares.
KLK's closing share price gives the company a market capitalisation of around RM24.08 billion based on the firm's 1.08 billion issued shares.
According to Batu Kawan's website, the company was incorporated in 1965 and commenced operations as a plantation firm when it took over the assets and liabilities of its UK-predecessor company Batu Kawan Rubber and Coconuts Plantations Ltd in 1971 under a scheme of reconstruction.
Over the years, Batu Kawan has diversified from its core plantation business into the manufacturing of industrial chemicals.
"In 1992, the company (Batu Kawan) sold all its plantations assets to KLK in exchange for shares. KLK is the company's (Batu Kawan) largest investment in which it currently owns 47% equity stake," Batu Kawan said.
Meanwhile, KLK said on its website that through strategic acquisitions, KLK's total oil palm planted area stands at about 213,000 hectares across Malaysia, Indonesia and Liberia.
Bursa-listed CPO futures have been closely watched after prices rose past RM5,000 a tonne for the first time on Tuesday (Oct 5).
Malaysia CPO futures prices closed lower on Thursday, as investors took profit. 
CPO for October 2021 closed down RM31 at RM5,036 a tonne, after the securities were traded between RM5,000 and RM5,037.
Meanwhile, CPO for November 2021 finished down RM18 at RM4,967 a tonne, after the securities were transacted between RM4,927 and RM4,985.