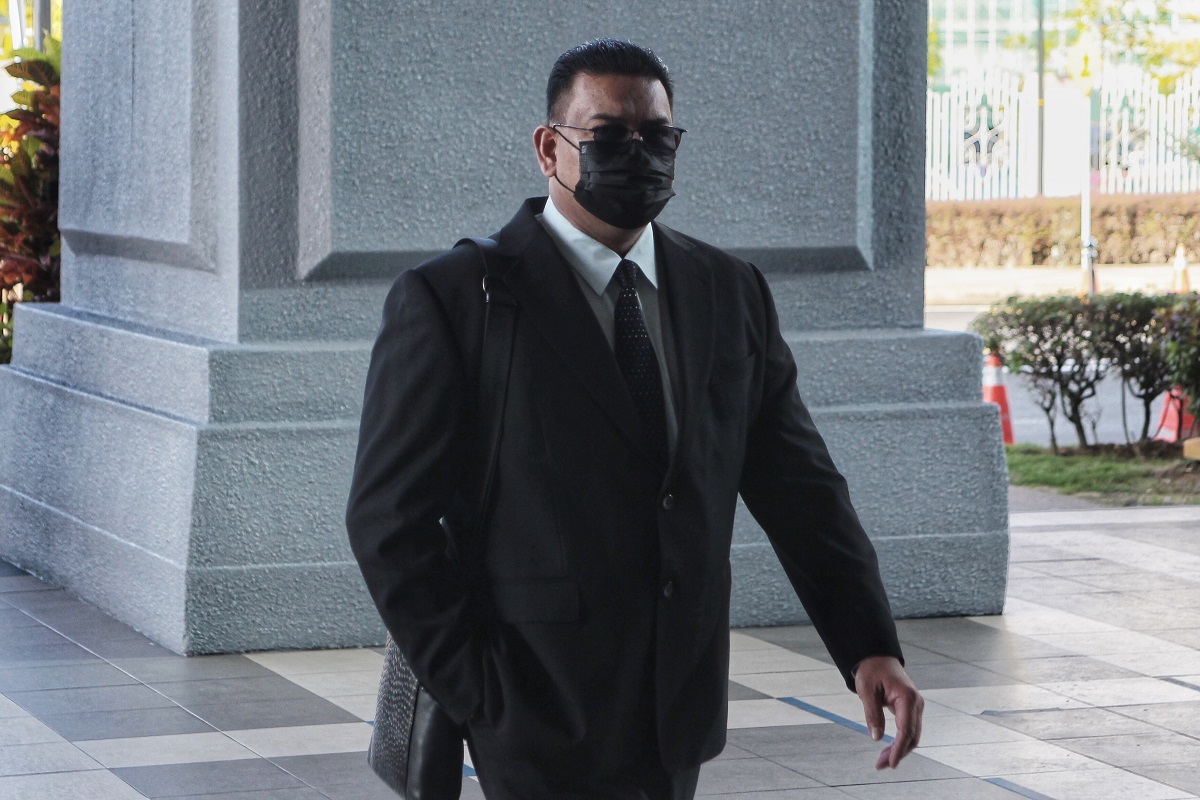 KUALA LUMPUR (July 15): The High Court here has held former Umno supreme council member Datuk Lokman Noor Adam in contempt of court and sentenced him to one month in prison for intimidating a witness in former premier Datuk Seri Najib Razak's 1Malaysia Development Bhd (1MDB) trial.
Justice Collin Lawrence Sequerah, in delivering his decision today, found Lokman had intimidated Najib's former special officer, Datuk Amhari Efendi Nazaruddin, who is a key witness in the case, and imposed the custodial sentence after taking into consideration mitigating and aggravating factors by both counsels.
However, Lokman's lawyer Tan Sri Muhammad Shafee Abdullah told the judge they will be appealing the conviction and sentence at the Court of Appeal and thus asked for a stay of the conviction and sentence.
In response, deputy public prosecutor Mohamad Mustafa P Kunyalam said there are no exceptional circumstances that justifies Lokman being granted a stay of execution.
Shafee argued that Lokman is a first-time offender and had never been involved in any criminal activity before, and should thus be granted the stay.
The judge subsequently granted the stay pending disposal of the appeal, with a bond sum of RM3,000 with one surety.
Earlier, Justice Sequerah said Lokman's threats against the witness in 2019 do constitute harassment and amounted to interference in administering justice and the court process.
Lokman made the threats at a press conference after lodging a police report against Amhari.
"It is imperative that a witness should be free to give evidence in a trial. The police report (made by Lokman) does not exonerate him. The statements he made were to threaten the witness and detract him from testifying," the judge said.
"It is not the business of the respondent (Lokman) to make sure witnesses tell the truth," Sequerah said, adding there was an element of mala fide (bad intention) in Lokman making those statements after lodging the police report.
"I find that the act of the respondent gives rise to real interference and interference into the administration of justice, which constitutes contempt of court," the judge surmised.
During mitigation of Lokman's sentence, ad hoc prosecutor Datuk Seri Gopal Sri Ram argued that Lokman had shown no remorse for his actions and asked that a custodial sentence be meted out by the court against Lokman.
"The prosecution submits that the accused be imprisoned. We urge your Lordship to hand out a sentence that would stop (other) offenders dead in their tracks," Sri Ram said.
He also said the sentence will be a comfort to future witnesses that they will not be victimised and can give evidence in comfort.
"Your ruling will be an umbrella for witnesses to come forward and testify. The respondent (Lokman) has followers and we don't want others to get encouraged to do similar acts. Therefore, we move for imprisonment," he said.
On Oct 22, 2019, Justice Sequerah granted leave to then Attorney-General (AG) Tan Sri Tommy Thomas to initiate committal proceedings against Lokman for the contempt of court act perpetrated on two occasions on Sept 25, 2019.
On Jan 14, 2020, Justice Sequerah rejected Lokman's application to set aside the leave obtained by the AG. Lokman also lost two appeals in the Court of Appeal and the Federal Court respectively to overturn the High Court's ruling.
Thomas initiated the committal proceedings against Lokman to seek an order for Lokman to be committed to prison or be fined for his action.
According to Thomas, on Sept 25, 2019, Lokman uttered words in a video interview constituting an express or implied threat against Amhari Efendi for having given evidence in the former Prime Minister's trial in the High Court.
On the same day, Lokman lodged a police report against Amhari Efendi, who was the eighth prosecution witness, in respect of the evidence given by him in the trial.
The object or purpose of the respondent's act was to harass and intimidate Amhari Efendi, other witnesses and any potential witnesses who may come forward to give evidence against Najib in the 1MDB trial, said Thomas.