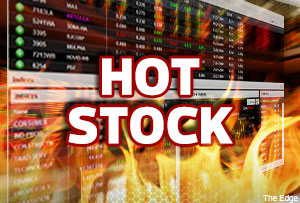 KUALA LUMPUR (Oct 27): Lysaght Galvanised Steel Bhd share price surged over 10% this morning to a high of RM3.95, rebounding from its recent low of RM3.08.
At 11.30am, the stock retreated to RM3.86, up 28 sen or 7.82%, with only 185,500 shares changing hands.
At 12:30pm, Lysaght settled at RM3.86.
The spike on share price has revised the downtrend since mid June this year.
The buying interest is probably due to expectation of a possible proxy fight, as there is a family feud fighting to gain control of Lysaght, which has been doing well in terms of earnings performance.  
Indeed, the family feud has made its presence felt by Lysaght shareholders. The company's proposed exercise of share split, bonus issue and free warrants, hit snag as one of its directors, Annie Chew Meu Jong, did not sign the director's declaration two weeks back.
And the controlling shareholder Lysaght (M) Sdn Bhd (LMSB), which owns a 55.14% stake of Lysaght, has written to say it would vote against the proposed exercise.
However, it is learnt that the proxy fight is mainly at LMSB.
According to TheEdge Weekly, the fight would be to garner more shareholding in LMSB, in order to control Lysaght. And that Singapore-listed United Engineers Ltd (UEL), which owns an 11.63% stake in LMSB, could be the key to settle the family tussle.
In other words, this block of shares that the sister and brother-in-law would be a trump card to, have to win the game.
The weekly reported the fight started after the passing of Lysaght's late founder Chew Kar Heing's death in February this year. The tussle is between Chew's eldest daughter Annie Chew Meu Jong and his son-in-law Liew Hoi Foo (husband of second daughter Chew Mee Lee).
Liew has been at the helm of Lysaght for nearly ten years, without much interference from the Chew family. However, things changed after his father-in-law passed away.
First, there was a shake-up of boardroom in Lysaght.
Meu Jong, a citizen of Australia, had made several attempts in the past few months to join Lysaght's board to fill the vacancy created by the pass of her father, Kar Heing. She was finally appointed as a director of Lysaght last month.  
LMSB is 40%-owned by Chew Bros (M) Sdn Bhd, which is controlled by Meu Jong, according to Companies Commission of Malaysia.