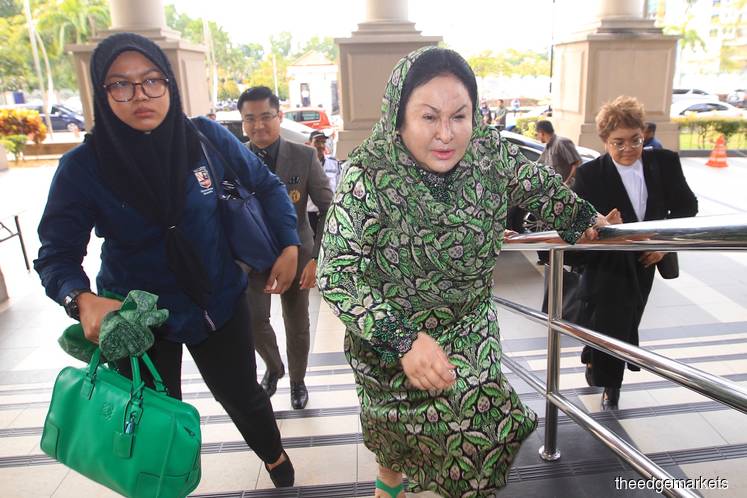 Datin Seri Rosmah Mansor at the Kuala Lumpur Courts Complex today. (Photos by Shahrin Yahya/The Edge)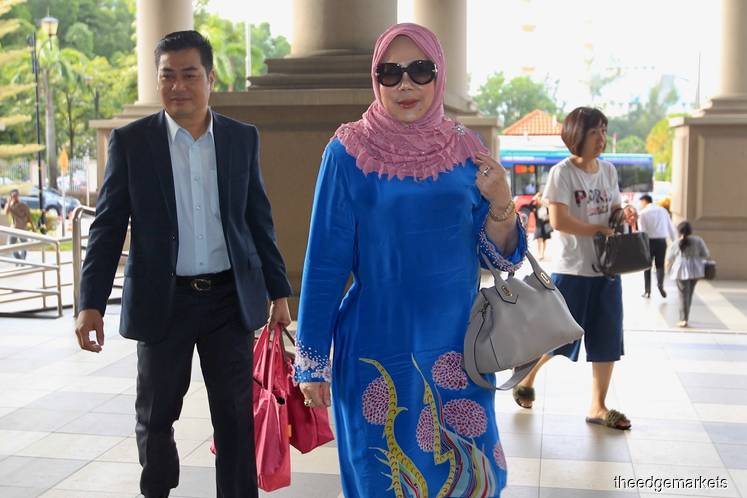 Former Education Ministry secretary-general Tan Sri Madinah Mohamad, the sixth witness.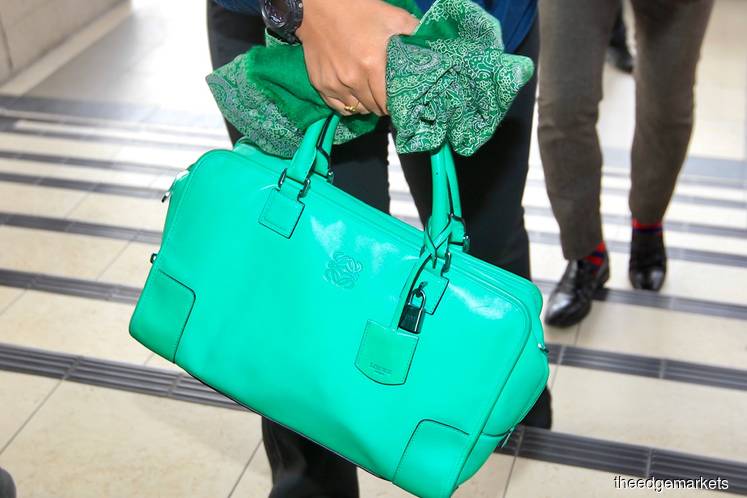 Rosmah's handbag today
KUALA LUMPUR (Feb 19): Former Education Ministry secretary-general Tan Sri Madinah Mohamad continued to be grilled by the defence team today during cross-examination in Datin Seri Rosmah Mansor's solar graft trial.
The questioning of Madinah, who is the sixth witness, at one point heated up as defence lawyer Datuk Akberdin Abdul Kader continued to press on her purported negligence in reporting her concerns to former prime minister Datuk Seri Najib Razak.
The former premier had given his approval for the proposed RM1.25 billion solar hybrid project by Jepak Holdings Sdn Bhd in late 2015.
Akberdin brought to the attention of the court a memo sent by Najib to Finance Ministry Treasury deputy secretary-general Datuk Othman Semail, in which the former premier had agreed to the project "based on cost savings".
Akberdin: Would you say this is a smart instruction by the PM (prime minister)? Because it saves the money of the rakyat (people)?
Madinah: Agree. But…
Akberdin: But based on Othman's subsequent memo giving his thoughts on the project which said terminating the existing 30 contracts to provide genset diesel to a total of 369 schools would cause a negative image to the government, don't you agree therefore that PM's orders to "berdasarkan jimatan kos" is actually not a good idea? Because you would already incur a bad reputation?
At this point, senior deputy public prosecutor Datuk Seri Gopal Sri Ram interjected: "What is the point of this question? Shouldn't you ask Najib or Rosmah instead? I have been tolerating this line of questioning since yesterday. But where are we headed?"
Justice Mohamed Zaini Mazlan calmed the court and asked the defence to move on with their questioning.
Akberdin: Tan Sri, did you on your own initiative make any efforts to clarify with Najib why this project should not be entertained?
Madinah: I tried, but I could not. I don't remember the date but I do remember trying.
Akberdin: But do you agree as a public servant you should have done this?
Madinah: We have a hierarchy in the system. When I voiced my concerns to the minister (Datuk Seri Mahdzir Khalid), he told me he would relay this to the PM. It is not my place to over take Mahdzir's place to advise the PM.
Akberdin referred to a letter dated April 26, 2016 from Madinah regarding a pilot project for 16 schools in Mukah and Baram, which was subsequently not agreed to and was questioned by Jepak.
Akberdin: Jepak didn't agree to this project, right? So you should have just rejected their proposal altogether, no? Since they did not want to comply.
Madinah: I did not do so.
Akberdin went on to say, "But it's your letter proposing for the pilot project. You should have told them 'Ok forget it.' That would be a smart move, wouldn't it?", to which Madinah asserted she was not able to make that decision then.
Akberdin then put it to the witness that she has U-turned on her statements, to which she denied.
Rosmah is facing charges of soliciting RM187.5 million from Jepak managing director Saidi Abang Samsudin between January and April 2016, and allegedly receiving RM5 million and RM1.5 million in 2016 and 2017.
The trial continues.