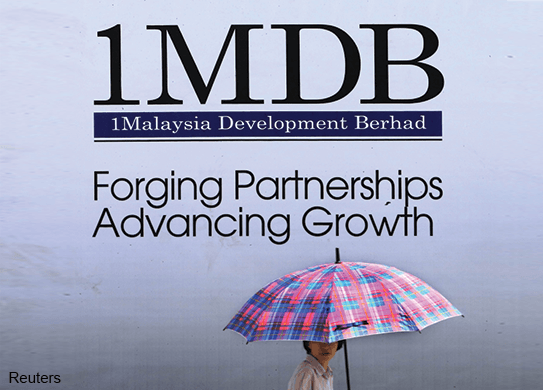 (May 11): PKR today demanded that statutory bodies which had business transactions with 1Malaysia Development Berhad (1MDB) list down all their transactions with the debt-laden strategic investor following reports that pensioners fund KWAP had bought a plot of land at the Tun Razak Exchange (TRX) from 1MDB.
Secretary-general Rafizi Ramli said that the public should know the extent of public funds involved in 1MDB's dealings, and that the deals listed must include bond purchases, loans and land purchases.
The KWAP report comes on the heels of last week's revelation that pilgrims' fund Lembaga Tabung Haji had purchased of a plot of land in TRX from 1MDB for RM188.5 million.
"Prime Minister Datuk Seri Najib Razak should also order that the sold land be sold back to the federal government at the same price that was paid by 1MDB to acquire it in the first place," Rafizi said in a statement today.
Tabung Haji bought the land at a price 43 times higher than what 1MDB had paid the federal government for it three years ago, while KWAP is reportedly buying the land at 30 times the original purchase price.
"This easy profit is being used to service 1MDB's debts worth millions that needed to be paid several times a year while the original RM42 billion borrowing from 1MDB remains unaccounted for," Rafizi said.
In 2011, KWAP itself had lent RM4 billion to SRC International, which was then a 1MDB subsidiary, for investments in coal mining in Mongolia. RM3.1 billion of the money has been classified as unspecified investments, SRC's latest audit report said.
SRC has since been absorbed as a fully-owned subsidiary of the Finance Ministry.
Rafizi said that he believed similar deals are being discussed between 1MDB and other statutory bodies such as the Employers Provident Fund (EPF), Permodalan Nasional Berhad (PNB), and the armed forces fund LTAT.
"Any efforts involving EPF, LTAT and PNB buying federal government lands that were sold at a cheap price to 1MDB is a form of bailout for 1MDB that must be stopped immediately," he said.
He also asked that any efforts to sell this land to these bodies must be made via a direct transaction between the federal government and the funds without involving 1MDB.
"Najib must immediately order that any agreements pertaining to land sale by 1MDB to statutory fund bodies must be terminated by mutual agreement," he said.
Rafizi urged that Youth and Sports Minister Khairy Jamaluddin become the "voice in Umno" to demand for such transparency, failing which, he said Khairy should relinquish his cabinet post. – The Malaysian Insider