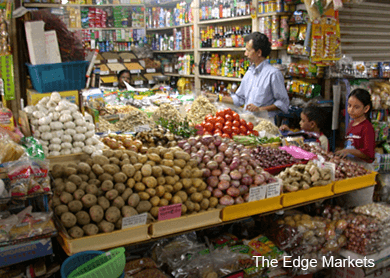 KUALA LUMPUR (Apr 22): Malaysia's inflation, measured by the consumer price index (CPI), increased 0.9% in March 2015 from a year earlier. The CPI had risen amid costlier alcoholic beverage and tobacco products besides health services.
According to the Statistics Department statement today, the CPI increase also came on higher prices in restaurants and hotels, besides more expensive food and non-alcoholic beverage.
"In addition, the value of this index is influenced by the decrease in transport," the department said.
Cumulative three-month CPI rose 0.7% from a year earlier, according to the department. In March, the CPI's 0.9% on-year increase compared to the 0.1% rise seen in February.
March's CPI increase was in line with market forecast, based on a Reuters survey.
Earlier, Reuters reported that Malaysia's annual inflation rate in March likely picked up to 0.9%, reflecting slightly higher petrol prices in the month.
Malaysia removed fuel subsidies in December last year, selling petrol and diesel at market prices. Consumers had gained from the slide in global oil prices earlier in the year, but retail prices have since started to edge up.
According to the Reuters report, economists do not expect inflation to pick up much even with the newly-introduced consumption tax.
"Cheaper fuel and the global disinflationary environment should keep price pressures low and cushion the impact of the 6% goods and services tax, which kicked in since April 1," said Bank of America Merrill Lynch in a research note.