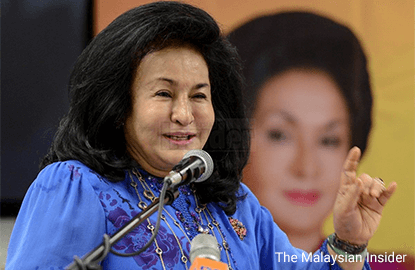 KUALA LUMPUR (July 11): Malaysian investigators are looking into bank transactions by the prime minister's wife, a special task force said on Friday, following media reports that large sums of cash were deposited into her account.
"The task force knew about this before the expose and an investigation is being conducted," a statement from the task force probing allegations of misappropriation of funds from state investment fund 1Malaysia Development Bhd (1MDB) said.
Activist website Sarawak Report said in a story on Thursday that 2 million ringgit ($523,000) in cash had been deposited into wife Rosmah Mansor's account in Affin Bank Bhd earlier this year.
A law firm acting on behalf of Rosmah rejected Sarawak Report's allegations as false and menacing.
"My client has not committed any criminal offence or any misappropriation of funds and strongly denies any links to the funds being from 1MDB," the law firm Messrs Noorhajran Mohd Noor said in a statement late on Friday.
"The report is deemed to be indecent, menacing, false, and is intended to annoy or harass my client."
An Affin Bank spokesman said it was unable to comment or disclose information in relation to the bank's customers and accounts.
1MDB, with debts of more than $11 billion, is being investigated by authorities for financial mismanagement and graft. The state-owned firm's advisory board is chaired by Prime Minister Najib Razak.
Last week the Wall Street Journal reported that investigators looking into 1MDB had traced close to $700 million of deposits into personal bank accounts belonging Najib, according to documents from the probe.
Najib has denied taking any money for personal gain and said the corruption allegations are part of a malicious campaign to force him out of office. 1MDB has denied transferring funds to Najib.
An interim report by the Malaysian government into 1MDB found nothing suspicious after vetting its accounts, a parliamentary committee said on Thursday.