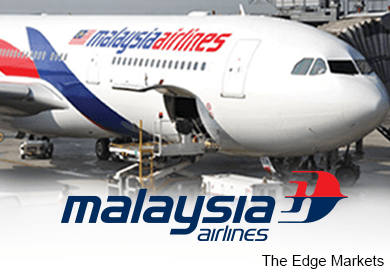 KUALA LUMPUR (April 20): The Malaysian Airline System Employees' Union Peninsular Malaysia (Maseu) has urged national carrier Malaysian Airline (MAS) to provide more regular and timely updates on its restructuring efforts.
This will help reduce uncertainty and anxiety among MAS employees and allow them to plan their future, the union said in a statement today, in response to news reports highlighting the impact of the MAS Recovery Plan.
It said any information updates by MAS can be provided via the established Employee Consultative Panel and other channels.
"As we are now entering into a critical stage of the MAS restructuring, Maseu urges MAS to continue providing sufficient information more regularly and in a timely manner," said Alias Aziz, president of Maseu.
According to Alias, Maseu acknowledged tough measures are necessary to save MAS, including change in workforce.
He said the Maseu's main priority is to ensure employees are treated in a "fair, transparent and humane" manner under the MAS restructuring, especially in the employee assessment and selection and packages offered.
Hence, the union is "appreciative" of the establishment of the Corporate Development Centre (CDC), which will provide re-skilling and placement services for employees leaving MAS, he added.
"We will help to assist those affected to fully utilise the services of CDC," he said.
"Maseu also hopes that employees who join the new MAS will also be given appropriate flexibility in adjusting to new demands and requirements."
Alias reiterated that Maseu will give its full support for the restructuring of MAS and the leadership of Christophe Mueller as the incoming managing director and CEO of MAS.
He said Maseu, as a "legitimate in-house union" recognised by MAS, will continue to work hand-in-hand with MAS to ensure smooth transition of employees under the MAS restructuring effort.
Previously, Maseu and several other smaller unions had pressured Khazanah Nasional Bhd — MAS' sole shareholder — to abort a move to cut 6,000 jobs under the sovereign wealth fund's RM6 billion recovery plan, unveiled last August, to rescue the national carrier.
The other unions involved were the Malaysian Trade Union Congress, UNI-Malaysia Labour Centre, Asean Services Employees Trade Union Council Malaysia, Gabungan Kesatuan Sekerja Dalam Syarikat GLC & Penswastaan and the Public Services International Malaysia.
The unions, which represent about 12,000 to 13,000 MAS employees across various sections from cabin crew to engineering, also called for the resignation of the airline and Khazanah's top brass, citing "mismanagement" and "failure to turn around the airline on numerous occasions".