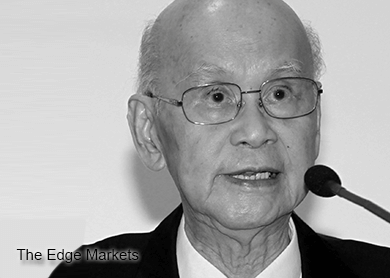 KUALA LUMPUR (May 29): Corporate figure and former government official Tan Sri Thong Yaw Hong passed away peacefully yesterday. He was 85.
In a statement today, Public Bank Bhd said Thong, who was the group's co-chairman, passed away "following a period of illness".
Public Bank chairman Tan Sri Dr Teh Hong Piow said Thong would always be remembered for his contribution to the government and corporate sectors.
"We are indeed greatly saddened by the loss. The board of directors of the Public Bank Group acknowledge Tan Sri Datuk Seri Utama Thong Yaw Hong's par excellence calibre and his invaluable contributions over his 29 years with the Public Bank Group.
"Tan Sri Datuk Seri Utama Thong Yaw Hong will always be remembered for his stature in the government service and corporate world. We will miss him," Teh said.
According to Public Bank's statement, Thong had served in the Economic Planning Unit (EPU) of the Prime Minister's Department since 1957. He subsequently became the EPU's director general from 1971 to 1978.
Thong was later appointed as Finance Ministry secretary general from 1979 until his retirement in 1986.
At Public Bank, Thong became chairman of the group in 1986 before being redesignated as co-chairman in 2002.