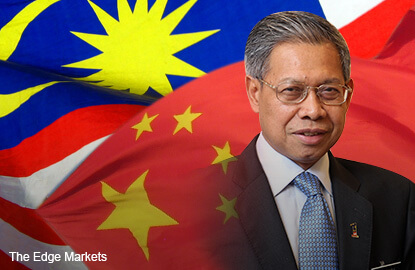 HANOI: Negotiations for the Regional Comprehensive Economic Partnership (RCEP), a  proposed free trade agreement involving 16 nations that is becoming increasingly important to Malaysia amid the likely collapse of the Trans-Pacific Partnership (TPP), should be "substantially" completed by end-2017, its top trade official said.
"There are some challenges, of course, and we have extended the deadline by a few times already, but we're all working very hard to make sure that negotiations will be substantially completed by the end of next year," Minister of International Trade and Industry Datuk Seri Mustapa Mohamed told reporters today at the start of a three-day business mission here.
The China-led RCEP involves all 10 members of Asean as well as Japan, South Korea, India, Australia and New Zealand, apart from China. US president-elect Donald Trump had said on Nov 21 that the US will withdraw from the TPP on the first day of his presidency and instead pursue free trade agreements (FTA) on a bilateral basis.
With the possible collapse of the TPP, Mustapa said Malaysia would be open to having bilateral FTAs with countries that it doesn't already have such agreements with yet, such as Canada and Mexico. "These are some of the alternatives we are exploring, going forward," he said. The US-led TPP comprises just four Asean members — Malaysia, Vietnam, Singapore and Brunei — and eight other countries, including Canada, Mexico and Chile.
Mustapa led a 40-strong delegation to the Vietnamese capital comprising businessmen who are members of the Asean Business Club and Kuala Lumpur Business Club (KLBC), to explore further trade and investment opportunities between the two countries.
He also launched the Ministry of International Trade and Industry Malaysia's Hanoi office today, the fourth overseas office in Asean after Bangkok, Jakarta and Singapore. Tomorrow, he is set to officiate CIMB Group Holdings Bhd's first Vietnamese bank branch here.
Bilateral trade between Malaysia and Vietnam has grown over the years, from just US$2.2 billion in 2005 to US$9.3 billion in 2015. Vietnam was Malaysia's 13th largest trading partner in 2015. Within Asean, Vietnam was Malaysia's 4th largest trading partner, export destination and source of imports from 2012 to 2015.
Meanwhile, Malaysia was Vietnam's 10th largest trading partner in 2015, 10th largest export destination and 8th largest source of imports.
In terms of investment, up until September 2016, Malaysia was the 7th largest source of foreign direct investment for Vietnam, with cumulative FDI at US$12 billion in 547 projects in various sectors. Major companies with investments here include Petronas, Berjaya Group and Gamuda Bhd.
Vietnam's Deputy Minister of Industry and Trade, Do Thang Hai, said the cooperation betweem Malaysia and Vietnam has not been cultivated fully and that there were areas that could be further tapped such as in the energy, electricity, oil and gas, mineral exploration, automotive, heavy machinery and food processing sectors.  
GDP growth in Vietnam has averaged more than 6.2% from 2000 to 2015. With one of the fastest growing GDPs in the region, Vietnam has the potential to be "the next Asean tiger", said KLBC president Tengku Datuk Seri Zafrul Aziz. Zafrul, who is also group CEO of CIMB Group.