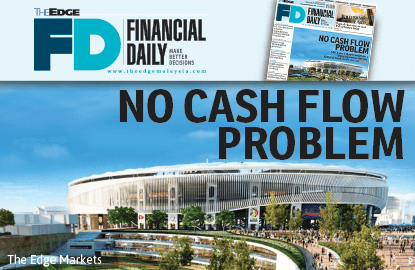 This article first appeared in The Edge Financial Daily, on November 4, 2015.
KUALA LUMPUR: Malaysian Resources Corp Bhd (MRCB) has dismissed concerns about cash flow as it takes on two mega projects worth RM4.78 billion, saying the group intends to undertake a degearing exercise this year.
However, its executive director Mohd Imran Mohamad Salim stopped short of giving details on what it would do to raise cash and pare down debts.
On Oct 28, MRCB announced that it had bagged two contracts to upgrade facilities at the National Sports Complex (NSC) in Bukit Jalil for RM1.6 billion and to develop a commercial project named Kwasa Utama in the Kwasa Damansara township for RM3.1 billion. It also proposed a 70:30 joint venture with Cyberview Sdn Bhd to develop 53.4 acres (21.6ha) of land in Cyberjaya, Selangor, with its 70% stake amounting to RM269.5 million.
Analysts have estimated that the group's net gearing to double, assuming full debt funding of the deals. They also see MRCB undertaking a cash call to fund the projects.
"Cash flow is not an issue. Furthermore, half of our gearing is pegged to our highway assets and most of our borrowings are secured to assets," Mohd Imran told a press briefing on the regeneration of the Bukit Jalil NSC into the Kuala Lumpur Sports City yesterday.
"Remove the highway out of the equation, and our gearing level will be on par with other property developers in town," he said.
Mohd Imran said as the RM1.6 billion construction value of the NSC project is pegged to the land that it will receive as compensation for the job, MRCB will get the land parcels' equivalent to the value of the jobs it has completed. Construction work will only begin next year.
As at June 30, MRCB's net borrowings stood at RM2.6 billion. With a shareholders' fund of RM2.31 billion, its net gearing level was 1.12 times.
In a recent note, Kenanga Research said at 1.12 times, MRCB's net gearing is already relatively high compared with its peers that range from 0.3 times to 0.4 times.
The NSC regeneration project is worth RM1.6 billion and will be divided into two phases. Phase 1's works are valued at RM499 million and will commence in January 2016. It will be completed in June 2017, to make way for the Southeast Asia Games 2017 to be hosted there.
Once the sporting event is over, the bulk of the mega project will be done — the most notable thing done would be to install the retractable roof on the Bukit Jalil National Stadium. The RM1.1 billion worth of works will be done in a span of 18 months, beginning June 2018.
The three parcels of land MRCB is set to get for the job's compensation is collectively 92.5 acres in size. As it will be years from now before the group gets to develop the land tracts, Mohd Imran said it would be too early to say what development MRCB has in store for them.
"Besides, we would have to review our development plans closer to when we want to develop the land, to take into account the market condition at the time," he said.
Mohd Imran added that the land tracts, which are in the vicinity of the sports complex, will be paid at a 2% premium to the current market value.
Earlier, MRCB unveiled its plan to transform the existing Bukit Jalil NSC into a self-sustaining Kuala Lumpur Sports City.
Apart from retrofitting the 17-year-old dilapidated stadium and complexes, MRCB will build a convention centre and a shopping mall, which would create recurring income for the Ministry of Youth and Sports to fund maintenance works.
International stadium expert Populous has been appointed as the master planner and architect for this project. The firm is behind many architectural marvels such as London's The Stadium at Queen Elizabeth Olympic Park, the refurbished Wembley Stadium, and South Korea's Incheon Stadium, which was used for the Asian Games 2012.
The proposal by Rukun Juang Sdn Bhd, in which MRCB (valuation: 1.4; fundamental: 1.3) has an 85% indirect stake held through MRCB Land Sdn Bhd, was chosen by the federal government to offer the best overall development concept. It beat 10 other companies' proposals in an open national tender process undertaken by the Public Private Partnership Unit.