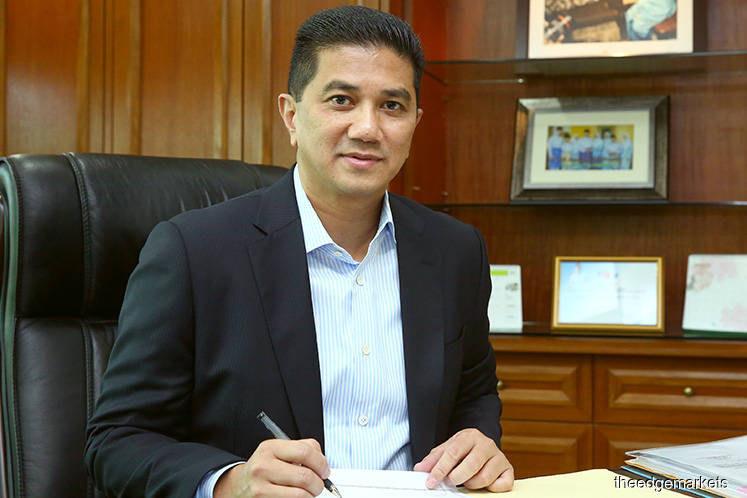 KUALA LUMPUR (July 24): The government stressed it is not replacing the New Economic Policy (NEP) entirely, but that it would instead be reviewed with the New Economic Model (NEM) to ensure it is based on needs, and not race.
Findings from the study on the NEP by the Economic Planning Unit (EPU) would be presented in the government's mid-term review in November, with a vision of drawing up a five-year plan, said Economic Affairs Minister Datuk Seri Azmin Ali.
The outcome would be part of a two-prong strategy incorporating the mid-term review of the Eleventh Malaysia Plan (11MP) and Pakatan Harapan's manifesto.
"We hope to introduce some part (of the study) in our mid-term review of the 11MP, where [we] would assess and evaluate its (the latter's) past policy but this time, we will (also) introduce new directions and policies in our manifesto.
"Well, we won't replace NEP entirely. We also need to review the MEB. Our policies must be based on needs, not race. The needs of Bumiputeras is guaranteed but we must be fair to everyone," Azmin said.
The needs of Indians in rural and urban areas, Chinese business community and Bumiputeras in East Malaysia have to be considered, he added.
"The planning is for the NEP to be long-term, perhaps five years, but when we talk about a sustainable economic plan, it has to be longer than that like Prime Minister Tun Dr Mahathir Mohamad's Vision 2020 (previously).
"However, our greatest challenge now is to restore investors' confidence, which is crucial. We need to sustain our foreign direct investment so that investors return and make Malaysia a destination for investment. How do we do that, if there is no confidence in the system? That is our priority now," Azmin added.
The review of the NEP, introduced in 1970 to eradicate poverty and reform societal layers to remove economic imbalances, is part of Pakatan's election promise to ensure targeted and equitable wealth distribution.
However, the system was allegedly abused over the decades that led to only a select few benefiting from the policy.
The NEM was introduced by former Prime Minister Datuk Seri Najib Tun Razak in 2010 to raise Malaysia's economic standing to high-income nation status by 2020, from middle income.
Najib, when asked on the NEM, said the scheme has brought positive changes to the Malaysian economy, which was ranked 23rd globally by the World Economic Forum.
"In addition, The World Bank has said that we are a country in transition and would earn the advanced economy status in a few years. So, all this shows that we have made effective changes to the economy (via the NEM)," he said.
As such, Najib said the current government should not amend the NEM, just because it was introduced by the previous government. The current government should incorporate positive changes in the NEM, otherwise it would affect investor confidence in Malaysia, he added.