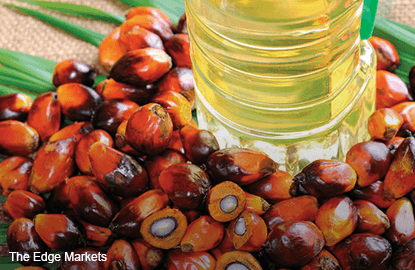 KUALA LUMPUR/JAKARTA/MUMBAI/BEIJING (Feb 10): Average palm oil prices are expected to fall in 2017 as output recovers, although price levels are likely to remain strong in the first half of the year due to low production and a weaker ringgit, a Reuters poll showed.
The benchmark price for crude palm oil is set to average 2,650 ringgit (US$596.44) a tonne this year, down 3.3% from 2,741 ringgit in 2016, according to the median estimate from a poll of 14 traders and analysts.
Palm has been trading at more than four-year highs since December on tight market supplies and support from a weaker ringgit, its traded currency, which makes palm cheaper for foreign buyers.
Palm was up 1% at 3,129 ringgit on Friday morning, in line for its fourth straight session of gains.
Palm prices rose for the first time in five years in 2016, after dry weather caused by an El Nino cut yields, lowering output. Production could start to recover by the second quarter this year, say industry players, putting pressure on prices by the second half of the year.
"Production recovery will be especially pronounced in 2H 2017. Aside from weather, the main driver of increased production will come from Indonesia, where a huge immature tree profile is growing into maturity," said a Rabobank report of the world's top palm producer.
However, slower growth in tree planting in Malaysia, the world's second-largest producer, is expected to curb future yields, it added.
Tepid demand outlook
Palm prices could also come under pressure on weaker demand from traditional markets like China and India, which are seen favouring soyoil this year.
The world's top two palm consumers are price sensitive, and switch to soy as a preferential oil, when its premium over palm narrows.
"A potential record crop for soybean in 2016/17 ... will cap the upside for palm prices," said Angeline Chin, an analyst at Kuala Lumpur-based TA Securities.
"Moreover, China's sale of oilseed and oilseed product reserves and anti-dumping duty on imports of distillers' dried grains (DDGS) will be main key factors to consider as well."
China last month hiked anti-dumping tariffs on imports of a U.S. animal feed ingredient known as DDGS, leading Chinese businesses to switch to soymeal instead.
Soyoil, a byproduct of soybean crushing to get meal for animal feed, is already expected to gain market share from palm this year as bumper harvests across the Americas are expected to lead to lower prices.
Strong biodiesel mandates could aid palm demand, but crude oil prices, which are seen hovering below US$60 a barrel, could curb efforts.
"In Malaysia, chances are biodiesel won't be kicking off as there are insufficient subsidies for the mandate," said a Malaysian trader.
"Indonesia's biodiesel may still be unable to fulfill its quota due to (a lack of) infrastructure."
Malaysia and Indonesia are pushing for higher biodiesel mandates, in which palm oil is used for blending, to create additional demand and prop up prices. 
(US$1 = 4.4430 ringgit)