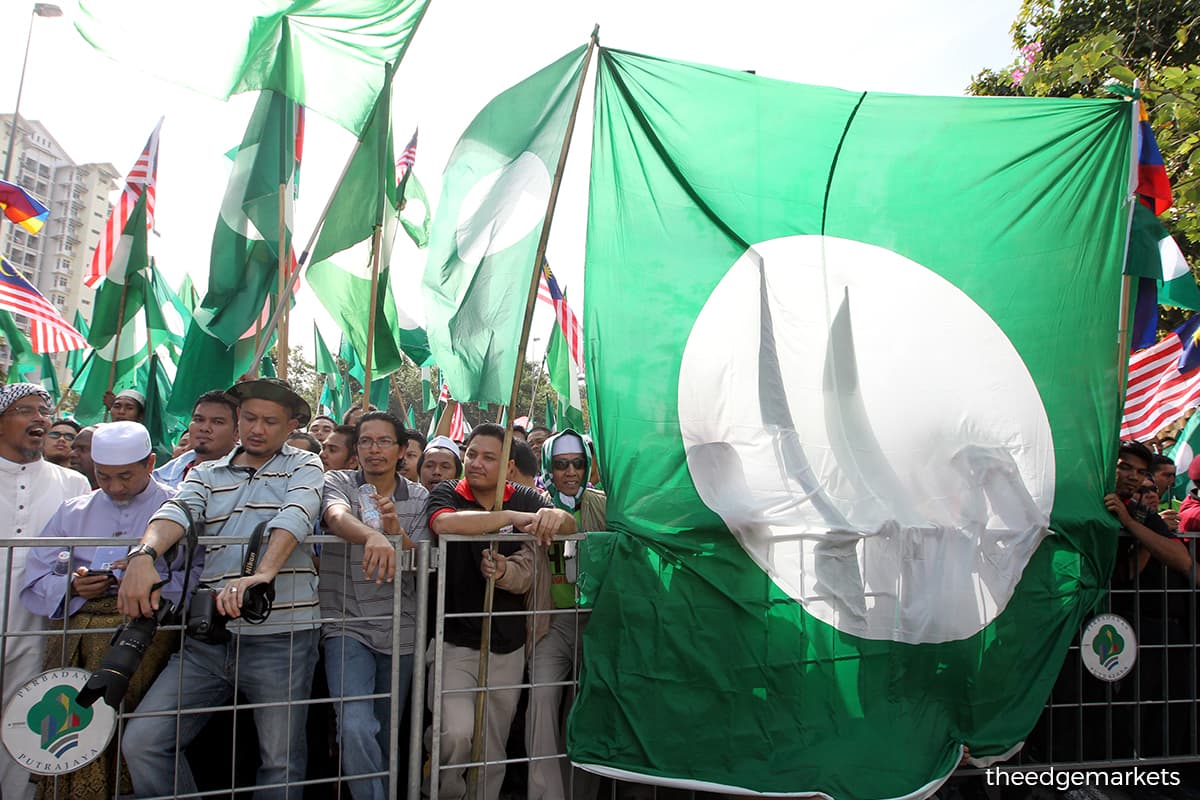 KUALA LUMPUR (Nov 25): In an interesting twist, Parti Islam Se-Malaysia (PAS) said it will consider joining the unity government, but that it will first need to consult the views of its other party components in the Perikatan Nasional (PN) coalition as well as its supporters who had given overwhelming votes to both PN and PAS in recent 15th general election (GE15).
This came a day after PN's founder Tan Sri Muhyiddin Yassin questioned the legitimacy of Pakatan Harapan (PH) chairperson Datuk Seri Anwar Ibrahim's appointment as the 10th prime minister of Malaysia.  
In a press conference shortly after the country's King appointed Anwar as prime minister on Thursday (Nov 24), Muhyiddin called upon Anwar to prove he has garnered the majority support of the Parliament. 
While Muhyiddin still believes he has secured a majority for his own coalition, he rejected the Yang di-Pertuan Agong's call to be part of the unity government. 
In a separate conference later that evening, Anwar announced his unity government comprises PH, Barisan Nasional (BN) and Gabungan Parti Sarawak (GPS). He did not rule out the possibility that other parties may also join his government. 
In Friday's (Nov 15) statement congratulating Anwar, PAS secretary-general Datuk Seri Takiyuddin Hassan said the party was confident Anwar "will carry out responsibilities well, fairly and courteously and prioritise the concept of federalism that is appropriate for all states and common people". 
PAS also praised the Yang di-Pertuan Agong on His Majesty's wisdom of performing the King's functions based on the powers provided under the law, in particular in the matter of the appointment of the prime minister, viz Articles 40(2)(a) and 43(2)(a) of Federal Constitution.
The Palace in a statement on Wednesday (Nov 23) said since neither of the leading coalitions had achieved a simple majority to form a government, the King will decide who will become prime minister. The King had also summoned both Anwar and Muhiyiddin for an audience to ask them to solve the impasse but yielded no result.
With 82 seats, PH and its allies have won the most number of seats in GE15 but are still short of the 112 seats needed to form the simple majority in Parliament. 
PH won 76 seats while its component party DAP, which is contesting under its own logo in Sarawak, won another five seats. 
Muda, which is also aligned with PH, won one seat, bringing PH's tally to 82. 
PN was close behind after winning a total of 73 seats, including 22 seats contested under the PAS logo. 
BN trailed behind its rivals with only 30 seats. 
GPS snapped up 23 seats, Gabungan Rakyat Sabah (GRS) had six seats while Warisan won three. 
Parti Bangsa Malaysia (PBM) and Parti Kesejahteraan Demokratik Masyarakat (PKDM) each won a single seat while two independent candidates also won.