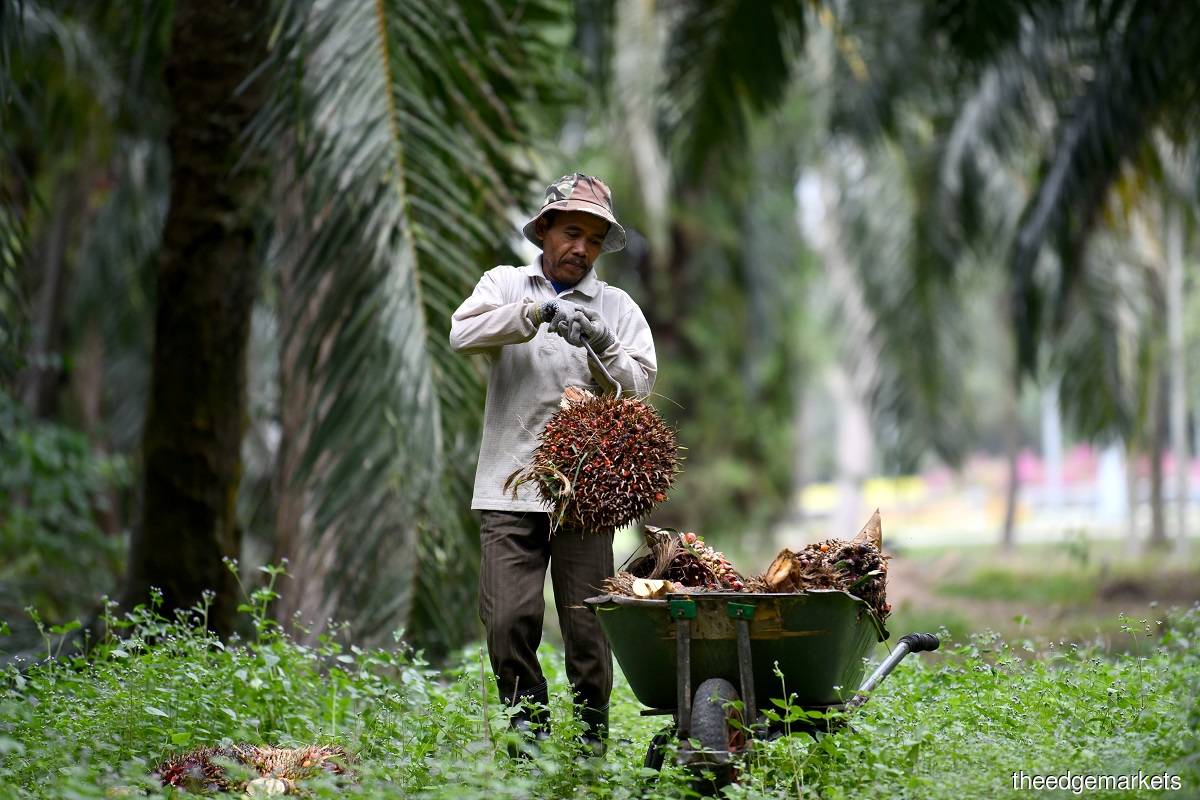 KUALA LUMPUR (April 7): Share prices of plantation companies including Kuala Lumpur Kepong Bhd (KLK), Sime Darby Plantation Bhd and IOI Corp Bhd rose in morning trade on Bursa Malaysia today on bargain hunting as investors weighed factors including the impact of Sri Lanka's move to ban imports of palm oil and cultivation of oil palm.
At about 10am, KLK's share price was two sen or 0.09% higher at RM22.72, Sime Darby Plantation had added 13 sen or 2.9% to RM4.62, and IOI Corp was two sen or 0.48% higher at RM4.18 as investors also looked ahead to the Malaysian Palm Oil Board's (MPOB) March 2021 industry data next Monday (April 12) and evaluated the outlook for crude palm oil (CPO) prices. 
JF Apex Securities Bhd analysts wrote in a note today that "plantation counters could be under investors' radar after Sri Lanka banned imports of the world's most-consumed cooking oil and told planters to get rid of all the tropical trees in the country".
KLK, Sime Darby Plantation and IOI Corp's share price rise partly contributed to Bursa's Palm Oil Plantation Index's 1.19% increase, which made the gauge the top percentage gainer among the local bourse indices so far today.
KLK, Sime Darby Plantation and IOI Corp are also members of Bursa's Plantation Index and constituents of the 30-stock FBM KLCI.
At the time of writing today, the Plantation Index and the KLCI had risen 0.73% and 0.43% respectively.
According to FTSE Russell, Bursa's Palm Oil Plantation Index has been designed to provide easy access to investors who wish to participate in Malaysia's burgeoning palm oil industry. 
"This benchmark index comprises palm oil-related companies from the underlying FTSE Bursa Malaysia EMAS Index, and aims to capture the performance of companies that earn a substantial proportion of their revenue from palm oil activities. Palm oil activities include production, ownership or operations of palm oil and oil palm plantations," FTSE Russell said in a statement on its website.
On Monday, news reports, quoting Sri Lankan President Gotabaya Rajapaksa's statement, indicated that the country on that day started to ban imports of palm oil and cultivation of oil palm, and told producers to uproot existing plantations in a phased manner in a surprise move that baffled the edible oil industry.
"Those companies and entities which have done such [oil palm] cultivation shall be required to remove them in a phased manner with 10% uprooting at a time, and replace it with the cultivation of rubber or environmental friendly crops each year," the statement from the president's office was quoted by Reuters as saying.
Investors are also looking ahead to the MPOB's update. It was reported that a Reuters survey showed on Monday Malaysia's palm oil inventories likely inched higher by the end of March 2021 as production advanced for the first time in six months, though a surge in exports kept supply tight.
The palm oil stockpile of the world's second-largest producer was expected to rise 1.3% from February to 1.32 million tonnes, according to a median estimate of nine planters, traders and analysts polled by Reuters.
Meanwhile, analysts appeared upbeat on the Malaysian plantation sector.
KAF Equities Sdn Bhd analyst Thomas Soon wrote in a note yesterday that the research house remains bullish on the plantation sector, with a higher CPO price forecast of RM3,500 a tonne for 2021. 
"We expect prices to average RM3,600 in 2Q21 (the second quarter of 2021) on tight supply and indirect impact of Indonesia's high export levy and taxes.
"Prices may then soften in 3Q21 on rising seasonal supply before the low peak season at year end. A potential higher biodiesel mandate may provide the next leg up or form firm support for CPO," Soon said.
On Bursa today, CPO for April 2021 was traded unchanged at RM4,211 a tonne at 10.56am, while CPO for May 2021 was transacted RM56 higher at RM4,094.
Read also:
Sri Lanka bans palm oil imports, tells producers to uproot plantations 
Sri Lanka palm oil ban won't affect Malaysia's commodity market — Mohd Khairuddin  
Planters ordered to destroy oil-palm as Sri Lanka joins boycott