This article first appeared in Enterprise, The Edge Malaysia Weekly, on May 13, 2019 - May 19, 2019.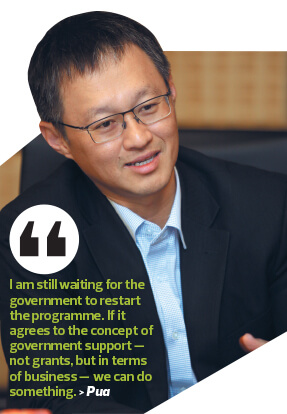 Datuk K S Pua, chairman and CEO of the multibillion-dollar Taiwan-based Phison Electronics Corp, is waiting for the new government to restart his Creative Product Development Programme.
The programme — launched in 2013 with Pensonic Holdings Bhd, FusionWave, EMTEC and Cari.com — was aimed at helping Malaysian small and medium enterprises (SMEs) create world-class innovative products. It started with the digital entertainment and lifestyle markets by combining artistic design with unique and rich Malaysian culture, state-of-the-art electronics and digital technology that had been developed locally.
The programme failed. Pua says although it managed to train a few engineers, it petered out when Singapore-based companies swooped in to offer them higher salaries to cross the Causeway. Quite unsurprisingly, they left, one by one.
But the programme had been problematic even before this happened. For starters, the Malaysian engineers tended to take things a little too easily compared with their counterparts in Taiwan or China, according to Pua.
"We recruited some young engineers, trained them and gave them projects from Taiwan. We even sent over engineers from Taiwan to be part of it," he says.
But there was a culture clash. In Taiwan, the engineers typically arrived at the office at 9.30am and worked until 10.30pm. "We did not force them. They just enjoyed working," says Pua.
But when the engineers were sent to Penang, their work ethic changed. "They started working from 9am to 5pm. When I asked them why, they said nobody else stayed in the office or campus after 5pm. So, they did not see any reason to," he says.
Despite what Pua considers a lackadaisical attitude from a Taiwanese or Chinese standpoint, the engineers were eventually trained. But when they offered a higher salary elsewhere, they left.
In analysing the problem, Pua says there was a lack of excitement in the office. That is because Penang is essentially a manufacturing base and it needed a community of designers from other companies, as well as an ecosystem, to create the necessary excitement.
He compares this with the office Phison started in Hefei, China. "I was asked by the Chinese government to set up a team there to develop solid state drives (SSD) for cybersecurity. We went to Hefei in 2015."
There were no engineers in Hefei, but the city had good universities. Most of the engineering graduates had moved away because there were no jobs for them at the time.
"So, we recruited them and trained them for two years. After two years, they worked independently and could design everything themselves. Now, Hefei has become a very important R&D centre for Phison," says Pua.
The trainees in Hefei behaved very differently from those in Penang. For starters, they arrived at work between 8.30am and 9am and only left at 1am. Sometimes, they even worked until 4am. Most of them were from poor families who lived in the countryside. So, they were willing to work really hard to better their lives.
"The average age of the engineers in the Hefei office is 25 years old. They graduated at 21 or 22. So young and so capable," he says.
Pua, who himself is a son of a poor farmer, feels that some degree of overcoming hardship is necessary for success. "The quality of life is too good here. When we did our first start-up in Taiwan, we would wake up at 7am and take a motorbike to the office, buy some breakfast and start working. But over here, they linger over breakfast until about 10.30am and by 5pm, they are off to the mamak stall to chat and drink tea for three hours. Life is good, right? Because Malaysia is blessed with so many natural resources," he says.
"Taiwan has no natural resources. Neither does Japan. South Korea does not have much either. And the Bay Area in the US was basically a desert. In places like these, you need to fight to survive."
Despite all this, he thinks the government should reintroduce the Creative Product Development Programme. But rather than providing grants, it should provide start-ups with business so they can survive and thrive, he says. Start-up capital is good, but if the company has no business or is forced to go overseas to look for business, most of them will not survive.
Pua says the government should make an effort to develop local role models to encourage others to follow the same path. Malaysians do not have enough start-up role models, he points out. But there are a lot of stock market or property investment role models who have made a lot of money. So, university graduates typically look at these paths.
"If the government is willing to, it could support a few start-ups by giving them the resources and helping them out, not just by giving them money," says Pua.
He adds that in China, the government is more circumspect. "It encourages you to do something and gives you a grant for it. But it also provides you with the market. When the Chinese government gives out tenders, it allocates a certain portion to local companies to support them in business. If start-ups can get these kinds of returns, they can reinvest the money and grow their businesses."
Pua says it is difficult for start-ups to look immediately at the export market because of the cost structure in Malaysia. He is not talking about salaries, which are naturally lower in this country, but everything else. "Salaries in Taiwan are higher, but transport and information-sharing costs are lower. So, the overall cost is lower than in Malaysia.
"Take Hsinchu [Science Park in Taiwan]. If you set up there, everything is within a 20km radius from tools, design houses, foundries, packaging companies, systems, assembly, testing. For my company specifically, everything is within 10km. So, my costs are cheaper than if I set up a design house in Malaysia. That is why we need the government to take the lead in supporting the local industry."
The creation of local multinational corporations (MNCs) is the whole point of the exercise. "When Penang started its Silicon Valley more than 40 years ago, 99% of the companies there were MNCs — Motorola, Intel, Philips. All the big guys, right? The problem is that if you go there today, it is still the same," says Pua.
On the other hand, Taiwan started the Hsinchu Science Park 40 years ago, a while after Penang started Bayan Lepas, and had a completely different approach. Although, it kicked off with foreign investors, 99% of the companies there today are Taiwanese.
Pua says the problem is that Malaysia's education system has produced what he refers to as "salarymen", rather than entrepreneurs, whose highest aspiration is to work for an MNC. "Working at an MNC is good, right? You get a good package, life is good. But if things turn bad and they have to lay you off or withdraw their investment, what will you do after that? These businesses do not have roots in Malaysia. They are owned by foreigners. And foreigners can always leave."
The Taiwanese government, on the other hand, actively invests to create and support local companies. Perhaps the Malaysian government should follow suit and support the creation and development of local companies more intelligently than it has done before.
"I am still waiting for the government to restart the programme. After the new administration took over, I tried to do something. But it looked like it was busy with other things. If it agrees to the concept of government support — not grants, but in terms of business — we can do something," says Pua.
It would not have to start big. "Just open a door or two. Dedicate one thing. You cannot change the current policies overnight. So, just dedicate something, make it happen and in a year, you will be able to see results. Then, the other ministries can take it up," he says.
Pua gives an example that is related to his own business. "All the ministries use computers and notebooks. In three to five years, you will notice them getting slower. You go to the office, push the button, have two cups of coffee and it is still loading. In most cases, people will say it is time to change the PCs. But I say, the PC is still good. You just need to upgrade it from a hard drive to an SSD. Five years ago, it was expensive to do this. But now, SSDs are getting cheaper."
In fact, he did such a programme in Taiwan, where he donated SSDs to the police stations to give their PCs a new lease of life. "They had more than 300 PCs and were complaining that these were so slow that they had to wait 30 minutes every morning for them to start and about 20 minutes at the end of the day for them to shut down. So, I donated the SSDs to upgrade their computers. Now, they take about 10 seconds to start up," says Pua.
Even if he had not donated the SSDs, it would still have been cheaper for the police to buy them than to replace their computers, he adds. "If they buy SSDs, it is US$100 apiece, including service. But if they buy new PCs, it will cost them at least U$600 each. So, they have saved a lot of money. This programme could be introduced in Malaysia."
Pua says if the government is more open to sourcing IT equipment from local start-ups or suppliers, it will be easier for him to talk to his board members about setting up something in Malaysia. "If the government introduces such a programme, I will be more than happy to send engineers back, recruit engineers here, train them, take the business here, make the margin and invest it back into the company. But who will make the decision? I don't know."