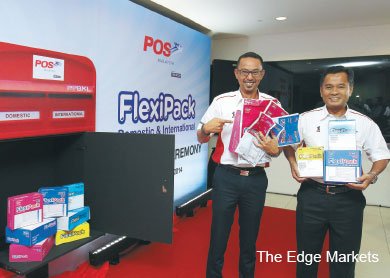 KUALA LUMPUR: Pos Malaysia Bhd will raise postal rates following the implementation of the goods and services tax (GST) in April 2015 if its products do not come under the government's "zero-rated" services list.
"When the GST comes in and if we (postal services) are still considered as a standard-rated service, then prices will be increased accordingly, to go up 6%," Pos Malaysia group chief executive officer Datuk Iskandar Mizal Mahmood said during a press conference at the launch of its new product, Flexipack.
He said it is "too early to say" how much will go up by next year and the group is still hopeful that the government will not impose the GST on its postal services.
"We will be impacted by the GST ... [but], necessary and regulated products are zero-rated under the GST. We really hope that we can get the buy in from the Ministry and the Treasury," said Iskandar.
Meanwhile, Iskandar is leading Pos Malaysia through a "massive transformation" process by aggressively introducing various new, convenient and value-added products to cater to the needs of the small and medium enterprises (SME) and cottage industry markets on a monthly basis.
"We want to empower the SMEs and the cottage industry to go out there and sell the products and gain income," he explained.
According to Iskandar, growth in these two market segments will help boost the group's revenue for its mail business in a climate where day-to-day communications migrate toward digital channels. He said some countries are seeing up to a 20% decline in ordinary mail services in a year.
Beyond that, the SME and cottage industry markets will also help Pos Malaysia cushion the escalation in operating costs.
Despite concerns about escalating costs and lower revenue from the mail business, Iskandar said the outlook for the 2015 financial year remains "very exciting" and "satisfactory" for Pos Malaysia.
"Usually the third quarter and fourth quarter will be our best quarters," he concluded.
This article first appeared in The Edge Financial Daily, on November 20, 2014.