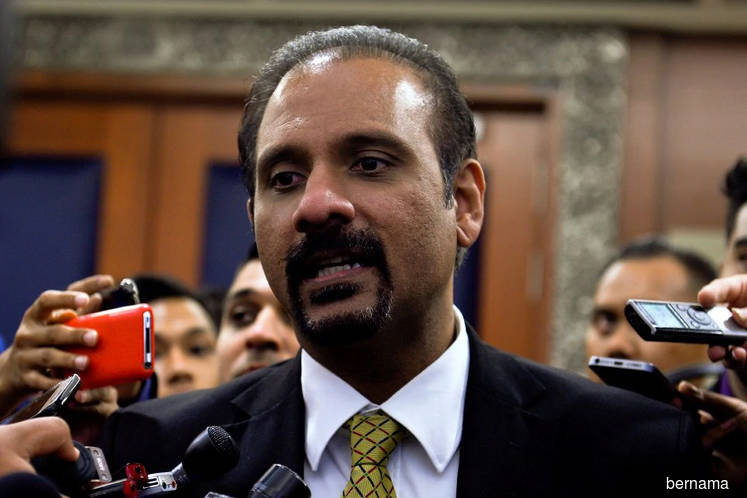 KUALA LUMPUR (July 18): Bukit Gelugor MP Ramkarpal Singh was booted out of the Dewan Rakyat today for refusing to retract the word "gangsters" that he had used against Umno Youth.
Speaking later, the DAP lawmaker said he had not done anything wrong by declining to take back the word, and questioned the decision made by speaker Datuk Mohamad Ariff Md Yusof.
He said deputy speaker Datuk Mohd Rashid Hasnon had already ruled on the matter before the lunch break, and Mohamad Ariff should not have come out with another ruling.
"As far as I'm concerned, it is a matter of principle. A ruling was (already) made by the previous speaker (Mohd Rashid) this morning before lunch," Ramkarpal told reporters at the Parliament lobby.
"Under the Standing Order, if the ruling has been made and you are not happy and would like to challenge the ruling, you can file a motion. It's not for the speaker to make another ruling on top of the ruling that has already been made because the earlier ruling is final," he added.
Ramkarpal had called Umno Youth members "gangsters" when referring to an incident in 2009 when his wheelchair-bound father Karpal Singh, who was the previous Bukit Gelugor MP, was surrounded and mobbed by a group of Umno Youth members at the Parliament lobby.
This caused anger among opposition lawmakers and a shouting match ensued. The Barisan Nasional MP for Kinabatangan, Bung Moktar Radin, then accused Ramkarpal of being the real gangster.
Mohd Rashid then ordered both Ramkarpal and Bung Moktar to pull back the "gangster" remark and asked the MPs to be seated, adding that those who refused to do so could leave the hall.
However, Ramkarpal stood firm with his decision not to retract his use of the word, resulting in Mohd Rashid giving him a warning.
The chaos continued after lunch, leading to speaker Mohd Ariff making a fresh ruling on the matter.