This article first appeared in The Edge Malaysia Weekly, on May 16, 2022 - May 22, 2022.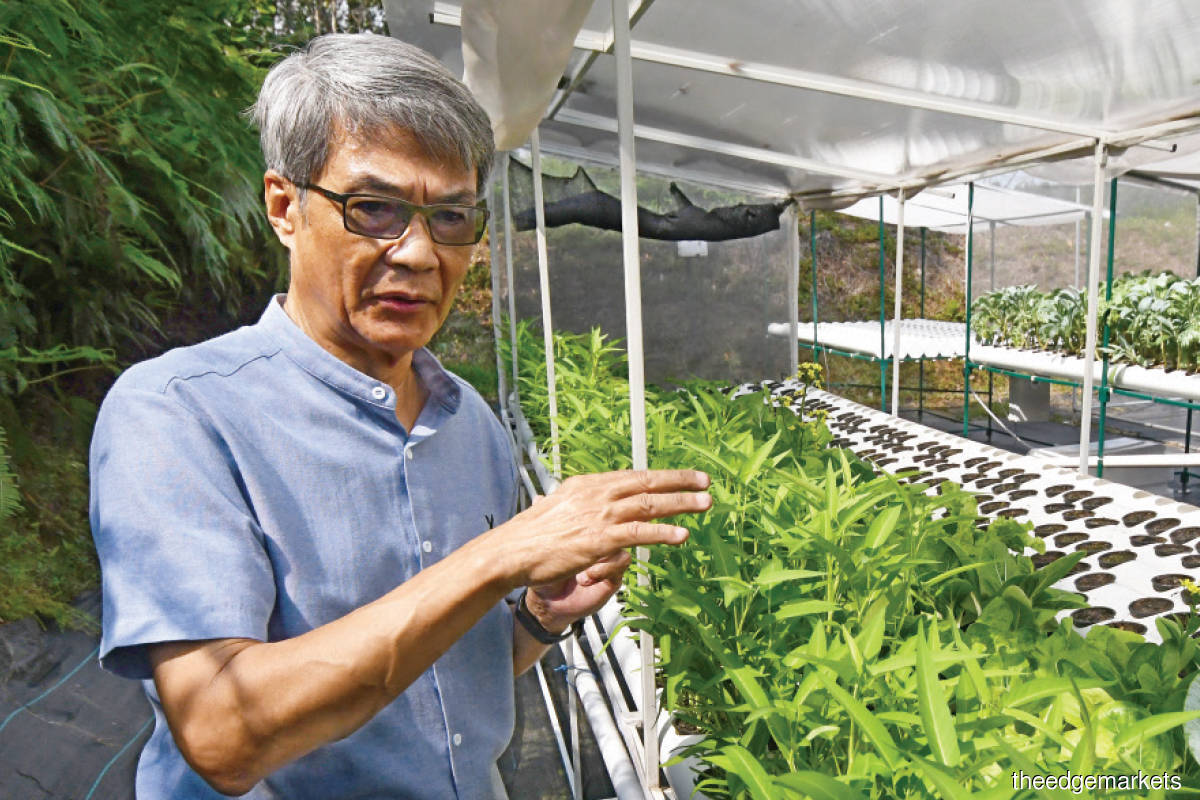 THE huge surge in global demand for rubber gloves, fuelled by the Covid-19 pandemic, highlights a poignant paradox for the Malaysian rubber industry.
While it has brought record profits for Malaysian glove manufacturers, the price of the raw commodity is so low that six out of 10 rubber trees in the country remain untapped because it is not worth the effort.
Against this backdrop, a group of scientists who have worked for years to fix severe pollution problems in the processing of latex rubber are seeking to spark a revolution in not just the rubber industry, but the region's agricultural sector.
Errol Perera and his team at Revoganix Sdn Bhd have developed an integrated solution that addresses upstream, midstream and downstream challenges in the rubber industry.
"It is high time that we moved from a linear economic model — where we take resources from the Earth, make things and dispose of them after use — to a circular economy," says founder and adviser Perera, who has devoted four decades to teaching and developing sustainable and organic agriculture in Asia. He is currently an agricultural adviser to the Asean secretariat.
While Malaysia's rubber growers are beset by a range of issues, including low productivity, an ageing population of smallholders and uneconomic farm sizes, the nation's food producers are facing terminal risks because of unsustainable practices, says Perera in an interview with The Edge.
Identifying a litany of problems arising from current agricultural methods, Perera points out that the warning signals that the country's food security is at stake have become louder with the pandemic, supply disruptions and the Ukraine-Russia war.
In addition to Malaysia's dependence on food imports, which had risen to RM55.5 billion in 2020, these risks include the agricultural sector's dependence on imported inputs, an unsustainable position.
More ominously, farmers are over-fertilising the soil in a bid to raise yields, but this leads to nitrogen leaching, with serious consequences for the environment.
Under current practices, only about 30% of fertilisers applied in the field are used by plants, with the rest being leached into our waterways.
"We are killing our soil," says Perera, noting that maintaining the microbiology of the soil is vital as it is the biggest store of carbon dioxide in the environment.
The solution lies in integrated agriculture
At the root of these problems, Perera says, is the practice of monoculture — the growing of a single crop to improve efficiency and lower costs — which has been a major economic activity for developing countries like Malaysia. On the downside, however, the method comes with a long list of disadvantages: It depletes soil nutrients, involves the use of harmful chemicals, pollutes groundwater and alters the ecosystem. Cultivating a single crop also degrades the soil, consumes water and is dependent on fossil fuel energy.
The solution, says Perera, lies in integrated agriculture, which involves the combined growing of crops, livestock, poultry, fish, tree crops or other systems.
At Revoganix, this idea has taken the form of a suite of sustainable food production systems built around the valorisation of rubber and oil palm liquid agricultural wastes.
For Perera, the path to economic circularity is a logical one, given the huge amount of agricultural waste produced in the region. The top three producers of palm oil — Indonesia, Malaysia and Thailand — generate some 1,000 million tonnes of palm oil biomass waste annually.
The solution, says Perera, is to extract value from this waste by turning it into fertiliser, which can then be used to produce food.
For the rubber industry, the valorisation system for latex waste developed by Revoganix may be the answer to a host of problems that have retarded the sector's growth for many years.
Ironically, while rubber growers are giving up on the crop, Malaysia's rubber glove manufacturers earned RM38 billion in 2021, supplying 67% of the world's production. The good times, however, have bypassed 95% of the country's rubber growers who are smallholders mostly having farms of about 2ha each.
Earnings are so meagre that 61% of the total of 1.08 million hectares planted with rubber are untapped because their owners struggle to get a decent return for harvesting the produce.
Once the world's top rubber producer, Malaysia has seen its rubber land become depopulated over the years as young people left in search of opportunities elsewhere. Older owners of rubber land who comprise 60% of the smallholders have abandoned the job due to old age.
To feed the booming rubber glove industry, which consumes 450,000 tonnes of concentrated latex a year, Malaysia imports most of the processed raw material from Thailand and Vietnam, as local production amounts to just 36,000 tonnes.
That marks a key vulnerability of Malaysia's midstream rubber sector, as the country has just five latex concentrator plants. In comparison, Thailand has 56.
With the explosion in global demand for rubber gloves during the pandemic, Thailand has woken to the potential of extracting more value from its rubber latex concentration plants.
It is not lost on Thailand that Malaysia has the lion's share of the global rubber glove industry. In 2020, Thailand's Ministry of Agriculture and Cooperatives announced that it was promoting Thailand as a global hub for rubber glove manufacturing.
The latex concentration process is where Revoganix enters the picture with a value proposition.
The standard method for concentrating latex comes with a host of problems:
•    It produces environmentally toxic skim latex waste;
•    The waste has to be treated for one month in oxidation ponds before it can be discharged;
•    Oxidation involves costly use of electricity and requires large areas of land for the ponds; and
•    Chemicals are used for coagulation and toxic hydrogen sulphide is produced.
The scientists at Revoganix's biotech incubation laboratory, located in Technology Park Malaysia in Bukit Jalil, have turned these problems into opportunities by extracting value from rubber waste. At the heart of the Revoganix solution is a liquid fertiliser extracted from the latex wastewater that is produced by concentrator plants when processing the milky harvest from rubber trees.
However, Perera's team realised that merely introducing a stand-alone fertiliser would not be sufficient. All the problems involved with the rubber crop were interrelated and so a comprehensive solution that addressed all segments of the industry was needed.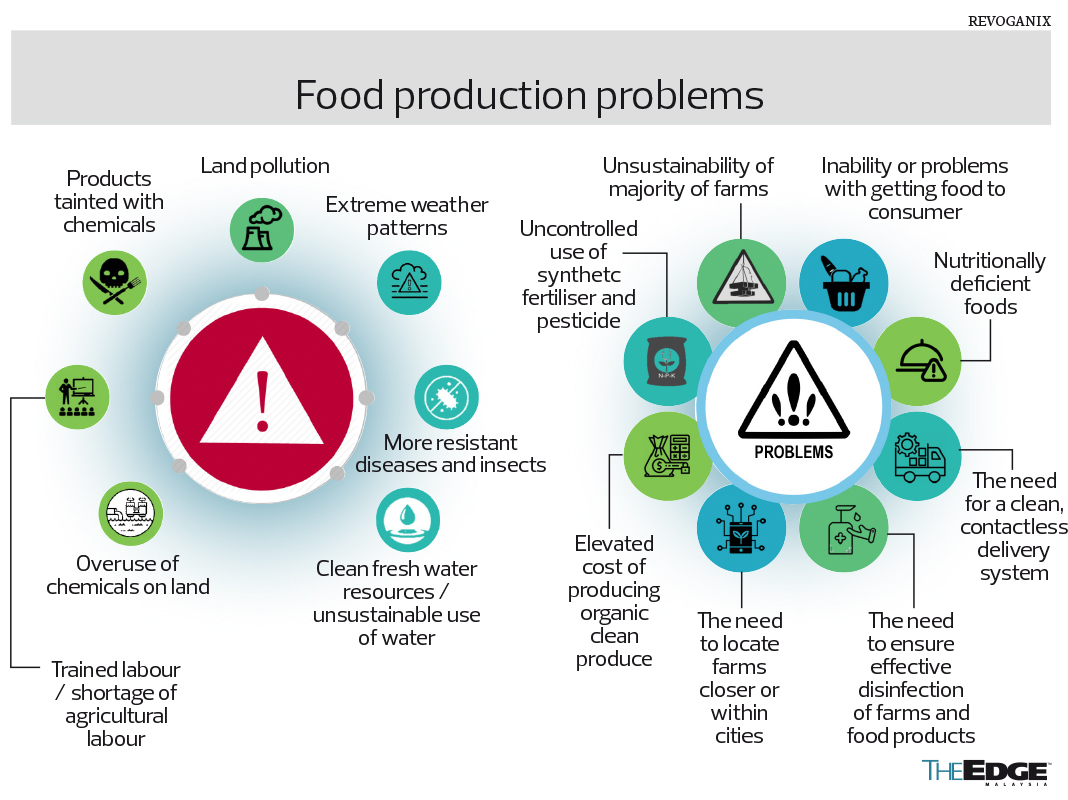 Upstream, midstream and downstream
Upstream, the issue was about incentivising rubber smallholders to make it worth their while to tap the rubber trees and increase their incomes. Midstream, the latex concentrator plants needed to earn more so that it would be attractive to increase plant capacity. Downstream, the rubber glove factories needed a stable supply of locally produced field latex in the face of Thailand's intention to expand its rubber glove manufacturing operations.
In keeping with the sustainability principles that are at the heart of Revoganix's mission, the solutions it has developed address problems with agricultural waste, energy consumption and chemical toxicity, among a host of related issues.
The Revoganix macro molecular separation (MMS) agricultural valorisation system, for example, extracts value from rubber and oil palm liquid agricultural wastes. These wastes are turned into cost-effective solid fertilisers and feeds.
Another innovation is its Organoponix smart greenhouse systems, which are designed as a direct organic replacement for hydroponic systems. There are some similarities between hydroponics and organoponics, says Perera, in that both result in fast plant growth, reduce plant diseases and pesticide use, are high yielding, and are water saving and affordable.
But there are crucial differences between them. Organoponix fertilisers are natural and soil-based, whereas hydroponics use artificial fertilisers, which Malaysia imports, and do not have a healthy soil substrate, he says.
"In hydroponics, we feed the plant, but in Organoponix, we feed the soil," says Perera. This means that Organoponix supports soil biome and can play a key role in carbon sequestration. This will be increasingly crucial going forward, as food and agriculture contribute about 30% of greenhouse gas emissions.
From the food security perspective, Organoponix can help to address the need to import fertiliser, which is currently produced from fossil fuels.
The government's view, says Perera, is that nitrogen-based fertilisers from fossil fuels are needed for our oil palm industry, although this will become problematic with oil prices being driven up by the Russia-Ukraine conflict.
"The solution is to extract value from our abundant agricultural waste," he points out.
The team has also developed bio-fogging and bio-disinfectant products and systems for agriculture and public health applications.
Additionally, the researchers have designed a portable electronic nose to provide accurate field and lab analysis in environmental, agricultural, food, drug, forensic and clinical analyses of problems.
To enhance quality in aquaculture and animal husbandry, Revoganix has developed a system for the use of biological control agents to produce antibiotic-free protein.
Business modelling of these solutions for a typical commercial rubber plantation showed a projected profit of RM215,000 a month from three key innovations. Valorisation of liquid latex would yield RM60,000 from 10 tonnes of rubber tapped in a month. Natural liquid fertiliser using the natural rubber serum produced by the MMS system would contribute another RM20,000, while intercropping of organic vegetables would yield a further RM135,000.
For latex concentrator plants, a total profit of RM80,000 per month was projected from the adoption of the MMS system, of which RM20,000 would come from the valorisation of waste skim latex and a reduction in chemical and electricity costs, as well as a reduction in the waste treatment plant cost.
Family-run rubber farms could earn RM8,000 per month from tapping rubber (RM3,000) and organic vegetable farming (RM5,000) from 20 units of the modular Organoponix greenhouses.
In March, the Revoganix team took the next step in its business development with the launch of the commercialisation phase of its agricultural solutions by Science, Technology and Innovation Minister Datuk Seri Dr Adham Baba.
As the Revoganix team has been focused on the research and development aspects of its agricultural systems, ground level engagement has been confined to key projects in Malaysia and the region to establish sustainable agriculture and aquaculture practices in selected communities.
"We were more focused on the science of making it work. If you don't pay attention to making the solution productive, it doesn't work either," he observes.
With growing signs that a food crisis is gathering pace today, the time for Revoganix to live up to its promise of creating an organic farming revolution may have arrived.