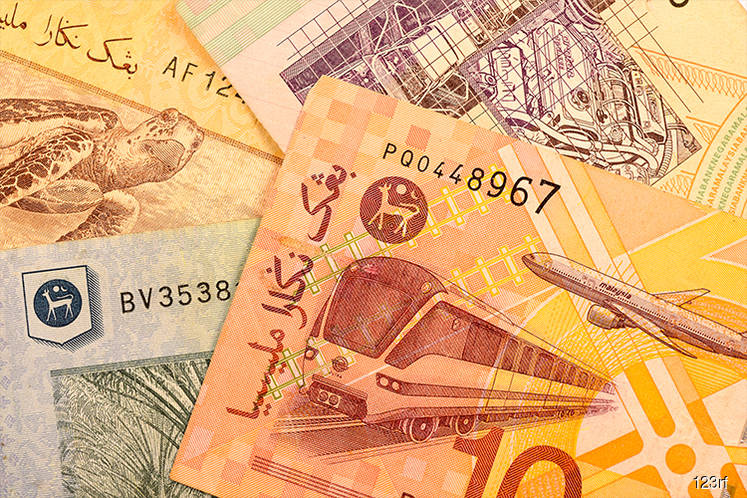 KUALA LUMPUR (May 22): AmBank Group Research expects the ringgit (MYR) to trade within its support levels of 3.9630 and 3.9701 while the resistance levels are pinned at 3.9826 and 3.9902.
In his AmBankFXDaily note today, AmBank group chief economist and head of research Dr Anthony Dass said with April's inflation to be released on May 23, he projects the inflation would be around 1.5% year-on-year (y/y) on the back of stronger MYR against the US Dollar which appreciated 11.8% y/y in April; stable pump price with average RON95 and RON97 at RM2.19/litre and RM2.46/litre respectively while the pump price for diesel averaged 1 cent higher to RM2.17/litre from March; and base effects.
"We reiterate our full year inflation outlook of 2.5%-2.8% for 2018," he said.
Dass said the MYR slipped 0.2% to 3.9795 against the stronger dollar.
He said the FBM KLCI shed 0.05% to 1,853.58 with a net foreign selling worth RM125.4 million.
Dass said that in the local bond space, the 7-year Malaysian Government Securities yields stayed unchanged at 4.060% while the 5- and 10-year yield rose 1 basis ponts (bps) to 3.890% and up 3bps to 4.210%, respectively.
"Meanwhile, crude oil i.e. WTI climbed 0.9% to US$71.89/barrel and Brent up 1.2% to US$79.46/barrel amid rising concerns over a possible further cut on Venezuela's output following the country's presidential election and potential sanctions from the US.
"The MYR strengthened against regional currencies — the Singapore dollar by 0.02% to 2.9586, the peso by 0.02% to 13.1733 and rupiah by 0.06% to 3,565.77, but weakened against the baht by 0.3% to 8.0804. The 5-year CDS edged up 0.09% to 84.31," he said.